---
If you would like to see your Anniversary, Birth, or Wedding announcement on this page, e-mail it to numberonecountry@yahoo.com along with your photo.
---
Connor Lane Caruthers
Carson Caruthers would like to announce the birth of his little brother, Connor Lane Caruthers. Born June 30, 2020. Weighing 8 pounds, 21 inches long. Connor is the son of Cameron and Taylor Taylor Caruthers of Hot Springs, AR. Maternal grandparents are Russell and Teresa Stewart of Corn, Oklahoma. Paternal grandparents are Mike and Tammy McLaughlin of Hot Springs, AR. Great grandparent are Bobby and Judy Stewart, Raymond and Kay King, all of Oklahoma, great grandfather, Danny McLaughlin of Carolina Beach, NC. and Bobby Little and the late Modine Little of De Queen.
Ruger Wesson Parson
Proud Mama Courtney Parson, Big Brother Remington and Big Sisters Pasiley, and Emma are  happy to welcome their little brother. Ruger Wesson, made his appearance on September 26th, 2019 at 2:43 P.M. at Arkadelphia Baptist Health Medical Center. Weighing in at 7lbs 12oz and 21 inches in length.
5 Generations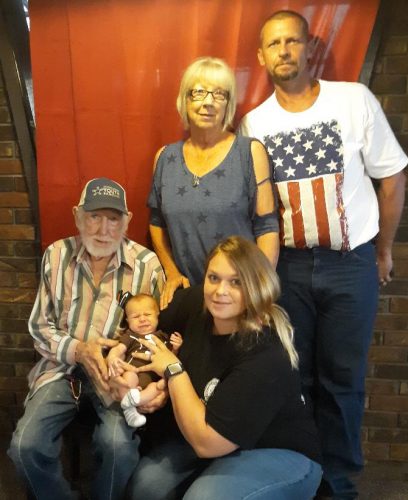 Bobby Little, Nancy Wells, Shannon Wells, Shanna Whisenhunt, and Jasper Whisenhunt.
Jennifer Ayers/James Harville
Announcing the wedding of Mr. James Harville of El Dorado and Miss Jennifer Ayers, formerly of De Queen. James is the son of Daryl Harville of Leesville, La. and Jackie and Paul McLaughlin of Moro Bay. He is shop foreman of Long's Sheet Metal. Jennifer is the daughter of the late Joe D. Ayers of Gillham and Melissa and Danny Lacefield of De Queen. She is a student and apprentice at Quality Electric Co., as well as a member of IBEW 436 Local of El Dorado. The wedding will take place at the American Rose Center in Shreveport, La. on Sept 21st.
Jasper Wayne Whisenhunt
Jeffery and Shanna Whisenhunt of Horatio, are happy to announce the birth of their son, Jasper Wayne, born June 27 and weighed 8lbs 5oz and 20  inches long. He is the paternal grandson of David Litchford and Beverly Foreman of Horatio and the great grandson of Doyle Whisenhunt and the late Lester Foreman of Foreman and great grandmother Kathleen Warren. Jasper is the maternal grandson of Shannon Wells and Deborah and David House of De Queen and great grandson of Danny and Nancy Wells of DeQueen, Robbie Burt of Horatio, the late Scott Wakefield of Bay City, Tx, and the great great grandson of Bobby Little of DeQueen. His big brother Julienn  and big sister Kenliegh welcomes him home.
Silas Montgomery Kimmel
Introducing Silas Montgomery Kimmel, littlest brother to Landry & Maddox. Silas was welcomed into this world on May 28, 2019 to Shawn & Angelica Kimmel.
Mattie Walters
Mattie Walters  of De Queen, celebrated 102 years young on April 27th.
Kenleigh Amaya Burns
Blessed this world with her presence at 1:45 am on January 15th 2019, weighing 8lbs 7oz and 20 inches in length.
Kenleigh is the daughter of Aurora & Kenrick Burns of Arlington, TX. She is the Maternal granddaughter of Jackie & Cruz Gonzalez of De Queen, AR. her paternal grandparents are Kim & Dazzle Burns of Fort Smith, AR.
Kenleigh made her appearance at Baylor Hospital in Dallas, TX where she was welcomed by a host of family and friends.
Emma Grace
"Every good and perfect gift comes from above." James 1:17 
We are tickled pink, as our beautiful gift from God has arrived. Proud parent: Courtney Parson of Lockesburg, Arkansas is ecstatic to welcome her dark headed blue eyed beautiful baby girl, Emma Grace into the world. Big brother Remington, and Big sister Pasiley are excited too. Born at 5:56 a.m. on the 13th of June, 2018. Weighting in at 7lbs even, and 19 inches long! 
Juarez-O'Neal
Alvaro Juarez Sr. and Lucia Juarez of De Queen, AR announce the engagement of their son Alvaro Juarez Jr. to Emily O'Neal daughter of Janet O'Neal of Nashville, AR. The couple is planning to wed Nov. 4, 2018 in Springdale, AR.