ARKANSAS LEGISLATION UPDATE 08/19/19
During any given day in the school year, there are 350,000 children riding a bus on Arkansas roadways.
This week, legislators joined the Governor, Education Secretary Johnny Key, and state police in reminding drivers that Flashing Red means Kids Ahead. It is illegal to pass a stopped school bus whenever its red lights are flashing, as students are present. The law requires drivers to stop on 2 lane and 4 lane highways in both directions, even those with a middle lane. Drivers cannot attempt to pass in any direction until the school bus has finished receiving or discharging passengers and is in motion again, and yet, Arkansans violate this law routinely.  Back in April, Arkansas school bus drivers reported 884 instances of motorists illegally passing stopped school buses in one day. Twelve of those instances occurred on the right side of the bus, where students enter and leave the bus.
The penalties and punishment for anyone found guilty of illegally passing a stopped school bus were increased dramatically by Act 2128 of 2005, also known as Isaac's Law. The legislation was named in honor of Isaac Brian, an elementary school student in the Bryant School District who was struck and killed when a driver illegally passed his school bus while students were exiting the vehicle.  The legislature increased the fines in Isaac's Law again this year with Act 166. Drivers can now face up to a $2,500 fine for a violation.
Isaac's father, William Brian, spoke at the Capitol Rotunda on Tuesday, "I'm encouraging you to take your responsibility as a driver seriously. I'm asking you eliminate distractions and have a heightened sense of awareness anytime you see flashing red lights." Everyone has a responsibility to ensure students arrive to and from school safely. Remember: Flashing Red. Kids Ahead. To learn more about the campaign, visit www.flashingredkidsahead.org.
STATE REPRESENTATIVE DEANN VAUGHT SEEKING RE-ELECTION 08/19/19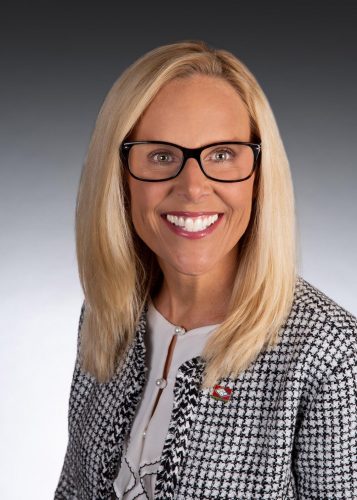 Today, State Representative DeAnn Vaught announced she will seek another term in the Arkansas House of Representatives. Serving since 2015, Vaught has been advocating for rural voices at the capitol and her focus includes farmers rights, 2nd amendment support and bringing awareness to mental health issues and child abuse. 
Vaught represents district 4, which includes parts of Howard, Sevier, and Little River Counties. She has worked with local leaders to continue efforts for job growth and economic development in the 4th district.
Agriculture is a community close to her heart, as she says "District 4 is full of amazing farmers who care for their livestock and the environment, they do not need more red tape keeping them from doing what they love and we all need them to keep feeding the world. "
Vaught serves as Vice-Chair of Executive Audit, a member of the Education Committee, Insurance and Commerce, House Management, and House Rules. She also serves on The Arkansas Legislative Council and the PEER review chair and is a mother to three grown daughters. DeAnn and her husband, Jon reside on a farm outside Horatio and are members of First Baptist church, Arkansas Farm Bureau, Cattleman's Association and Arkansas Pork Producers. 
Vaught says "I am grateful for everyone's support and hope to continue to serve as your District 4 state representative."
DEPUTY FINDS TWO RESIDENTS WITH DRUGS NEAR TEXARKANA LAST WEEK 08/19/19
Two traffic stops resulted in drug arrests early Thursday for a Miller County deputy.
News outlet TXK today reports that while on routine patrol Thursday August 15th, Deputy Stephen Rhyne conducted a traffic stop on a Toyota truck just off of Hightway 237 in Miller County for a traffic violation. The driver of the truck was identified as Christopher Orand, age 38 of Texarkana, Arkansas. The driver reportedly consented to a search and 1.1 grams of suspected Methamphetamine was discovered in the vehicle. Mr. Orand was arrested for felony Possession of a Controlled Substance and was booked into the Miller County Detention Center.
Later that morning around 4:07 a.m., Deputy Rhyne conducted another traffic stop on a Toyota Camry near South State Line Avenue for a traffic violation. The driver was identified as Howard Nielson, age 56 of Bowie County Texas. Nielson was found to be in possession of approximately 4.4 grams of suspected Methamphetamine and a small amount of suspected Marijuana. Mr. Nielson was arrested on a Felony charge of Possession of a Controlled Substance and Misdemeanor Possession of a Controlled Substance then booked into the Miller County Detention Center.
ARKANSAS HUNTERS CAN RENEW LICENSE ONLINE 08/19/19
The Arkansas Game and Fish Commission would like to remind hunters and anglers that licenses can be renewed online. The new site offers a convenient, one-stop shop for hunting and fishing licenses, permits, game checking, merchandise and other important information about outdoor recreation in Arkansas.
Digital copies of licenses are available through the AGFC mobile app, which can be downloaded from the Play Store or the Apple Store.
Harvest reports, donation options and gift certificate information are also available through the site.
Find out more about renewing your hunting or fishing license by visiting AGFC.com
BETTER BUSINESS BUREAU WARNS ARKANSAS RESIDENTS OF SCAM 08/19/19
The Better Business Bureau has announced a scam making its way around Arkansas. This scam has targeted local business owners in attempts to gain financial information. The Bureau is asking all local businesses to be on alert for this activity and use extreme caution when dealing with consumers from outside of the area.
Business owners and employees have received texts and electronic quotes from a consumers claiming to be moving to Arkansas soon but are currently out of the state. The business is given an address and asked to provide an estimate. Once the business provides the estimate, the "customer" usually requests financial information in order to wire transfer the deposit or they will actually send a check for the deposit amount.
Another tactic that used is to send an "over-payment" of the deposit, in hopes that someone will send back the amount that was over paid. In this way, they end up with a legitimate check and the business is left with a fake one.
The BBB has provided advice for dealing with these scams and preventing fraud.
If you receive text messages, quote requests via email, or calls that start to follow the pattern above, stop engaging. (The scammers will usually start the conversation by digital means such as email, text, or an automated quote system.)
If you are unsure of who you are dealing with, proceed with extreme caution. Do not give any financial information for wire transfers, do not deposit any checks, and do not perform any work up front until you can verify the requesting party is who they say they are.
And, use extra caution when dealing with consumers that are not from the area and also when corresponding with them online. More information is available at BBB.org.
DE QUEEN LEOPARDS SENIOR BREAKFAST 08/19/19
On August 16th, a large group of hungry DHS Seniors crowded the fellowship hall of First Baptist Church for breakfast to kick off the 2019-2020 school year. The parent-sponsored Senior Breakfast was also attended by De Queen Schools' superintendent, Jason Sanders and De Queen mayor, Jeff Brown.  
FREE DENTAL CLINIC IN DE QUEEN AUGUST 24TH 08/16/19
A free Medical and Dental Clinic has been announced in De Queen for later this month. First Baptist Church and The Office of Dr. Randy Walker have teamed up to provide dental extractions, dental cleanings and physicians on site to answer medical questions on Saturday, August 24th. All services will be provided to the community free of charge and registration begins at 7:00 a.m.
Angie Walker and Micah Martin are organizing this event for residents who may not have access to dental and medical care for financial reasons. Angie Walker says this is the 3rd year for the clinic to take place. Participants are encouraged to arrive early to line up for services, as Doctors will see patients on a first come, first served basis.
First Baptist Church is located at 1535 West Colin Raye Drive and Dr. Walker's office is at 1553 Colin Raye. No appointments will be taken but for questions call 870-584-3000.