TYSON GRANNIS PLANT TAKES FIRST PLACE    08/07/18
The Men's Softball Team from Tyson's Grannis Plant took 1st place in the 36th Annual Tyson Foods Softball Tournament in Springdale, Arkansas on August 3rd thru 5th.   More than 800 members of the Tyson Foods family gathered in Northwest Arkansas where 48 total teams, competed, making it the largest corporate-sanctioned softball tournament in the United States. Congratulations to the Grannis Outlaws on their win.
Back Row- Left to Righ: Tony Tollett, Anthony Shelton, Jessie Sanchez, Avery Lamb, DeWayne John, Erick Lopez, Ted Ludlow-Coach
Front Row – Jason White, Jacob Pritchett-Coach, Brenden Ludlow, Cleve Ramsey, Jeremy Bagley, Chris Oglesby
Registration Open for Pee Wee Football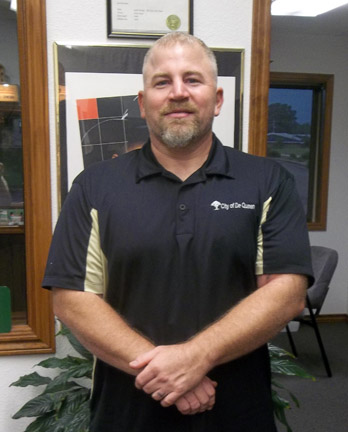 Parents of interested players can participate in early registration by submitting the required forms to the De Queen Parks and Recreation office. Early registration is permitted now through August 13th and regular registration will take place August 13th-29th. The football program is open to youth who reside in or around Sevier County are entering 3rd-6th grade. The registration fee is $35 and the Jersey fee costs $45 and covers insurance, mouthpiece and equipment rental. Chris Hale can be contacted at the parks office by calling 870-642-4140 or his cell phone at 870-784-3852
7-4A MEDIA DAY
The Ashdown Panthers and other teams in the 7-4A conference took part in the first ever Media Day, held at Robinson High School in Little Rock on Friday, July 20th. The event include a players and coaches panel, with questions asked from the media. Nashville Athletic Director Bunch Nichols moderated the event.
FORMER ARKANSAS FOOTBALL COACH FINDS NEW POSITION   
07/24/18 – Former Arkansas Razorbacks Head football coach Brett Bilema has reportedly accepted a position with the New England Patriots professional football team.
Bilema will serve as a consultant to Pat's head coach Bill Belichick.
Bilema served the Razorbacks as head coach for 5 seasons and was fired last year. Bilema began working with the Pats during the NFL combine in February, assisting with pre-draft scouting. He then moved into more of a coaching role with the defensive line during rookie mini camp and OTA's.
The Patriots begin training camp this week.
FREE PHYSICALS FOR HORATIO ATHLETES      07/25
Horatio Public Schools will offer free physicals to any student athlete entering grades 7 though 12 on Wednesday, July 25th.  Students should report to the new gym at 2 pm.
SUPER SOAKER 5K & KIDS FUN RUN      08/04
Entries are being accepted for the Pine Tree Fesitival Super Soaker 5K & Kids Fun run  which will be held Saturday, August 4th at Dierks City Park.  Race day registration will begin at 6am. The Kids Run for ages 10 and under will begin at 7am.  The 5k will begin at 7:30am.  There is no charge to enter the Fun Run.  Late registration for the 5k  is $30. Register online at www.runsignup.com/Race/Dierks/AR/PineTree5k or call Ashley Turner at (870) 451-3642 for more information.