Wild Game Cookoff
First Assembly of God
De Queen First Assembly Men's Ministry will hold their annual Wild Game Cookoff on Saturday, February 23rd. Men are invited to present their dish for judging at 5:00 pm. Dinner will begin at 6 pm. There is no charge to enter or dine. For more information contact the church at (870) 584-3435.
Chamber Banquet Feb. 28th
(870) 584-3445
The De Queen/Sevier County Chamber of Commerce will hold their annual membership and awards banquet Thursday, February 28th, Doors open at 5:30. Tickets are $23 each. Call (870) 584-3445 to reserve tables for 8.
Event Flyers are now located on Upcoming Events page
Steve Pearce Citizen of the Year
Courtney Pullen was named as the Steve Pearce Citizen of the Year at this year's Little River County Chamber of Commerce Banquet. (More photos)
Clayton Castleman Public Service Award
Glen Ray Bowman was awarded the Clayton Castleman Public Service award at the Little River Chamber of Commerce Banquet held Thursday, February 7th in Ashdown.
#1 Country Football Squares Winner Announced
The New England Patriots snagged their sixth Super Bowl title with a 13 to 3 win over the Los Angeles Rams in Atlanta last night (2/3). That score meant that the winner of the 2019 #1 Country Football Squares contest was Tom Knighten of Foreman who had the numbers 3 & 3. The entire family called in to get a square with the goal of using the prize money for a summer vacation at Blanchard Springs. Shown are Thomas Knighten(back) with 4 of his grandchildren: Nyla Heard, Zoie Blankenship, Jimmie Green and Noah Heard.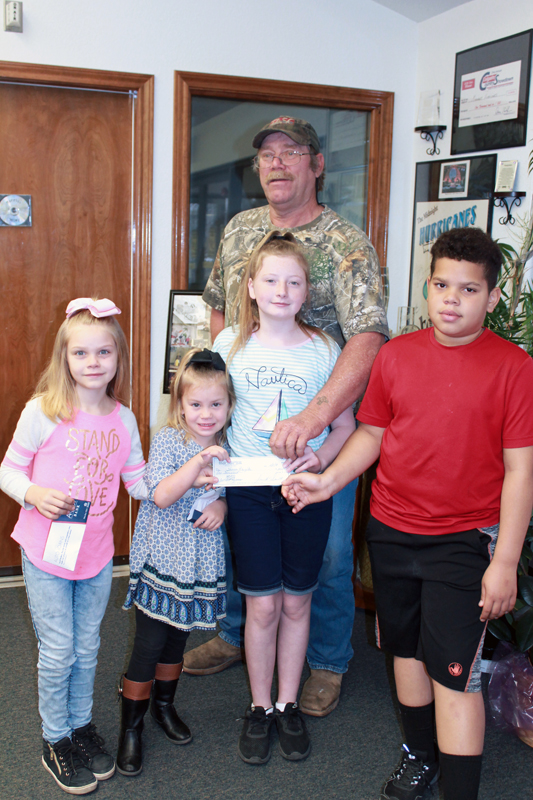 De Queen Middle School Good Citizens for January 2019
January Good Citizens for De Queen Middle School shown left to right are: April Guerrero Leon, Jesus Arroyo, Max Pinkerton and Jerralynn Samaniego
Lockesburg Man Dies in Head On Collision
A twenty-year-old Lockesburg man was killed in a head on collision that occurred Sunday evening, January 29th in Sevier County. Arkansas State Police reports indicate that Bobby Smith was driving a 2010 Ford Fusion traveling North on Highway 71 when his vehicle crossed the center line into the southbound lane and collided head-on with a 2017 Volvo tractor-trailer. Smith was pronounced dead at the scene.
CREATING BRIDGES
The De Queen/Sevier County Chamber of Commerce has joined with the University of Arkansas Extension Service and other groups who are interested in strengthening our rural economy by expanding and attracting new retail businesses, restaurants, lodging and attractions. A meeting will be held Monday, February 11th from 6 to 8 pm in the Weyerhaeuser building on the De Queen UA Cossatot campus. For more information call the chamber office at 870) 584-3225 or e-mail dqchamber@gmail.com. Shown right: Suzanne Babb, Janet Cantrell, Keisha & Joshua McKinney
DEFENSIVE DRIVING CLASS HELD
Sevier County Office of Emergency Services coordinator, Walter Smith, set up a defensive driving class January 16th for County and City employees. Thirty-five people attended the Thompson Defensive Driving Class with instructor Robert Bennett of Little Rock. Drivers of County and City vehicles must re-certify every two years..
It's NOT illegal to burn your leaves, but please be courteous!
De Queen Fire Department Chief Dennis Pruitt visited KDQN studios Thursday to issue a reminder for local residents to educate their children about the importance of fire safety at home. Chief Pruitt also clarified the policies in place for controlled burning of leaves and twigs on personal property. Though it is not illegal to conduct a controlled burn in a residential yard it is recommended that residents wait until leaves are dry before burning and monitor the smoke while being courteous of neighbors.
Farewell, Mayor McKelvy
A farewell reception was held for De Queen Mayor Billy Ray McKelvy on Friday, December 28th in the community building in Herman Dierks Park. Billy Ray has been Mayor since 2005, but decided not to run for re-election this year. He and his wife, Robbie, plan to travel, crappie fish, and spoil their grandchildren. Photo: Mayor McKelvy passes the key to City Hall to newly elected Mayor Jeff Brown.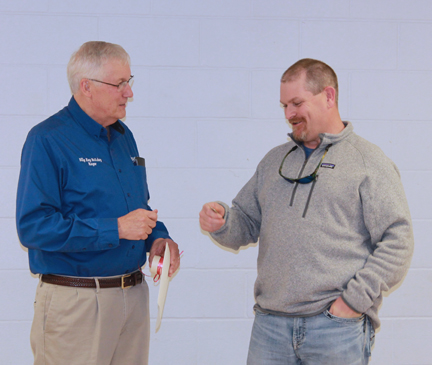 Communities Work Best When They Work Together
With the recent layoff at the De Queen Medical Center, Dr. Randy Walker-with assistance from Horatio State Bank. Pruetts Food, De Queen First Assembly of God and Kern Heights Baptist Church-provided Christmas grocery bags complete with a turkey and all the sides for 50 De Queen Medical Center employees and their families. As stated on their flyer, "...this season is not about gift giving. It's about taking care of our community."
Shop Local Winner Announced
The De Queen/Sevier County Chamber of Commerce "Love Your Local" campaign winner has been announced. The winner is Crystal Olvera of De Queen. More than 3,000 names were entered in the drawing for a chance to win a $1,000 value basket with gifts and gift certificates.
AHS Student Parker wins Student Chef Showdown & Will Compete in Final Competition
On, Tuesday, December 11, the second annual Student Chef Showdown was held at Ashdown High School and Breonna Parker was chosen as the winner from a three judge panel. The showdown is made possible with the partnership of The University of Arkansas - Pulaski Technical College and K-12 Culinary. Breonna competed against Gracie Sisemore, Ashlin Troxler, Shulyia Beard, and Deniyah Hemphill. In an update December 20th, we were told that Breonna Parker was selected by the K-12 Culinary lead chefs as one of the top 6 district winners to compete at Pulaski Tech on Saturday, March 9th.
Razzle Dazzle entertains listeners on radio and Facebook
Twenty-three members of the De Queen Elementary Razzle Dazzle group stopped by the Number One Country studios on Friday, December 14th while on their annual tour in De Queen. The group of fifth graders is directed by Anissa Manasco.
4-H Breakfast with Santa
Domtar employees recently visited a classroom at Ashdown Elementary School in Ashdown, once again bringing smiles to the young faces and sharing the joy of reading. Through a partnership with First Book, employees of Domtar-Ashdown Mill came to the classroom of kindergarten teacher Marshun Starks, bearing new books for all.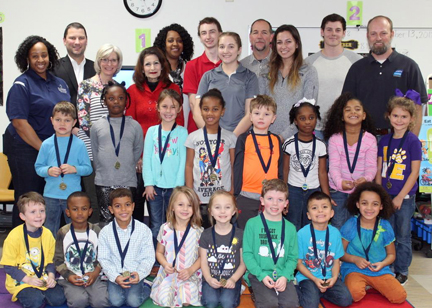 Student Trip to Washington, DC & NYC
A group of De Queen students and teachers are planning a trip to Washington, DC and New York City. To raise funds for the trip they are holding a raffle. winner get their choice of a custom built fire pit, a Marlin 243 with Bushnell scope and sling package or $300 cash. Tickets are $5 each or 5 for $20. Drawing will be Friday, December 14th.
Sponsors Sought for Horatio Softball Team
Horatio softball coach Dustin Bakenhaus said they are still accepting sponsorships for their scoreboard at the Horatio softball field. If you are interested in becoming a sponsor, you may call (870) 784-1090 or (870) 832-1900 for more information.
New Artist Zach Hecker
Up and coming country music artist Zach Hecker stopped by Number One Country studios to preview some of his music. Check him out at www.zachhecker.com.
Crafting with Claus
The Horatio High School Marketing Class will help you have a handmade Christmas by hosting a night filled with memories and fun Christmas crafting for all ages. The event will be held in the Horatio High School practice gym on Thursday, December 20th from 5:30 until 8:00 pm. Entry fee is $3 and includes 1 crafting ticket. For more information check out the flyer on our Upcoming events page or visit their Crafting with Claus facebook page. Photo: Kaylee Sharp and Melissa Arellano.
Annual De Queen Rotary Cup Presentation
Tight end, defensive end, and team De Queen Leopard football co-captain Malik Beasley was presented the 2018 Rotary Cup at Monday's (12/10) noon meeting of the club. The club has been presenting the award annually to an outstanding senior athlete since 1936.
It's Officially Christmas Season!
The lights on the Sevier County courthosue were turned on Saturday evening, December 2nd, prior to the annual De Queen Christmas Parade. Local businesses and organizations set up booths around the courthouse square. Harmony set the mood with a wonderful program of Christmas music. Attendees could vote on their favorite tree in Christmas Tree Village. The parade was outstanding with 64 entries. More pictures are posted in our Photo Album.
Ashdown School District Receives Incentive Check from SWEPCO
Superintendent Casey Nichols, Board Member Rosa Bowman, and representatives from SWEPCO and Clear Energy
Ashdown Varsity Cheerleaders and Pom Squad Travel to Disney
Members of the Ashdown High School Varsity cheerleaders and Pom Squad were selected and participated with more than 800 high school cheerleaders and dancers from across the country that represented the camp brands of Varsity Spirit in the fourth annual Varsity Spirit Spectacular at the Walt Disney World®Resort in Orlando, Florida from November 28 thru December 1, 2018.
The individuals invited to perform in the parade were part of a select group of 10th to 12th grade captains, co-captains, officers, and All-American cheerleaders who attended a Varsity Spirit summer camp this summer hosted by Universal Cheerleaders Association (UCA), Universal Dance Association (UDA), National Cheerleaders Association (NCA), National Dance Alliance (NDA) and United Spirit Association (USA). The cheerleaders and pom squad performed in an exclusive pre-parade performance through Disney's Magic Kingdom Park before hundreds of fans.
Besides enjoying a sunny trip to Orlando, performers had the opportunity to meet cheerleaders and dancers from across the nation and enjoy the magical holiday season at Walt Disney World® Resort parks.
Ashdown Junior High Places at Quiz Bowl Competition
Congratulations to the AJHS Quiz Bowl team, they placed third in the Ashdown Invitational Quiz Bowl Tournament. (l-r) Will Bishop, Spencer Patterson, Dal Ringgold, Landon Wright, Rachel Vice, Marty Lansdell, Zoe Hogan, and Dylan Rose.
Award Winning Teacher
De Queen Junior High School Physical Science teacher Payton Covington was one of 116 educators awarded $500 from Arvest Bank. Arvest Bank had a Facebook contest for nominating educators and describing why that teacher should win. For the third consecutive year, Arvest Bank has awarded educators a total of $58,000 in prize money. Pictured left to right: Jay Mark Bigham, Patti Boone, Payton Covington, De Queen Schools Superintendent Bruce Hill & De Queen Junior High School Principal Bill Huddleston.
CHAMBER CHAT
De Queen-Sevier County Chamber of Commerce Executive Director, Suzanne Babb, visited with the Brew Crew about a new service being offered to chamber members and the public to keep them informed of events happening in Sevier County. The Community Calendar tab has a list of all the events in the area that the Chamber has been informed of. To get your event listed, just contact Suzanne at the Chamber office by calling (870) 584-3225.
FCCLA COLLECTING SHOES
The De Queen Family Career and Community Leaders of America group is collecting shoes for needy children. Julie Gomez and Maricella Morales said your donation of new or good used shoes should be dropped off at De Queen High School office by December 12th.
ASHDOWN STUDENTS RECEIVE CHROME BOOK BAGS
Ashdown High School Student Council members along with class officers gather to celebrate the arrival of their new chrome book bags that were distributed this week as AHS goes 1 to1 (1 Chromebook per student).