HOW IS EHC DIFFERENT FROM OTHER ORGANIZATIONS?       08/26/19
Education!  It's a character builder!  A lifelong process that is never finished. Arkansas Extension Homemakers Council (AEHC) members keep up to date in these rapidly changing times through lessons on all phases of family living and special interest topics presented by speakers, educators and other club members.  While other organizations may be primarily social or service clubs, EH club member's main goal is education. And, of course, we like to have fun, too!
Extension Homemakers Club (EHC) members gain knowledge and skills through monthly program topics, special interest workshops and project activities. Members come up with ideas for programs, which are developed cooperatively with the Extension agent to meet interests!  In addition, individual clubs choose a yearly volunteer service project according to their interests.
EHC members are just like you!  They work, shop, and sit next to you at ballgames. They like to learn everything from A to Z to better themselves for their families, neighborhoods and for their community. They are young and old, men and women, working or retired. They come from diverse backgrounds and a rich history.  They've come a long way from the home demonstration era of the 1900's.
Gather your friends and give us a call.  We currently have two clubs that would love to have new members, but we would be happy to start a new club just for you and your friends!  Their meeting schedules are
De Queen EHC – 2nd Wednesday each month – REA Building in De Queen at 9:30 a.m.
Gillham EHC – 2nd Friday each month – members' homes in Gillham at 10:00 a.m.
For more information, please contact Janet Cantrell, Sevier County Extension Agent-Family and Consumer Sciences at 870-584-3013 orjcantrell@uaex.edu.
FLOOD REPAIR EFFORTS WELL UNDER WAY FOR ARDOT 08/26/19
The Arkansas Department of Transportation has continued to make both temporary and permanent repairs across several counties in District 3, following the July 16th flash flood event caused by rainfall from Hurricane Barry. KMTB's Jonathan Canaday in Nashville reports that District Engineer Steve Frisbee says many roadways, bridges and culverts were damaged throughout Howard, Pike, Hempstead and Nevada Counties. According to Frisbee, about 80 percent of the temporary repairs have been completed at this time. He also says thanks to the long hours and hard work of the local inspection and maintenance crews, all of the highways were repaired to safely open to traffic within one to four days. Additional staff, equipment, and materials from the other counties in the district was acquired to quickly get roadways open following the flooding.
However, a significant amount of additional work involved large quantities of riprap stone to shore up bridge and culvert ends, along with gravel and other aggregates to fill and reshape many washouts along roadway shoulders, ditches, and driveways. ARDOT has exceeded $750,000 in repair costs so far, and will continue to make repairs through the rest of the year.
Arkansas Governor Asa Hutinson also visited a Farm Bureau event in Nashville last week, where he announced $150,000 would be dispersed to assist in funding the repair process.
Frisbee says this type of damage puts them behind in normal maintenance work, including: mowing, ditching, pavement repairs, surface sealing, and leveling. Recent dry weather has helped in efforts to catch up on normal operations.
ASHDOWN ALUMNI TICKETS 08/26/19 
Ticket sales for the Ashdown Alumni Banquet will end on Thursday, September 5th.  Tickets are $30.00 per person and the banquet will be held at Ashdown High School on Saturday, September 14.  Doors will open at 4:30.  Individual tickets can be purchased at the Castle, or from Sandra Furlow, or Susan Simmons.  To purchase a table of eight, please contact Diane McLarty at 870-898-6179.
UNEMPLOYMENT RATES HIT NEW LOW IN ARKANSAS 08/26/19
DeAnn Vaught has reported Arkansas recently set a new record low for unemployment. The unemployment rate for July was 3.4 %, breaking the previous record of 3.5% last month. There are 19,200 more jobs in our state than this time last year.
But the story of our work force does not end there.  As we approach Labor Day, it's worth taking a look at our state's largest occupations, what occupations are in demand, and what occupations are paying the most.
This information is released annually in the Department of Workforce Services Arkansas Labor Market and Economic Report.
Retail salespersons was estimated to have the most employees across the state with 37,050 employed in 2017 with an average wage of $24,990. Combined food preparation and serving workers was the second largest occupation with 35,520 employed, earning an average wage of $19,620.
When it comes to occupations in demand, the report is divided into three categories: high skill, moderate skill, and basic skill.
The most in-demand high skill occupations in our state are operations managers, registered nurses, clergy, elementary school teachers (except special education), accountants and auditors.
The most in-demand moderate skill occupations are truck drivers, nursing assistants, bookkeeping and auditing clerks, teacher assistants, and licensed practical and licensed vocational nurses.
The most in-demand basic skill occupations are food preparation and food serving workers, cashiers, retail sales, farmers and other agricultural managers.
Internists topped the occupations paying the most list with an annual salary of $247,280. Obstetricians and Gynecologists, with an average annual salary of $235,130 ranked second.
The entry wage estimate for employers of all sizes was $20,160 for 2017. The median wage estimate for employers with 250-499 employees was $32,317, while wages for experienced workers averaged $50,710 for employers in all size categories. Our labor market is expected to continue to grow. You can find more detailed information on the labor market in various regions of the state by reading the report we have linked on our website www.arkansashouse.org.
UA COSSATOT GRADUATE EARNS JOB AT HEART HOSPITAL IN PLANO 08/26/19
Caleb Burrow is a former Sevier County resident and UA Cossatot nursing student who graduated from UA Cossatot's RN program in 2015. This summer, Caleb started a new chapter when he and his wife moved to Plano, Texas where Caleb was hired to work as a Cardiovascular ICU nurse at the Baylor Scott and White Heart Hospital. Caleb grew up in De Queen, Arkansas and graduated from a Northwest, Arkansas private school in 2012. He decided to go to college at UA Cossatot it was a more cost-effective choice. He also decided to major in nursing because he wanted to help people and make a difference in their lives. In the fall of 2012, Caleb was accepted into the eleven month LPN day program at the De Queen Campus.
Burrow says "My time in the LPN program was probably the most challenging and most rewarding time in my nursing education and experience. With classes and clinicals, the whole program challenged me to put what I had learned into practice in both long term and acute care settings." After graduating from the LPN program in 2014, Caleb continued his nursing education at UA Cossatot by enrolling in the college's RN nursing program. For this program, Caleb attended classes at UA Cossatot's Nashville Campus. Caleb then graduated with an Associate of Applied Science RN nursing degree from UA Cossatot in 2015.
After gaining an LPN and an RN degree from UA Cossatot, Caleb transferred to Arkansas Tech University. He was accepted into the school's Bachelor of Science in Nursing program, where he took classes online. While taking classes at Arkansas Tech University, he also worked full-time in the ICU setting at Christus St. Michael Health System in Texarkana, Texas. In 2017, Caleb graduated from Arkansas Tech University with a BSN degree. After working three and a half years at Christus St. Michael Health System in Texarkana, Caleb has chosen to take a job in the Cardiovascular ICU at the Baylor Scott and White Heart Hospital in Plano, Texas. The application deadline for the eleven-month LPN day program is March 1st of each year at UA Cossatot. The application deadline for the eighteen-month evening LPN program and the one year RN program at UA Cossatot is August 31st of each year. To learn how to apply for one of these programs at UA Cossatot, please visit the college's medical education page at www.cccua.edu to schedule an advising appointment.
FREE CITIZENSHIP CLASSES ANNOUNCED 08/26/19
A free citizenship class will begin at the UA Cossatot Adult Education Center in De Queen on Thursday, August 29. The class will be from 5:00 PM-6:30 PM and last 8 weeks.
The Adult Education Center in Nashville will offer a citizenship class beginning September 24. It will be from 1:00 PM- 2:30 PM.
Topics will include completing the N-400, gathering the required documentation, 100 civics questions, and participating in mock interviews. Interested individuals should register before classes begin. Call 870-584-1185 for more information.
POWER OUTAGE HITS SEVIER COUNTY THURSDAY AFTER TRANSFORMER CATCHES FIRE 08/23/19
Several local business were required to close early unexpectedly in Sevier County following a widespread electricity outage Thursday, August 23rd. The outage affected the De Queen, Gillham, Horatio and Lockesburg areas beginning around 4:45 p.m and more than 5,000 residents are estimated to have lost power. Swepco customers were originally informed that the outage would last several hours until at least 9:00 p.m. Thursday night, however crews continued to work on restoring electricity services much later than initially expected.
Nic Garza, KDQN AM program director reported live from the scene around 10:00 p.m. Thursday evening and spoke to SWEPCO crew members at the scene who reported that the outage was caused by a "piece of equipment that went bad" and "blew up." Local agencies assisted in working the incident as The De Queen Fire Department was seen heading towards the site in South De Queen near the County Fairgrounds around 4:50 p.m. The Sevier County Sheriff's Department also posted a Facebook Live video from the scene at 5:53 p.m. and informed residents to expect power to remain out for the coming hours.
More information about what caused the transformer to blow up will be released as information becomes available.
PRO BONO LEGAL SERVICES FOR VETERANS NOW AVAILABLE IN ARKANSAS 08/23/19
Arkansas Attorney General Leslie Rutledge and Governor Asa Hutchinson announced their offices will be allocating $750,000 for a total of $1.5 million to create Veterans Legal Services Clinic for Arkansas veterans. This is the first clinic of its kind in Arkansas, and the program will enable enrolled students to provide legal services to veterans throughout the State at no charge.
Veterans in all areas of the state are encouraged to utilize the new services, which will be centered at the University of Arkansas Little Rock William H. Bowen School of Law.
The legal clinic will serve as the only pro bono services center for veterans in the state of Arkansas, which is home to over 250,000 past, and present service members. Under the supervision of a clinical facilitator, enrolled students will be trained to represent veterans on various legal issues. The clinic will also provide free continuing legal education for practicing attorneys on veteran specific legal issues, and establishing partnerships between participants with veterans in need of legal assistance.
Attorney General Rutledge is requesting consumers with questions, or to file a consumer complaint to visit ArkansasAG.gov or call (800) 482-8982.
LITTLE RIVER COUNTY SENIOR CITIZEN CENTER ANNOUNCEMENTS 08/23/19
Changes are happening in Little River County at the Foreman and Ashdown Senior Citizen Centers.  The Foreman Senior Citizen Center has new hours.  They are now open Monday, Tuesday and Thursday 9:30 – 1:00.   and Bingo is held every Tuesday at 10:15 and lunch is served lunch at 11:30.
The Ashdown Center is having a Quilt Raffle.  A quilt made by the Senior Citizens is being raffled, tickets are $1, and the winner will be announced during their quilt show on September 27 and 28th.
Both Centers are having a cereal drive to get boxes of cereal to our homebound seniors in Little River County.  Boxes can be dropped off at either center and  the Little River County Courthouse.  If you have any questions, call Paula at 870-898-2808.
LOCKESBURG CITY COUNCIL TALKS PROJECTS AT AUGUST MEETING 08/22/19
The Lockesburg City Council met in regular session, Tuesday, August 13th, in the Council Room of City Hall. Daniel Martinez and Brenda Sullivan represented the Sevier County Chamber of Commerce and addressed the Council to announce several activities planned in the City of Lockesburg and invited the Council to attend their monthly chamber meetings.
Park Commissioner Shelia Ruth addressed the Council and introduced Brenda  as the newest member of the Park Committee and provided a report on the Market in the Park, which will now be held every month. She also reported an update on the walking trail project.
Mayor Danny Ruth then addressed the Council with an update on the inside of the new Senior Citizens Building. Ruth reported the walls and ceiling are in place, the floor should be finished soon and the baseboards should be put down later this month. As soon as all is completed, plans will be made to complete the kitchen area.
A sidewalk project is in the early stages as Ruth informed the Council that an engineer is going to advertise for bids to collect estimates for the project.
Mayor Ruth also informed the Council the little bush hog had been in the shop most of the summer hindering the mowing of the right of ways and the city's big side boom tractor would have to be shared with the City of Horatio.
The Council briefly discussed a USDA RD WWW Loan to complete the replacement of the old sewer system in town. The item was tabled until next month so all the Council Members could read the entire packet.
Deputy Municipal Clerk JoAnna Giusti requested to attend the Municipal Clerks Institute in Fayetteville this September. The council agreed to apply for a scholarship so Giusti can attend next year.
City Attorney Erin Hunter informed the Council that Chad Gallagher from Legacy Academy approached the Mayor about changing the name at the Elementary School Drive from Darter Circle. After investigating what all would be involved in changing the name, Gallagher decided to leave it as is.
Prior to adjourning the council approved the financial report, bills and July 2019 meetings minutes with one correction.
The next Lockesburg City Council meeting is scheduled for Tuesday September 10th at 6:30 p.m.
 WILDLIFE GRANTS AVAILABLE FOR LOCAL COUNTIES 08/22/19
The Arkansas Economic Development Commission Division of Rural Services has announced the Wildlife Conservation Education Grants Program application period is open now through Oct. 4th. More than $678,000 is available and funds for these grants come from fines collected by the Arkansas Game and Fish Commission.
AGFC Chief of Education Tabbi Kinion says the grants can really enhance learning opportunities for youth in rural areas of Arkansas, where education dollars are at a premium.
Programs eligible for funding include, the study of general fish and wildlife conservation issues, Project WILD Workshops, Arkansas National Archery in the Schools Program, Arkansas Youth Shooting Sports Program, Fishing in the Natural State, Arkansas Stream Team, School Yard Habitat Site Development, and specialized AGFC conservation education/educator training workshops and similar programs. Funds may also be used for field trips to AGFC Nature Centers, Conservation Education Centers and Wildlife Management Areas.
In southwest Arkansas,
Sevier County is eligible for $13,707.62
Little River County can receive $4,502.04
Howard County could get $4,294.87
Hempstead County could be granted up to $6,591.58
Pike County can apply for up to $14,723.83
Polk County is eligible for as much as $7,985.20
www.arkansasedc.com/Rural-Services/division/grants/wildlife-education-grant
CONGRESSMAN WESTERMAN HOLDING MOBILE OFFICES IN LOCAL COUNTIES 08/22/19
U.S. Congressman Bruce Westerman's office will host a mobile office in southwest Arkansas on September 5th. These offices are ideal for constituents who live further away from the primary district offices to meet with staff and discuss any issues that they're having with the government (including foreign adoptions, passports, federal aid, etc.) Times on September 5th include the Pike County Courthouse in Murfreesboro from 8 to 9 a.m., Howard County Courthouse in Nashville from 9:15 a.m. to 10:15 a.m., Sevier County Courthouse in De Queen from 11 a.m. to noon, and the Hempstead County Courthouse in Hope from 2:45 to 3:45 p.m.
You can reach Congressman Westerman's Washington office at 202-225-3772 and the Hot Springs office number is 501-609-9796. You can also visit https://westerman.house.gov/
SEVIER COUNTY SPECIAL ELECTION DETAILS ANNOUNCED 08/21/19
The Sevier County Election Commission has announced details for the upcoming specially called election set for Tuesday October 8th. The purpose of the election and polling locations have been included in the announcement, provided by County Clerk Debbie Akin.
The purpose of The Election is to vote for or against the adoption of a 1% sales and use tax within Sevier County. Collections from which shall only be used to "acquire, repair, expand, equip, furnish, operate and maintain" a new Sevier County Hospital facility and to pay and secure the repayment of bonds approved by the voters for financing hospital facilities.
The hospital is estimated to cost up to $24,250,000.
Voters from all precincts in Sevier County will be allowed to vote at any voting center. Locations include:
De Queen Church of Christ
Kern Heights Baptist Church
Herman Dierks Park (Community building)
De-Queen Mena Co-Op in Gillham
Geneva Baptist Church
J. Walker Fellowship Hall in Horatio
Ben Lomond Community Church
and Lockesburg Methodist Church.
All polling places will be open from 7:30 a.m. until 7:30 p.m. on election day, Tuesday October 8th with absentee voting to be conducted at the Sevier County Courthouse from 8:00 a.m. until 4:00 p.m. Friday August 23rd and Early voting will take place Tuesday October 1st at 8:00 a.m. through 4:30 p.m. on Monday October 7th.
Precinct information and other special election questions can be referred to The Sevier County Clerk's office at 870-642-2852.
MENA CITY COUNCIL APPROVES FAA AGREEMENT 08/22/19
Members of Mena City Council approved an agreement with the United States Department of Transportation's Federal Aviation Administration on a grant allocating $149,400 to be used for the design phase of Runway 17-35's Surface Rehabilitation at the Mena Intermountain Municipal Airport.
The City of Mena will add an additional $16,600 for its share of the project.
Council also directed the Mena Airport Commission to enter into a contract with Garver Engineers to design, oversee, and closeout the project; on behalf of the city.
CITY OF TEXARKANA ADDRESSES PLANS FOR COLLAPSED BUILDING 08/22/19
The city of Texarkana, Arkansas. expects an emergency declaration this week, from the state regarding the roof collapse of a downtown building last week, news source KTAL reported Tuesday.
A portion of the Regency House on Broad Street collapsed onto the sidewalk and though no one was injured a portion of the road in front of the building was blocked off. City officials said the building has been condemned for years and repeated attempts to get in touch with the owners have been unsuccessful.
City Manager Kenny Haskin said the state will likely auction off the building and they are prepared to submit a sealed bid this week. Haskin said if the city purchases the building, back taxes would have to be paid. Local officials are also seeking estimates for costs of tearing down the structure.
BROKEN BOW JUNIOR CHAMBER SOFTBALL TOURNAMENT 08/22/19
The Broken Bow Junior Chamber of Commerce's 2019 Co-Ed Benefit Softball Tournament Will be held Saturday, September 21st at the Choctaw Nation Softball Fields beginning at 9:00 A.M. Each team will need to sign up at the Broken Bow Chamber of Commerce office before Wednesday, September 18th. The cost is $150 per team. All team names and contact information must be included at the time of sign up and if your team needs to drop out, please contact the chamber as soon as possible. Space is limited to the first 10 teams and brackets will be posted the day before the tournament. First and Second place will both receive T-Shirts and the first place winner will receive a 2019 Easton ghost bat.
For more information contact Kyler Wheat – 940-256-2315, or Broken Bow Chamber of Commerce – 580-584-3393
DE QUEEN MAYOR LOOKING AT COST TO DEMOLISH ENNIS BUILDING DOWNTOWN 08/21/19
The De Queen City Council met for their only meeting this month on Tuesday, August 20th at City Hall.
During the public comment portion of the night, Economic Development Director Lisa Taylor announced that she is in the process of assisting in planning public forums that will help clear up misinformation regarding the new Sevier County Hospital building. Five total meetings will be scheduled throughout the county for local residents to present questions to a panel of community leaders who have been working closely on the project. Dates and times for the public meetings will be announced as the information becomes available.
The first item of old business was a continuation of the discussion on The Ennis Building. Council members Troy Cravens and Rick Pruitt both expressed concern over safety issues for citizens and fear of liability factors for the city as the structure condition continues to worsen and remains unusable. During the July 30th meeting, Mayor Jeff Brown revealed the deteriorating building is stricken with asbestos and will cost roughly one million dollars to fully repair. Brown also noted that the market value of the structure currently sits at $20,250. After an extensive discussion the council agreed the best step to take next would be for Mayor Brown to gather estimates on what it would cost to have the building torn down. Brown says he would like to have those estimates collected within the next month.
Following the Ennis building discussion, The council heard the Mid-Year budget ordinance as presented by City Attorney Erin Hunter. This was the 3rd reading of the budget and the council approved the item as-is.
The first item under the new business category was a visit from De Queen Schools superintendent Jason Sanders. Sanders presented both Mayor Brown and Police Chief Scott Simmons with plaques of appreciation for their partnership with the district. Brown and the council approved a request from the district earlier this year that permitted The De Queen Police Department to provide training for armed staff in support of The De Queen Schools Emergency Response team.
The next agenda item addressed was a discussion with Sevier County Judge Greg Ray. Ray informed the council he has been working with Lisa Taylor to plan the public forums regarding the new Sevier County hospital building. Ray announced he has already sought support from the Horatio City council and plans to attend public events like High School football games in an effort to address the community about the importance of emergency healthcare access in Sevier County. Mayor Jeff Brown says he and the De Queen City council are all in support of the new hospital. If the proposed 1% sales tax to fund the building passes October 8th, the city will work to provide funding to build a sewer line for the medical center.
The last item discussed Tuesday night was a resolution to apply for a $50,000 grant that would provide funds for The De Queen Fire Department. Those funds would be used to pay for equipment that will remove carcinogens from the Firefighters Turnouts, which may help reduce their risk of occupational cancers.
The next De Queen City Council meeting is scheduled for Tuesday, September 3rd at 5:30 P.M. in city hall.
TEXAN FINDS 3.72-CARAT DIAMOND AT LOCAL STATE PARK 08/21/19
Largest find of the year discovered after a one-hour search
On Friday, August 16, 27-year-old Miranda Hollingshead of Bogata Texas, visited Arkansas's Crater of Diamonds State Park for the first time. But according to Hollingshead, that wasn't her original plan. "I was just going to pick up a transmission that day, but my siblings were in town and wanted to do something fun together."
After searching for about an hour, Hollingshead found the diamond at the base of a hill on the northeast side of the park's 37.5-acre diamond search area. "I was sitting in the shade, watching a YouTube video on how to find diamonds. I looked over at my kid for a second, and when I looked down, I saw it mixed in with other rocks."
Hollingshead noted she was pretty sure she had found a diamond when she first saw the stone. "I shook my hand across it to make sure what it was, picked it up, and yelled across the field to my mom, 'I think I got one!'" After showing her mom and siblings, Hollingshead carried her find to the Diamond Discovery Center, where park staff registered it as a 3.72 ct. yellow diamond. It is the largest registered at the Crater of Diamonds since March 2017, when a teenager from Centerton, Arkansas found a 7.44-carat brown gem. It is the largest yellow diamond since a visitor from Oklahoma City found a 3.85-carat jewel there in October 2013.
About one in every 10 diamonds are found on the top of the ground by observant visitors. Park personnel plow the diamond search area, the eroded surface of an ancient, diamond-bearing volcanic pipe, periodically to loosen soil and assist with natural erosion.
When asked whether she plans to sell her gem or keep it as a souvenir, Hollingshead said if she doesn't sell it, she'll probably have it mounted in a ring. As of this writing, 319 diamonds have been registered at Crater of Diamonds State Park in 2019, weighing a total of 63.49 carats. 13 diamonds registered this year have weighed at least one carat each.
In total, over 75,000 diamonds have been unearthed at the Crater of Diamonds since the first diamonds were discovered in 1906 by John Huddleston, a farmer who owned the land long before it became an Arkansas State Park in 1972.
Crater of Diamonds State Park is located on Arkansas Highway 301 in Murfreesboro. It is one of 52 state parks administered by the State Parks Division of the Arkansas Department of Parks, Heritage, and Tourism.
For more information, contact Crater of Diamonds State Park at 870-285-3113, emailCraterofDiamonds@arkansas.com, or visit www.CraterofDiamondsStatePark.com.
GOVERNOR AWARDS FUNDS TO HOWARD COUNTY FOR FLOOD DAMAGE REPAIRS 08/21/19
Arkansas Governor Asa Hutchinson spoke at Tuesday's annual Howard County Farm Bureau membership dinner.  The governor said that he had signed an emergency declaration Tuesday (8/20) for $150,000 to start bridge repairs and other needed infrastructure repairs in Howard County, following flash flooding in Nashville and Dierks.
The governor also spoke on topics of agriculture and high speed rural broadband.
Howard County Farm Bureau President Dennis Ritchie recognized the Greene Family of the Umpire area as the Howard County Farm Family of the Year.  They have advanced as one of eight district winners in the 72nd annual Arkansas Farm Family of the Year Program.  The state winner will be announced December 6th.
Outgoing board members receiving recognition included Ritchie, Ray Rogers, F Gibson and the late Joey Jamison.
Other guests included Secretary of Agriculture Wes Ward, Livestock and Poultry Commission Director Patrick Fisk, State Representative Justin Gonzales and State Representative Deann Vaught.
HOWARD COUNTY FAIR SET FOR SEPTEMBER 08/21/19
The Howard County Fair is scheduled for next month. The festivities will be held at The Howard County Fairgrounds in Nashville Arkansas September 2nd through 7th. Livestock Exhibits, a cattle show, Pie and Cupcake contests, A BBQ chicken contest, kiddie carnival, craft, horticulture and photography exhibits and more will all be showcased during the event.
All livestock is to be in place by 7:00 p.m. on Monday September 2nd and the hog and sheep show will begin at 6:00 p.m. on Tuesday, September 3rd.
The Howard County Fair Parade is set for 9:00 a.m. September 7th beginning at The Nashville High School Parking lot and concluding at cash savers. Everyone is invited to have a float, tractor, horse or vehicle in the parade. Prize money will be awarded in the Hay Bale decorating contest and the competition is open to all 4H clubs, FFA chapters, Boys and Girls clubs and churches.
There is no cost for admission into the fair and all events are family friendly. Find out more by contacting Linda Kitchens at 870-583-6104.
STATE REPRESENTATIVE DEANN VAUGHT SEEKING RE-ELECTION 08/20/19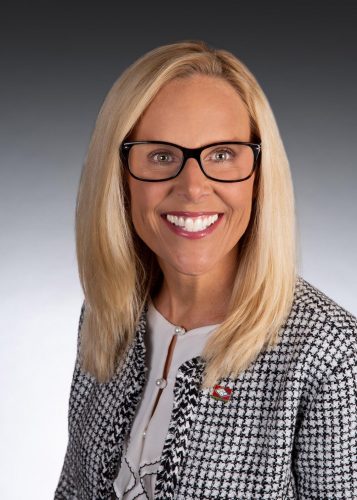 Today, State Representative DeAnn Vaught announced she will seek another term in the Arkansas House of Representatives. Serving since 2015, Vaught has been advocating for rural voices at the capitol and her focus includes farmers rights, 2nd amendment support and bringing awareness to mental health issues and child abuse.
Vaught represents district 4, which includes parts of Howard, Sevier, and Little River Counties. She has worked with local leaders to continue efforts for job growth and economic development in the 4th district.
Agriculture is a community close to her heart, as she says "District 4 is full of amazing farmers who care for their livestock and the environment, they do not need more red tape keeping them from doing what they love and we all need them to keep feeding the world. "
Vaught serves as Vice-Chair of Executive Audit, a member of the Education Committee, Insurance and Commerce, House Management, and House Rules. She also serves on The Arkansas Legislative Council and the PEER review chair and is a mother to three grown daughters. DeAnn and her husband, Jon reside on a farm outside Horatio and are members of First Baptist church, Arkansas Farm Bureau, Cattleman's Association and Arkansas Pork Producers.
Vaught says "I am grateful for everyone's support and hope to continue to serve as your District 4 state representative."
ASHDOWN SCHOOLS TO CELEBRATE GRANDPARENTS DAY SEPTEMBER 6TH 08/21/19
Three Ashdown schools are inviting grandparents to their campus on Friday, Sept. 6, to celebrate Grandparents' Day with their grandchildren. Ashdown Schools recognizes the importance of parental support, including grandparents, in the success of its students and wishes to honor their contributions.
Ashdown Elementary School (Margaret Daniel Building), kindergarten through second grade invites their grandparents to join them in their classrooms from 1:30-2:30 that afternoon. Refreshments will be served in their classrooms.
L. F. Henderson Intermediate grades 3-5 welcome grandparents from 9-10 a.m. Grandparents will have snacks and activities in their grandchild's homeroom class. At Ashdown Junior High School (grades 6-8), grandparents may enjoy breakfast with their grandchild from 7:45-8:45 in the cafeteria. Grandparents will eat free. The menu will be sausage biscuits, muffin, milk and juice.
VENDORS FOR BLUE DARTER TRADE DAYS BEING ACCEPTED NOW 08/20/19
Vendor registration forms for the 3rd annual Blue Darter Days are now being accepted.
Blue Darter Days is a 2-day event at The Lockesburg Gymnasium that is sponsored by The Lockesburg Lions Club and UA Cossatot Foundation. Art, jewelry, clothes, tools and similar vendors are encouraged to participate and apply soon. Vendor forms are now available for pick-up at The Bank of Lockesburg or front desk of any UA Cossatot Campus. The event is family friendly and all entrepreneurs are welcome.
The Blue Darter Trade Days will be held Friday and Saturday, September 27 and 28, 2019 from 9:00 A.M. to 5:00 P.M. each day.
Student Ambassadors will also be hosting the Fall Fest on Saturday, September 28 beginning at noon.  Activities include a pumpkin patch, hayrides, petting zoo, games, and more. Old fashion Lockesburg bingo will begin at 2:00 P.M
For vendor information or questions about the Blue Darter Trade Days, please call UA Cossatot Continuing Education Coordinator, Zebbie Launius at 870-584-9966.
FREE BEEKEEPERS CLASS IN SEPTEMBER 08/20/19
The Southwest Arkansas Beekeepers Association is offering a free basic beekeeping course September 9th. The  course is for those who have never kept bees but think they would like to try. Participants will learn everything they need to get started – basic concepts and costs of beekeeping, equipment and supplies required and where to purchase, as well as long-term costs and time required.
The free class will be taught by Southwest Arkansas Beekeepers Association President Fred Douville. Refreshments will be served. Classes will be September 9, 5:30 pm to 9:00 pm at Cossatot Community College in Nashville, Room 101. Although the class is free, pre-registration is required to insure adequate handouts and refreshments. For more information about the course and to register, contact Debra Bolding at (870) 557-2352.
FOREMAN SCHOOL BOARD TALKS PERSONNEL CHANGES AT SPECIAL MEETING 08/20/19
Last week The Foreman Board of Education met in Special Session to discuss several agenda items, August 12th.
Superintendent Tankersly presented a student transfer request from The Foreman District to Horatio Schools. After a discussion the board agreed to deny the motion with a unanimous vote of 4-0.
The board did decide to approve a notice of special election for September 10th, 2019 before an executive session was held for roughly 30 minutes.
After the executive session concluded the board moved on to the topic of personnel and accepted a resignation letter from High School teacher Leslie Walker. Christine Adams was also hired as a long-term, substitute bus driver and Terri Kelli was approved for a 3 hour bus route for the 20-19-2020 school year.
In other personnel news Robert Easter's three hour bus route resignation and the hire of High School science Teacher Joshua Bengston were both accepted.
The next meeting will be held at 6:00 in the Oscar Hamilton Elementary library Tonight, Tuesday August 20th.
ARKANSAS LEGISLATION UPDATE 08/19/19
During any given day in the school year, there are 350,000 children riding a bus on Arkansas roadways.
This week, legislators joined the Governor, Education Secretary Johnny Key, and state police in reminding drivers that Flashing Red means Kids Ahead. It is illegal to pass a stopped school bus whenever its red lights are flashing, as students are present. The law requires drivers to stop on 2 lane and 4 lane highways in both directions, even those with a middle lane. Drivers cannot attempt to pass in any direction until the school bus has finished receiving or discharging passengers and is in motion again, and yet, Arkansans violate this law routinely.  Back in April, Arkansas school bus drivers reported 884 instances of motorists illegally passing stopped school buses in one day. Twelve of those instances occurred on the right side of the bus, where students enter and leave the bus.
The penalties and punishment for anyone found guilty of illegally passing a stopped school bus were increased dramatically by Act 2128 of 2005, also known as Isaac's Law. The legislation was named in honor of Isaac Brian, an elementary school student in the Bryant School District who was struck and killed when a driver illegally passed his school bus while students were exiting the vehicle.  The legislature increased the fines in Isaac's Law again this year with Act 166. Drivers can now face up to a $2,500 fine for a violation.
Isaac's father, William Brian, spoke at the Capitol Rotunda on Tuesday, "I'm encouraging you to take your responsibility as a driver seriously. I'm asking you eliminate distractions and have a heightened sense of awareness anytime you see flashing red lights." Everyone has a responsibility to ensure students arrive to and from school safely. Remember: Flashing Red. Kids Ahead. To learn more about the campaign, visit www.flashingredkidsahead.org.
DEPUTY FINDS TWO RESIDENTS WITH DRUGS NEAR TEXARKANA LAST WEEK 08/19/19
Two traffic stops resulted in drug arrests early Thursday for a Miller County deputy.
News outlet TXK today reports that while on routine patrol Thursday August 15th, Deputy Stephen Rhyne conducted a traffic stop on a Toyota truck just off of Hightway 237 in Miller County for a traffic violation. The driver of the truck was identified as Christopher Orand, age 38 of Texarkana, Arkansas. The driver reportedly consented to a search and 1.1 grams of suspected Methamphetamine was discovered in the vehicle. Mr. Orand was arrested for felony Possession of a Controlled Substance and was booked into the Miller County Detention Center.
Later that morning around 4:07 a.m., Deputy Rhyne conducted another traffic stop on a Toyota Camry near South State Line Avenue for a traffic violation. The driver was identified as Howard Nielson, age 56 of Bowie County Texas. Nielson was found to be in possession of approximately 4.4 grams of suspected Methamphetamine and a small amount of suspected Marijuana. Mr. Nielson was arrested on a Felony charge of Possession of a Controlled Substance and Misdemeanor Possession of a Controlled Substance then booked into the Miller County Detention Center.
ARKANSAS HUNTERS CAN RENEW LICENSE ONLINE 08/19/19
The Arkansas Game and Fish Commission would like to remind hunters and anglers that licenses can be renewed online. The new site offers a convenient, one-stop shop for hunting and fishing licenses, permits, game checking, merchandise and other important information about outdoor recreation in Arkansas.
Digital copies of licenses are available through the AGFC mobile app, which can be downloaded from the Play Store or the Apple Store.
Harvest reports, donation options and gift certificate information are also available through the site.
Find out more about renewing your hunting or fishing license by visiting AGFC.com
BETTER BUSINESS BUREAU WARNS ARKANSAS RESIDENTS OF SCAM 08/19/19
The Better Business Bureau has announced a scam making its way around Arkansas. This scam has targeted local business owners in attempts to gain financial information. The Bureau is asking all local businesses to be on alert for this activity and use extreme caution when dealing with consumers from outside of the area.
Business owners and employees have received texts and electronic quotes from a consumers claiming to be moving to Arkansas soon but are currently out of the state. The business is given an address and asked to provide an estimate. Once the business provides the estimate, the "customer" usually requests financial information in order to wire transfer the deposit or they will actually send a check for the deposit amount.
Another tactic that used is to send an "over-payment" of the deposit, in hopes that someone will send back the amount that was over paid. In this way, they end up with a legitimate check and the business is left with a fake one.
The BBB has provided advice for dealing with these scams and preventing fraud.
If you receive text messages, quote requests via email, or calls that start to follow the pattern above, stop engaging. (The scammers will usually start the conversation by digital means such as email, text, or an automated quote system.)
If you are unsure of who you are dealing with, proceed with extreme caution. Do not give any financial information for wire transfers, do not deposit any checks, and do not perform any work up front until you can verify the requesting party is who they say they are.
And, use extra caution when dealing with consumers that are not from the area and also when corresponding with them online. More information is available at BBB.org.
DE QUEEN LEOPARDS SENIOR BREAKFAST 08/19/19
On August 16th, a large group of hungry DHS Seniors crowded the fellowship hall of First Baptist Church for breakfast to kick off the 2019-2020 school year. The parent-sponsored Senior Breakfast was also attended by De Queen Schools' superintendent, Jason Sanders and De Queen mayor, Jeff Brown.
BLM WILD HORSE SALE TODAY AND TOMORROW AUG 16TH, 17TH 08/16/19
The Bureau of Land Management is holding a wild horse and burro event in Idabel, Okla., today and tomorrow, August 16th and 17th, at the Idabel Rodeo Arena.  The two-day event features 65 wild horses and burros, is going on now Friday, August 16 and will continue through 12:00 p.m. on Saturday, August 17.  Animals are eligible for direct purchase to a good home or for adoption.  Inquire with BLM staff onsite for more information.
As part of the effort to find every horse and burro a good home, the BLM now offers up to $1,000 to adopt an untrained animal.  This adoption incentive will be offered for every animal in Idabel.
The animals offered at the event are adult and yearling horses and burros that once roamed free on public lands in the West.  The BLM periodically removes excess animals from the range in order to maintain healthy herds and to protect other rangeland resources.  The adoption and sale program is essential for achieving these important management goals.  Since 1973, the BLM has placed more than 235,000 of these animals in approved homes across the country.
BLM staff will approve applications onsite.  To qualify to adopt or buy, one must be at least 18 years old, with no record of animal abuse.  Qualified homes must have a minimum of 400 square feet of corral space per animal, with access to food, water, and shelter.  A six-foot corral fence is required for adult horses; five feet for yearlings; and four-and-a-half feet for burros.  All animals must be loaded in covered, stock-type trailers with swing gates and sturdy walls and floors.  BLM staff will be on hand to assist with the short application process.
The Idabel Rodeo Arena is located at 1001 NW 9th Street, Idabel.  For more information, call toll-free 866-468-7826 or visit www.blm.gov.
ARKANSAS ATTORNEY GENERAL COMING TO HOPE 08/16/19
Arkansas Attorney General Leslie Rutledge has announced a Mobile Office location scheduled for Southwest Arkansas next month.
Rutledge will be visiting Hope on September 19th for The Hempstead County Mobile Office Initiative. The event will be held at The Hope Senior Citizen's Center, 102 South Main Street beginning at 10:00 a.m. This is an opportunity for area residents to voice concerns and ask questions for the The AG.
The Attorney General's office will also be partnered with Hempstead County Sheriff James Singleton to provide the community with an organized drug take back event. Residents are encouraged to bring any expired, unused prescription medications to this event from 10:00 to 11:30 A.M.
An identity theft and Scam presentation will be held from 11:00 to 11:30 and everyone is welcome to attend.
Find out more about the Attorney General's mobile office initiatives and other upcoming events online at ArkansasAG.gov
CORPS SEEKS VOLUNTEERS FOR CLEANUP AT GILLHAM LAKE 08/15/19
GILLHAM, Ark. – Gilliam Lake will host a shoreline cleanup as part of the Great
Arkansas Cleanup, on September 14, 2019 from 9 a.m. to 1 p.m. The cleanup will be held in cooperation with Arkansas Game and Fish Commission, Arkansas State Parks, U.S. Army Corps of Engineers, U.S. Fish and Wildlife, and many other government and local agencies.
Volunteers interested in assisting should check in at 8 a.m. at Big Coon Creek Park. Gloves and bags will be provided, volunteers are asked to please bring their own trash grabbers and life jackets. Lunch will be served at 12:30 p.m.
Participants will be taken by boat to various locations on the lake. State parks will be providing a large 30 passenger boat as well as two dozen kayaks for participants. The Arkansas Game and Fish Commission will be there with their boat for safety, as well as bringing ATVs.
Boat owners will not have to use their boats to transport the recovered trash around the lakeshore. The Corps has made arrangements for contractors to pick up trash left by the volunteers along the shoreline. To facilitate contractor pick-up, volunteers should leave the bagged trash in conspicuous locations around the shoreline.
Free camping will be offered the night before for volunteers, as well as free day use the day of the event. For more event information, please contact the DeQueen Project Office at 870- 584-4161.
FOREMAN SCHOOLS TO HOLD PUBLIC MEETING MONDAY 08/16/19
A public meeting will be held for Foreman Schools on Monday, August 19th. The public is asked to gather in the Foreman High School auditorium at 6:00 p.m. The purpose of the meeting is to discuss the proposed design for the new High School building.
There will be a short presentation featured and time for questions and answers will be provided.
Everyone in The Foreman Community is encouraged to attend this public forum.
BEAR HUNTING WORKSHOPS IN HOT SPRINGS, LITTLE ROCK 08/15/19
The Arkansas Game and Fish Commission has announced upcoming Bear Hunting workshops. AGFC large carnivore program coordinator, Myron Means will host the series of seminars throughout various locations in Arkansas. The events will be focused on hunting black bears in August and September.
Means will present every aspect of hunting Natural State bears from scouting and bear behavior, to preparation for the hunt and care of harvested bears.
He will also help hunters use this knowledge to increase their chances of harvesting a bear, with tactics developed for private and public land hunters. The seminar also will address what to do if your new knowledge pays off, as many hunters can be intimidated by the idea of earning a massive bear and not knowing what to do to take care of the trophy.
Hunters seeking bears should have plenty of sharp knives and rope waiting in the truck if they do hit their mark. Acting quickly to skin, quarter and cool the bear is the key to great meals later.
Seminars will be held at multiple locations around the state, including August 27th at National Park College in Hot Springs and The AGFC Headquarters in Little Rock. Call 479-478-1043 for more information.
DIERKS TO HOLD PUBLIC MEETING REGARDING MILLAGE EXTENSION 08/15/19
The Dierks School District will hold a public meeting on Monday, August 19th at 6 p.m. to discuss a millage extension. A special election will take place on September 10th and the goal of the extension is to provide approximately $1,900,000 for constructing and equipping an elementary school classroom addition. The proposed six classroom wing will add in excess of 6,000 square feet.
The extension does not increase the current millage rate. The requested rate of 43 mills represents the same rate presently being collected. The 11 debt mills are being requested to be extended through 2049.
Other funds generated by the millage extension will be utilized by the Dierks School District for HVAC replacement, roof repairs, parking lots, safety improvements and other building maintenance.
For further questions or concerns, feel free to contact the district office at 870-286-2191.
TEXARKANA JAILER CAUGHT WITH CONTRABAND 08/15/19
A Bi-State jailer in Texarkana has been arrested for attempting to smuggle contraband into the jail.
Texarkana Today reports that on Tuesday Captain Robby McCarver received a call from Texarkana Texas Police Officer Colton Johnson regarding an employee possibly bringing contraband into the jail.
Jailer Brandy Coulter was searched for contraband Wednesday morning and discovered to be in possession of marijuana and tobacco that was hidden inside a pair of leggings underneath her uniform.
Coulter was arrested for Prohibited Substance in a Correctional Facility and booked into the jail. She has reportedly declined to cooperate with the investigation and her bond has been set at $75,000.
ASHDOWN HOLDS BACK TO SCHOOL BREAKFAST 08/14/19
Board Members of the Margaret Daniel Education Foundation presented grants to Ashdown educators during their Back to School Breakfast on Tuesday, August 6th.
The Foundation sponsors a dinner and silent auction each year to raise money to support "out of the box" innovative ideas that Ashdown teachers can receive through grant applications.
Grants were provided to purchase a Cricut Maker, a T-shirt press, Playa Way Library, Dash and Dot Mini Ipads, and Grammar Planet for a total of $10,235.57.
SCHOOL SUPPLY DRIVE NETS OVER 10,000 ITEMS      08/14/19

Employees of the office of Dr. Randy Walker collected over 10,000 school supplies for area students.  They had three teams collecting supplies which were distributed on Tuesday, August 13th to De Queen and Horatio Elementary students in grades 3 through 5.
Team 3 won with a total of 5,591 supplies.  Team 1 collected 2,881 supplies and Team 4 collected 1,710.  Prizes awarded to each member of the team was 1st place – 40 hours vacation time; 2nd place – 30 hours vacation time; and, 3rd place – 20 hours vacation time.
Thanks to Dr. Randy and Angie Walker for rewarding their employees for their community involvement.
HORATIO MAN KILLED IN TRACTOR-TRAILER OVERTURN NEAR WICKES   08/13/19
KENA Radio News
A 34 year old Horatio man was killed in a motor vehicle accident on U.S. Highway 71 South on Tuesday morning near Wickes.
Jonathan C. Smith was travelling South on US 71 when he drifted to the left and crossed the center line and tried to regain control and overturned in the process.
The 2010 Mack semi was hauling a load of chickens, thus creating an extensive cleanup of the roadway and surrounding properties.
Smith was pronounced dead at the scene and it was the 286th fatality in Arkansas during 2019 alone.
TEXARKANA RESIDENT FACING CHARGES FOR DWI AND DRUG PARAPHERNALIA IN DE QUEEN 08/14/19
A Texarkana woman is facing DWI and Drug Paraphernalia charges after authorities responded to a call in De Queen Saturday.
A report from The De Queen Police Department states that officer Doug Johnson arrived at the former De Queen Hospital to assist Southwest EMS with a call from a woman who was seeking medical help for her boyfriend, who had allegedly been beaten up in Oklahoma, around 8:15 p.m. Saturday, August 10th.
The woman was identified as Kayci Rasnick, age 19, of Texarkana. Upon arriving at the scene,   Officer Johnson noted smelling intoxicants coming from the vehicle and reported the woman's boyfriend had a black eye and pop knot.
Rasnick was given a series of field sobriety tests before being taken into custody for suspicion of DWI. A metal pipe with marijuana residue was reportedly discovered in Rasnick's purse and she was transported to The Sevier County Jail. There, she was read her rights and agreed to take a Breathalyzer test, which showed a result of .105. Rasnick was turned over to jail staff for processing on the DWI and Drug paraphernalia charges.
ARKANSAS AG FILES SUIT AGAINST GLENWOOD, BONNERDALE RESIDENTS 08/14/19
Arkansas Attorney General Leslie Rutledge has filed a consumer-protection lawsuit in Garland County Circuit Court against the Hot Springs-based company Timeless Memories, LLC and its owners, Brittany Brown of Bonnerdale and Karen Annette Tidwell Monet of Glenwood, for advertising false, misleading and deceptive vacation rental properties on popular travel-booking websites.
The Complaint alleges that Brown, Monet and Timeless Memories advertised vacation rental properties on various travel-booking websites, including VRBO and Airbnb. Their rental property descriptions falsely advertised exclusive amenities like hot tubs and lake access that the properties did not have. Defendants also encouraged some consumers to pay outside of the online booking sites, which voided the sites' online payment protection guarantees.
The Attorney General's Office discovered at least eight affected consumers impacted by the deception perpetrated by Brown, Monet and Timeless Memories. Consumers report they tried to contact the defendants to obtain refunds with no success. According to the Complaint, consumer losses are valued at $18,911.93.
Rutledge is asking the court to impose civil penalties, restitution and attorneys' fees and costs. In addition, she seeks to stop Brown, Monet and Timeless Memories from operating their vacation rental home business in Arkansas.
Victims of these business practices should file a consumer complaint on ArkansasAG.gov or call (800) 482-8982.
FIRST STATE BANK DONATES TO DE QUEEN PUBLIC SCHOOLS 08/14/19
Earlier this month, First State Bank in De Queen donated a 40-second clock for football games at Leopard Stadium. The clock will be used for the first time when the Leopards scrimmage Mansfield August 20th.
Pictured above, left to right: De Queen Athletic Director Bob Sikes, FSB CEO and Vice-Chairman Gary Golden, FSB President of Sevier County Division Noel Bard and De Queen superintendent Jason Sanders.
ANNUAL ROD RUN IN MENA SET FOR AUGUST 23RD-25TH 08/14/19
The 44th annual Wilhelmina Rod Run is scheduled for August 23rd-25th in Mena Arkansas. The three-day event will begin with registration from 12:00 p.m. to 4:00 p.m. followed by the "Hot Rod" parade at 5:30 p.m. on Friday, August 23rd. Families and children are welcome and a morning worship service will take place at 10:00 a.m. at Queen Wilhelmina State Park Sunday morning. There will also be a "show-n-shine", poker run, food vendors, a kid's corner, door prizes and an awards ceremony on Saturday. The cost for single car registration is $25 and directions are available online. Find out more by visiting QueenWilhelminaRodRun.com.
DE QUEEN FOOTBALL COACH PREVIEWS 2019 SEASON FOR ROTARY CLUB    08/13/19
De Queen head football coach Stephen Sloan told the Rotary Club Monday that there are 57 athletes out for the 2019 season, including 23 seniors.
The Leopards will hold a Black-Gold intra-squad scrimmage Friday night at 7:00. The De Queen junior and senior high squads host Mansfield for a preseason scrimmage on Tuesday, August 20th starting at 5:30.
The Leopards open up at Mena on August 30th at 7:00. Follow De Queen football all season long on Your Official Leopards Station-102.1 The Good Path!
ARKANSAS ATTORNEY GENERAL TO VISIT ASHDOWN TODAY 08/13/19
Arkansas Attorney General Leslie Rutledge will be in Little River County this week. On Tuesday, August 13th beginning at 10:30 a.m. Rutledge will be hosting her mobile office initiative in Ashdown at the Senior Citizen's Center, located at 1321 Gordon street. The Attorney General will be available to answer questions and a identity theft presentation will take place at 11:30. All residents are welcome to attend and more information is available online, visit ArkansasAG.Gov
FINAL DAY TO REGISTER FOR FALL CLASSES AT UA COSSATOT 08/13/19
The last day to sign up for fall semester classes at UA Cossatot is Tuesday August 13th.  Fall classes include Accounting, English, Child
Development, Diesel Technology, Business, Welding, Physical Science, Cosmetology, Spanish, and General Studies.
UA Cossatot has four campus locations, Ashdown, De Queen, Lockesburg and Nashville.  General Education courses are available on campus in or online.  The college also provides programs at specific sites. UA Cossatot offers several associate degrees, technical certificates, and certificates of proficiency.  Most associate degrees can be completed in two years or less, and some certificates can take only one or two semesters to complete.
Visit the Financial Aid department to learn about assistance while going to school, and visit with someone in Career Pathways and the Center for Student Success for questions.
To see the full list of available classes or to learn about other educational opportunities at UA Cossatot, please visit the college website at www.cccua.edu.  visit the De Queen, Nashville, or Ashdown Campus.
BROKEN BOW CHAMBER ACCEPTING APPLICATIONS FOR JUNIOR LEADERSHIP PROGRAM 08/13/19
The Broken Bow Area Chamber of Commerce is now accepting applications for their Junior Chamber Leadership Program.  The program is open to area high school students.  Applications can be picked up at the Broken Bow Chamber office or at the Broken Bow High School Counselors office.    Deadline to apply is August 22, 2019.
The purpose of the Broken Bow Junior Chamber Leadership Program is to provide opportunities for community-based education and leadership development to high school students in the area.  One of the main goals of this program is to teach students how to give back to the community in which they live through volunteering and doing service projects to help others.  This leadership program strives to produce capable student leaders who are equipped with the education and experiences necessary to become productive citizens of their communities.
For more information, an application, or detailed criteria please contact the Broken Bow Chamber of Commerce at 580-584-3393.
CORPS CLOSURES HAVE BEGUN THIS WEEK 08/13/19
The Army Corps of Engineers, Millwood Tri-Lakes Project Office have temporarily closed access to River Run East Recreation Area. The closure is active as of Aug. 12th and the purpose is to make repairs to the Millwood Lake stilling basin. Depending on weather, the work should be completed by Sept. 10th.
Because of safety concerns, access to the campground, boat launch ramp and bank will not be allowed during the closure.
Officials at the Army Corps of Engineers Millwood Tri-Lakes Project Office regret any inconveniences this may cause and ask the public to exercise caution while boating.
The Army Corps of Engineers, Millwood Tri-Lakes Project Office also temporarily closed access to Paraloma Recreation Area at 10 a.m. Aug. 12th to make repairs to the roadway. No completion date for the repairs has been announced.
Because of safety concerns, access to the campground, boat launch ramp and bank will not be allowed during the closures.
For more information about Millwood Lake call 870-898-3343.
JANET CANTRELL TO HOST LUNCH-AND-LEARN THURSDAY 08/13/19
On Thursday, August 15, 2019, the Sevier County Coalition's Live Well Sevier County Committee and UA Cossatot will be co-hosting a Lunch-n-Learn on home canning at UA Cossatot's De Queen Campus.  The presentation will begin at 12:00 noon in the Weyerhaeuser room, located in the Skilled Trades Building, and will conclude at 12:40 p.m.
Presenter Janet Cantrell of De Queen will be presenting tips on successful canning methods for prized fruits, vegetables and meats.  She will also advise how to prevent jars from breaking, help lids to seal and calm fears about botulism.
Cantrell is the Sevier County Extension Agent.  She attended Henderson State University and graduated with an Education degree in Family and Consumer Sciences and a Masters in Curriculum and Instruction.  Upon graduation from HSU, she taught elementary school and raised her family in Camden, Arkansas, then returned to Sevier County to be near family and work for the University of Arkansas Extension Office.
Everyone is invited to bring a lunch and join Mrs. Cantrell for this free event.  For more programs, visit the Sevier County Coalition website at www.seviercountycoalition.com or call UA Cossatot's Continuing Education Services at (870) 584-4471.
MENA WOMAN FACING DRUG FELONY DRUG CHARGES 08/12/19
A Mena woman is facing drug charges after interacting with Sevier County deputies earlier this month.
A report from The Sevier County Sheriff's Department states that Sergeant Greg Davignon and Deputy Chris Wolcott, Jr. were on patrol Friday August 2nd when they noticed a white Chevrolet Truck pull into two different residences in a suspected attempt to avoid law enforcement.
Upon making contact with the vehicle, the officers reportedly discovered that neither of the two occupants of the truck lived at the residence or knew anyone who lived there. The driver and passenger were identified as Melissa Mettie, age 32, of Mena, and Robert Castillo. Deputies also noted discovering that Mettie dropped a clear plastic bag containing a white crystal substance believed to be methamphetamine, as well as a cut plastic straw that contained suspected methamphetamine residue.
Mettie was charged with drug paraphernalia and possession of a controlled substance, both class D felonies.
AUGUST: WATER QUALITY MONTH REPORT FROM DEANN VAUGHT 08/12/19
Representative DeAnn Vaught has reported in Arkansas, there are on average 71 billion gallons of water flowing in rivers, 4.8 trillion gallons in lakes and 200 trillion gallons in the ground.
Our state is abundant with water resources and much of our economy depends on it. It is estimated Arkansans use 157 gallons of water every day. August is National Water Quality Month.  It reminds us to take a look at what our households and communities are doing to protect sources of fresh water.
The Clean Water Act, passed in 1972, establishes the basic structure for regulating discharges of pollutants and regulating quality standards for surface waters. But most people are unaware of the little ways they can pollute their water.
The Environmental Protection Agency (EPA) recommends using and disposing of harmful materials properly. When hazardous waste is dumped on the ground it can contaminate the soil. Contaminated soil then contaminates the ground water or nearby surface water. A number of products used at home contain hazardous or toxic substances that can contaminate ground or surface waters, such as:
Motor oil
Pesticides
Leftover paints or paint cans and similar items.
Next, don't overuse pesticides or fertilizers. Many fertilizers and pesticides contain hazardous chemicals which can travel through the soil and contaminate ground water.
It is also recommended to keep yard waste off the streets, sidewalks, and driveways, and gutters. If yard waste such as grass clippings and leaves enters our storm drains, it flows untreated directly to creeks, streams, and lakes. As yard waste breaks down, nutrients that are released can lead to water pollution.
Overall, Arkansans have access to good quality water.  But it is not a resource to take for granted.  The University of Arkansas Cooperative Extension has extensive material on how to best protect conserve and protect our water atwww.uaex.edu.
KEEP ARKANSAS BEAUTIFUL YOUTH POSTER CONTEST 08/12/19
The Keep Arkansas Beautiful Commission (KAB) announced the introduction of a new youth poster contest to engage elementary-age students in litter-awareness education, to increase involvement in the cleanup initiative statewide and to educate the public about the importance of a litter-free community during KAB's fall Great Arkansas Cleanup.
Teachers can utilize the free, printable Great Arkansas Cleanup Youth Poster Contest coloring sheet online at http://bit.ly/KABContest. The contest is open to all elementary-aged, grades K-5, students in Arkansas. One poster per class should be submitted for statewide judging.
The winning classroom will receive a guest appearance by Otto the Otter to their classroom, as well as Otto the Otter swag including coloring books, bookmarks, stickers and t-shirts. The winning poster and honorable mentions will also be featured on KAB's Facebook page.
Entries are due Monday, September 30, by mail or delivery to Keep Arkansas Beautiful, 1 Capitol Mall, Suite 4A-007, Little Rock, AR 72201. Additional information about contest rules and entry is available at http://bit.ly/KABContest, by emailing info@keeparkansasbeautiful.com or by calling 888-742-8701 toll-free.
Visit KeepArkansasBeautiful.com for more information.
ASHDOWN ALUMNI BANQUET TICKETS AVAILABLE 08/12/19
The thirteenth annual Ashdown High School Alumni Association Banquet will be on Saturday, September 14 and held in the Ashdown High School cafeteria.
The 1965 AHS Co-Valedictorian Dr. Tom Fomby will the honored guest.
Tickets for the dinner will be $30.00 per person. This "includes" your Alumni dues of $10.00 for the coming year. You must be an Alumni to buy dinner tickets. Tickets will go on sale Monday, August 5, 2019. Ticket sales will end Monday, September 2, 2019 at Noon. By popular request, we will be offering tables of eight (8), as well as individual tickets. Doors will open at 4:30 and dinner will be served at 6:00.
INDIVIDUAL TICKETS can be purchased locally at Castle Antiques (120 Rankin St.), Sandra Shackelford Furlow or Susan Simmons
TO PURCHASE TABLE OF 8 contact Diane McLarty to get a form. Designate one person to collect the money. The table will be reserved when the information form and money ($240.00) is returned to Diane. Make all checks payable to AHS Alumni Association.
This will be an extra special evening for the Class of 1969. They will be celebrating their 50th graduation anniversaries.
DE QUEEN SCHOOL BOARD UPDATES AUGUST 2019 08/09/19
The De Queen School Board met for their regularly scheduled meeting Monday, August 5th at the District Administration building. Board members Gloria Bennett and Sandy Huntsberger were absent from the meeting however, a number of agenda items were still addressed under both the new and old business categories.
During the Superintendent report, time was allotted to recognize both the De Queen School District Emergency Response Team as well as the officers who helped train the selected staff. Superintendent Jason Sanders presented the De Queen Police Department with a plaque to express appreciation for their time and dedication to student safety. Also during the Superintendent report, representatives from The Arkansas Retired Teacher's Association attended the meeting to present 2nd grade teacher Megan Daley with a $2,000 scholarship grant. Daley was selected out of 42 total applicants and was described by Superintendent Sanders as a "tremendous person."
During the financial report and expenditures discussion, Superintendent Sanders noted that he feels good about De Queen Schools current financial status. A conversation about changing the format for handling quarterly financials reports was briefly addressed, but the decision to approve any changes has been tabled until all members are present. Superintendent Sanders says the board is considering assessing the financial reports on a monthly basis as opposed to quarterly.
The item will be addressed at the next meeting with all board members present, which has been scheduled for September 9th.
Another big item discussed was the push for selling off school busses that are no longer in use. The Superintendent says selling the buses will help with school safety, beautification of the district campuses as well as generate revenue to purchase textbooks.
After holding an executive session, the board approved student transfers and discussed personnel changes. Newly added staff members include Graciele Aguilar to the custodial department and Lydia Razo as a special education para. New bus drivers include Lacey Parson and Miranda Coto.
The next scheduled De Queen School Board Meeting has been announced for Monday, September 9th at 5:30 p.m. in The District administration Building.
CITY OF HORATIO PASSES LEASH LAW FOR PETS 08/09/19
A new law for pet owners has been established following a decision made by The Horatio City Council Monday night.
All domesticated animals are now required to be leashed or contained with secure fencing to prevent running at large within the city limits of Horatio. The law went into immediate effect upon the unanimous approval from the City Council. Failure to comply with the ordinance can result in a minimum fine of $250 and a maximum of $2,000. The ordinance also states that any domesticated animal who attacks a human without provocation shall be impounded by the Code Enforcement Department or acting member of law enforcement. Though the new leash law has already gone into effect, Mayor Rich Dorsey says the city will allow a 30 day grace period before fines will begin to be issued for failure to comply with the new rule.
The council also discussed plans for ensuring all residents participate in the upcoming 2020 census. The city council is working to ensure the Latino population of Horatio is included in these efforts. Debbie Neel says plans have already been made to advertise census information on all water bills distributed to Horatio residents, and informational literature will be handed out during "Sidewalk Saturday" events next month in September.
Mayor Rich Dorsey announced he is set to meet with Horatio Schools Superintendent Dr. Lee Smith and a Solar Panel Company soon. The meeting time has not been announced but the possibility of establishing solar panels on Horatio School grounds is currently in the works. The panels will serve as a cost saving source of energy for the city.
Sevier County Judge Greg Ray attended the meeting to propose two items of business to The Horatio City Council. For financial and logistics reasons the judge suggested the council consider shared use of a Boom Hog with the City of Lockesburg. No decision was made but the council is considering the proposal and will continue the discussion at the next meeting. Judge Ray also provided materials for the council to show the new Sevier County Hospital design. Ray asked for council support in educating Horatio residents on the issue and announcing the sales tax item for the October 8th special election. The Horatio City council expressed their support for a new Hospital in Sevier county and will continue to work with the Judge on the issue as the election draws closer.
The council also approved business transactions between the city council and Dorsey's Heating and air businesses and addressed an issue with a residents water bill.
The next Horatio City Council meeting has been scheduled for Monday September 9th, 6:30 p.m. at City Hall in Horatio. 
UA COSSATOT SUMMER 2019 GRADUATES ANNOUNCED 08/09/19
The University of Arkansas Cossatot Office of the Registrar releases names of summer 2019 graduates and names of those graduating with honors.
34 students graduate with a certificate of proficiency, technical certificate, or associate degree. Some students earned multiple certificates and degrees, allowing for 47 summer 2019 awards.
10 students graduate with Summa Cum Laude honors, meaning that they graduate with a cumulative grade point average (GPA) of 3.9 to 4.0. 4 students graduate with Magna Cum Laude honors meaning that they graduate with a cumulative GPA of 3.75 to 3.89. 4 students graduate with Cum Laude honors meaning that they graduate with a cumulative GPA of 3.5 to 3.74.
Students Graduating Summer 2019 with Summa Cum Laude Honors:
Reece Black of Horatio; Kennedy Blue of Conway; Michaela Caudle of Horatio; Kylie Cowan of Foreman; Isaac Cross of Ashdown; Alicia Harris of Gillham; Jacie Henderson of Murfreesboro; Loren Icenhower of Murfreesboro; Austin Richards of Dierks; and Cody Tilley of Texarkana
Students Graduating Summer 2019 with Magna Cum Laude Honors:
Corina Green of Dierks; Camry Stewart of Mineral Springs; Cidny Tipton of Mineral Springs; and Kaitlyn Wakley of Umpire
Students Graduating Summer 2019 with Cum Laude Honors:
Sarah Chesshir of Nashville; Savanna Hill of De Queen; Sammi O'Connor of De Queen; and Lorena Tena of De Queen
UA Cossatot Students Graduating Summer 2019 Include (Listed with Highest Degree(s) Earned):
Ashdown: Isaac Cross, Associate of General Studies; and Kayla Garner, Associate of General Studies
Columbus: Stormi Wheeler, Associate of General Studies
Conway: Kennedy Blue, Technical Certificate: General Studies
De Queen: Savanna Hill, Technical Certificate: General Studies; Yenifer Leija, Technical Certificate: Health Professions; Kaylee Morgan, Associate of Arts; Sammi O'Connor, Associate of Science: Criminal Justice; and Lorena Tena, Associate of Science: Teaching K-6
Dierks: Corina Green, Associate of Arts; and Austin Richards, Technical Certificate: General Studies
Foreman: Kylie Cowan, Technical Certificate: General Studies; Hannah Gauldin, Technical Certificate: Cosmetology; Bailee Houser, Associate of Science: Business; and Martha Johnson, Certificate of Proficiency: Medical Transcription
Gillham: Alicia Harris, Technical Certificate: Health Professions
Horatio: Reece Black, Associate of General Studies; Michaela Caudle, Technical Certificate: General Studies; and Kaylee Murry, Technical Certificate: Health Professions
Lockesburg: Dillion Baldwin, Associate of Science: Business; Marlee Carver, Technical Certificate: Cosmetology
Mineral Springs: Camry Stewart, Associate of Science: Teaching K-6; and Cidny Tipton, Technical Certificate: Health Professions
Murfreesboro: Jacie Henderson, Associate of Science: Teaching: K-6; and Loren Icenhower, Associate of Science: Medical Sciences
Nashville: Rachel Barfield, Associate of Science: Psychology; Sarah Chesshir, Associate of General Studies; Denetra Noble, Technical Certificate: Health Professions; Timya Sanders, Technical Certificate: General Studies; and Shania Swift, Associate of General Studies.
Texarkana: Cody Tilley, Associate of General Studies
Umpire: Kaitlyn Wakley, Associate of General Studies
Winthrop: Samantha Cowen, Associate of General Studies; Jade Johnson, Technical Certificate: Health Professions
VICTIM OF PLANE CRASH NEAR DE QUEEN IDENTIFIED 08/08/19
The Arkansas Democrat Gazette has reported on Wednesday officials released the identities of a man who was killed and another man who was injured in a plane crash West of De Queen on Sunday.
According to Sevier County Coroner Rusty Williams, John Tackett of De Queen died after a fixed wing multi-engine Cessna crashed about 4:40 p.m. in a pasture on private property west of town. Tackett was 67-years-old.  Joe Greer, age 77, of Horatio was taken by Southwest Emergency Medical Services to an area hospital in serious condition.
Greer was taken off a ventilator on Tuesday and his condition appeared to be improving, officials said.
Williams said that, though he expects Greer to recover, he was initially "pretty banged up," with a number of broken bones and cuts.
"He's got a long road of ahead of him," he said.
An FAA crash report listed Tackett as the plane's crew and Greer as its passenger, though Williams said it was not immediately clear who was flying the plane at the time of the crash.
CORPS ANNOUNCES CLOSURE AT MILLWOOD LAKE 08/08/19
ASHDOWN, Ark. – The Army Corps of Engineers, Millwood Tri-Lakes Project Office is temporarily closing access to River Run East Recreation Area at 8 a.m. Aug. 12 to make repairs to the Millwood Lake stilling basin.  Depending on weather, the stilling basin work should be completed by Sept. 10.
Because of safety concerns, access to the campground, boat launch ramp and bank will not be allowed during the closure.
Officials at the Army Corps of Engineers Millwood Tri-Lakes Project Office regret any inconveniences this may cause and ask the public to exercise caution while boating.
For more information about Millwood Lake call 870-898-3343.  Recreation information can be found on the Internet at www.swl.usace.army.mil, on Facebook at
www.facebook.com/littlerockusace, and on Twitter at https://twitter.com/#!/usacelittlerock.
ASHDOWN SCHOOL DISTRICT UPDATES 08/08/19
Ashdown superintendent, Casey Nichols introduced new faculty and staff members to The Ashdown School District during a back-to-school breakfast event served by Ashdown Food Service and K-12 Culinary the morning of Tuesday, August 6th. Nichols also presented results on the ACT Aspire, which showed growth in reading, math and science over the 2018 scores. In the area of reading, Ashdown Public Schools had the 7th highest percentage gain in the state. Following the welcome, the staff heard a presentation from Eric Sheninger, a 'Senior Fellow and Thought Leader' with the International Center for Leadership in Education (ICLE). He was also an award-winning Principal at New Milford High School.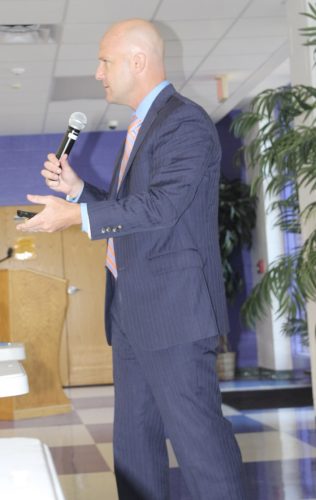 Over the summer the maintenance department ground's crew stayed very busy due to steady rainfall over the summer with keeping all the grass mowed and trimmed. Around the district, there was a wall constructed in the AHS weight room to divide the room into a film room and a grounds storage room, and a roll up door and walk thru door were also installed. At L.F. Henderson additional downspouts and gutter sections were rebuilt as well as other drainage improvements around the campus. Due to recent renovations at Ashdown Elementary, only normal summer cleaning was needed. Maintenance Supervisor, Dean Lillard said, "A big thank you to our maintenance staff and summer help for completion of these projects."
The biggest summer project for the district was a renovation of the Ashdown Junior High campus. At the end of the school year, teachers and staff completely packed their classrooms up and everything was placed in storage containers in order to replace the ceilings, floors, windows and paint all walls. The entrance and office area were redesigned in order to provide even more security for our staff and students beyond just being "buzzed" into the building. Superintendent Nichols said, "This renovation has resulted in a facility that our students, staff, and community can all be very proud of, which was a project completed with limited funds. The remodel also incorporated additional safety features, while also providing a clean and updated interior appearance that is conducive to the educational process."
On the technology front, new campus servers were added at Ashdown Elementary and L.F. Henderson, there was a Chromebook Lab installed at AHS, and the AHS TV Production team will have a mobile studio trailer. The Food Service Department will continue to work with K-12 Culinary in order to provide nutritious meals for students. Parents are welcome to enjoy lunches with their children. Menus and pricing are posted on the district website (www.ashdownschools.org). Parents need to sign in at their child's school office.
In sports news, athletic passes may be purchased at the Administration Building located at 751 Rankin Street from 8 a.m. until 4 p.m. each workday. The Ashdown Senior Citizen Pass is free to any Ashdown Resident who is 60 or older. The Ashdown Panther Family Pass is $250 (pass for a family
Students will return to the classroom on Tuesday, August 13th.
ARKANSAS OUTDOOR HALL OF FAME INDUCTION THIS MONTH 08/08/19
The 2019 Arkansas Outdoor Hall of Fame is coming up Saturday, August 24 at the Statehouse Convention Center in Little Rock. This year marks the 28th anniversary of this celebration of the outdoors and the men and women who have stepped up to promote Arkansas's natural resources.
The Arkansas Outdoor Hall of Fame Banquet is hosted by the Arkansas Game and Fish Foundation, a 501 c3 non-profit organization dedicated to the outdoors that serves as the fundraising adjunct to the Arkansas Game and Fish Commission.
This year's class of inductees include: MaryAnn King of London, Catherine and Tommy Murchison III of Cabot, Woody Futrell of Nashville and the McCollum Family of Stuttgart.
Futrell was an avid boat racer in the 1950s and took over the family business, Futrell Marine, which his father Dan Futrell established in 1948. He has since become one of the most well-known and respected businessmen in retail boating.
Tickets are $125; tables of ten are available for $1,250 each. The night will include dinner, live and silent auctions and induction ceremony.
Proceeds from the event support the year-round work of the Foundation, which helps introduce hundreds to the outdoors every year. AGFFs mission supports AGFC initiatives, particularly those aimed at getting young people unplugged and engaged in Arkansas's outdoors.
For tickets or information, call (501) 223-6468 or email agff@agff.org.
WILD HORSE ADOPTION AND PURCHASING AUG. 16TH&17TH 08/08/19
Wild Horses will be available for adoption or purchase at The Idabel Rodeo Arena August 16th and 17th. Bring home your own wild horse or Burro, at 1001 NW 9th street from 10am-6pm Friday and Saturday 8am-noon.
There will be 65 wild horses available with fees starting at $25. Information about earning up to $1,000 when adopting an untrained wild horse or burro is available. Find out more at BLM.gov/whb or call 866-468-7826.
Visit the Wild Horse and Burro Program on Facebook to view available horses.
CENSUS OUTREACH TRAINING IN HOPE AUG. 16TH 08/08/19
Omar Gallardo of Arkansas Complete Counts Communications Subcommittee has provided a link to the Arkansas Counts website for local residents. http://arkansasimpact.org/arkansas-counts/
There is a regional outreach training in Hope, AR on August 16. Residents can attend the upcoming census outreach training to learn everything you need to know to 'Get Out the Count' during the 2020 U.S. Census. You can Register now and the training will be held at The University of Arkansas Hope – Texarkana on August 16, 9 – 11:30am.
https://docs.google.com/forms/d/e/1FAIpQLSeJypw-U8od4TClgQVnmTpUacSWkMXi-qcaq5_pw2oYnHOBpg/viewform
There is also an grant opportunity:
Arkansas Counts invites you to apply for a grant to support your organization's 2020 U.S. Census outreach efforts to ensure individuals in your community, specifically hard-to-count populations, participate in the census.Visit 
http://arkansasimpact.org/arkansas-counts-rfp/
HORATIO SCHOOLS UPDATES ANNOUNCED 08/07/19
Superintendent Lee Smith has provided KDQN with an update on The Horatio School District as we head into the new school year. Dr. Smith reflected on a successful 2018-2019 school year in a recent newsletter distributed to parents and families this summer. In the newsletter Smith noted state tournament appearances by the Baseball and Softball teams as well as the districts first ever computer coding team, who was one of 16 teams in Arkansas to make the state finals.
Staff changes were announced as Horatio said farewell to Gwen DeVasier, Janet Potts and long-time baseball coach Lance Spigner, all of whom are pursuing other opportunities. New faces have joined the district at both the elementary and High School level. Casey Long, Donna Gabbard, Jessica Tallant and Kelly Tallman have been added to the elementary faculty team and Roy Backus, Ethan Crocker and Sabrina Cooper have been added to Horatio High School staff.
Good news has been announced for the elementary school as recess has been increased from 30 minutes to 40 minutes and the school has been chosen from over 140 applicants to receive the Rethink Your Drink: Choose Water grant program, supported by the Delta Dental of Arkansas. The grant provides a water bottle filling station to promote oral hygiene and a healthy weight by encouraging students, staff and faculty to drink water instead of sugary beverages.
Meet the Teacher is Aug. 12, 10 a.m. – 12 p.m. and 1–5 p.m. The theme is Disney and positive character quotes. Transportation staff will be available to answer questions about bus routes and pick-up and drop-off times. The first Day of School for the Horatio District will be Tuesday August 13th.
PUBLIC MEETING AUG 20TH FOR HIGHWAY WIDENING PLANS 08/07/19
The Arkansas Department of Transportation (ARDOT) will hold a public involvement meeting in DeQueen to present and discuss the proposed plans to widen 5.43 miles of U.S. Highway 71 to five lanes with a shoulder and replace two structures between the Cossatot River and DeQueen. The meeting will be held Tuesday August 20th from 4:00-7:00 p.m. Everyone in the community is encouraged to attend the meeting to ask questions and contribute comments.
For more information, contact the ArDOT's Public Information Office at 501-569-2000 or info@ardot.gov.
UA COSSATOT DACA STUDENT FIRST TO RECEIVE IN-STATE TUITION 08/07/19
On July 1, 2019, Act 844 went into effect in Arkansas, allowing DACA students in Arkansas to receive in-state tuition. On August 6, 2019, UA Cossatot announced that Johana Martinez is the first student at UA Cossatot to receive in-state tuition as a DACA student.
Johana Martinez graduated from De Queen High School in 2017. After graduating, she enrolled at UA Cossatot as a post-secondary student. Johana is currently taking pre-requisite courses so that she can apply for UA Cossatot's PTA program.
Johana Martinez said, "1 Peter 5:7 is a verse in the bible that says to cast all your cares on him because he cares for you! This verse and this opportunity to get in-state tuition is evidence that God is taking care of me and all of my fellow DACA recipients".
UA Cossatot has been named a Hispanic-Serving Institution (HSI) by the U.S. Department of Education. The college is also the first and only Hispanic-Serving Institution in the state of Arkansas.
According to UA Cossatot Chancellor Dr. Steve Cole, "Our community has been involved in getting this law changed for many years and we are so thankful that our state now has this legislation.  ACT 844 is a life-changing law and, for our diverse community, it will open thousands of doors".
DACA students who would like to learn more about receiving in-state tuition can contact Student Services at 870-584-4471.
CHILD ABDUCTION RESPONSE TEAM EFFORTS ANNOUNCED IN ARKANSAS 08/07/19
Representative Dee Ann Vaught has reported that in 2018, there were 161 Amber Alerts issued nationwide.  5 of those originated here in Arkansas.
Those first minutes and hours after a child has been reported missing are crucial for law enforcement.  That is why this General Assembly took an extraordinary and first of its kind step to help ensure law enforcement has all the available resources when seconds count.
In the most recent legislative session, we passed Act 913 with a unanimous vote. The legislation states that the following agencies shall collaborate in an effort to rescue abducted or endangered children:
•Arkansas Attorney General
•Department of Arkansas State Police
•Criminal Justice Institute
•Arkansas State Game and Fish Commission
•Arkansas Sheriffs' Association
•Arkansas Department of Emergency Management
•Arkansas Association of Chiefs of Police
•Department of Community Correction
•Office of the Prosecutor Coordinator
CART teams greatly expand the resources that are available when a child is missing or abducted and also ensures rapid deployment of critical resources and personnel. Just last month, Arkansas is the first state in the country to successfully obtain national statewide certification for Child Abduction Response Teams (CARTs), ensuring that all children in Arkansas are better protected if abducted, missing, or endangered.
National CART certification is awarded through the U.S. Department of Justice, AMBER Alert and Technical Assistance Program.
Twelve CARTs have been formed across Arkansas. These teams are pre-organized and practiced to respond, substantially saving time and increasing the likelihood of the successful recovery of a missing, endangered or abducted child.
In order to earn certification, members of the 12 teams formed attended a series of AMBER Alert classes. Each CART was also required to implement a Memorandum of Understanding with local law enforcement agencies and other key agencies and organizations. The Arkansas Department of Emergency Management, the Arkansas State Police, the Arkansas Game and Fish Commission, and the Criminal Justice Institute developed a full call-out exercise built around a realistic child abduction scenario. AMBER Alert assessors evaluated the ability of each of the 12 CARTs to meet 47 standards covering 12 operational areas included in the developed exercise.
The legislation passed ensures this collaboration will continue.  We would all be relieved if the CART teams never have to work on a real life scenario, but knowing these teams are ready is the next best option.
LOCAL LAW ENFORCEMENT SPOTLIGHT: GREG DAVIGNON AUGUST, 2019
Once a month, KDQN provides a behind-the-scenes look at the lives of our local law enforcement representatives in the Sevier County area. KDQN has been granted access to sit down one-on-one with employees of The Sevier County Sheriff's Department to offer a close-up look at those who help keep our community safe.
For the month of August, we're spotlighting Greg Davignon, a Sergeant with the Sevier County Sheriff's Department in De Queen.
Greg is a Sevier County native who graduated in 2005 from Lockesburg High School. In addition to being former Jailer and Deputy, the Sergeant has also spent significant time in the military. Davignon says he always wanted to be in law enforcement, and he credits growing up in the Provo Community outside Lockesburg, a place he affectionately called "cop alley" as the reason for his aspirations to become an officer. He says "In the 90's when I was growing up it seemed like everybody that lived out there was either a cop or kin to a cop." Davignon told KDQN that men like former Sheriff Benny Simmons, along with Current Officers Bobby Bagley and Chad Bradshaw all lived within a few miles from his house and he was always seeing those men in uniform and "meeting cop cars on provo road."
At age 18 Greg Davignon entered the military in the active duty army branch for five years. While in the army, Davignon was a military police officer overseas, including a 15 month deployment to Iraq in 2007.
A current Sergeant for Sevier county and a former Sergeant in the military, Greg still finds time lead a special team of people: his children.
Greg is a father to three children, ages five, seven and nine, who all live in De Queen.
Those children are part of Davignon's inspiration for working so hard to get narcotics off the street. "If I bust somebody, then that is one more person who is not going to be able to give dope to my kids."The father of three also acknowledges his mentality has changed some over the years because he's been able to understand that "Some people need more help than just going to prison."
Davignon also spent a year in the drug task force before returning to The Sevier County Sheriff's Department in 2014. It was in the drug task force that he discovered he had a natural ability to understand people and detect when someone is lying.
For fun, Greg says he enjoys fishing, hunting and spending time with his kids. If he had to choose any type of hunting as his favorite, he'd choose turkey season. Though Turkey hunting is his passion Greg says he gets excited about all bird hunting and loves the outdoors.
If he wasn't in law enforcement, Greg Davignon says he would be teaching history at the junior High level. Education is an apparent priority to the sergeant as he has already completed an Associate's degree and has plans to earn a Bachelor's Degree in teaching.
For people on the outside looking in at law enforcement, Davignon says he wishes more people understood that Law Enforcement members are human too, and humans are prone to making mistakes. "The thing about law enforcement is, is that our mistakes are in the public eye. He says, "Lets say you have a local job here in De Queen, maybe at a bank or at pilgrim's or something… If you make a mistake at your job, that's going to be a localized, in-house mistake, and you are not going to get a lot of public attention for it. Maybe you miscounted your drawer at the bank or maybe you hit the wrong button on your line at pilgrim's and some of the product got messed up… But if we make a mistake, lives are at risk."
Davignon also described the responsibility of being in the public eye as an officer of the law as a "heavy burden." But the Burden is one the sergeant is willing to carry. The former military sergeant and father is passionate about what he does and he told KDQN he has no plans to go anywhere other than The Sevier County Sheriff's Department.
In fact, Davignon spent some time working at a tire store in Texarkana making $22 an hour in the air conditioning, but left to come back to law enforcement as a jailer. That move required Greg to take a 50% pay cut, as jailers at that time only earned around $11 per hour.
Sergeant Greg Davignon isn't in law enforcement for money, or bragging rights. After interviewing him, it became very clear to KDQN that he is a person who is passionate about making his community better and keeping people safe. Davignon is aware that he has a reputation around town for being harsh, but he claims he is a lot more approachable than people may think and he is actually open to being asked any questions related to law enforcement.
Lastly, The sergeant hopes people in the community will make an effort to let their children know that they should not fear law enforcement or tell them things like "Don't be bad, or cops will arrest you." Davignon doesn't want kids to be afraid of going to jail simply because they didn't eat vegetables.
If any child ever needs a police officers help, Sergeant Greg Davignon wants to be someone they can approach.
Keep listening to KDQN to find out more about law enforcement representatives in the local area and check out next month's featured Law Enforcement Spotlight.
SEVIER COUNTY QUORUM COURT AGREES TO PROPOSE SALES TAX FOR NEW HOSPITAL 08/06/19
During the August 5th Sevier County Quorum Court meeting at the Sevier County courthouse,  the JP's agreed to hold a special election for voters to approve or disapprove a 1% percent sales tax for the creation of revenue for the new hospital construction project and future hospital operations.
The special election will be held October 8th for registered voters of Sevier County to decide.
The total cost of the new hospital is now estimated to cost more than $24 million dollars. The proposed new facility would be built 4 miles North of De Queen and would initially be partnered with Mena Regional Health system.
COSL ANNOUNCES SEVIER COUNTY TAX AUCTION RESULTS   08/06/19 
 LITTLE ROCK – The recent auction of tax-delinquent properties in Sevier County raised over $5,000, the Commissioner of State Lands announced.
The auction drew 16 bidders, who purchased 5 of the 9 available parcels for a total of $5,515.94 for county and state government.
The Land Commissioner's office holds one auction in each county each year to return tax-delinquent land to active status.
"Most property certified to our office does not go to auction," Commissioner Tommy Land said. "The vast majority of owners redeem their property by paying the delinquent taxes. Of course we always prefer that property be redeemed, but it is vital that the parcels return to the county's active tax rolls."
Delinquent owners have 10 business days after the auction date to redeem the property, before the COSL office issues a Limited Warranty Deed to the buyer.
The COSL office forwards taxes and interest to the county, whether that money is collected through redemption or sale.
"Last year, this office sent more than $16 million to school districts and county governments," Land said. "Of that, $212,713.99 went to Sevier County, helping fund everything from roads to schools."
Property that did not sell at auction will be available after 30 days and can be reviewed through the Post-Auction Sales List at www.cosl.org.
43RD ANNUAL HOPE WATERMELON FESTIVAL COMING UP 08/06/19
The 43rd annual Hope Watermelon Festival is set for Thursday August 8th through Saturday August 10th. All of the official festival events will take place at Hope's Fair Park over the three day period. Hope-Hempstead County Chamber of Commerce Director Beckie Moore says, "The Hope-Hempstead County Chamber is looking forward to the 43rd Annual Hope Watermelon Festival. Without volunteers, sponsors, festival chairs, board members and ambassadors, the festival would not be possible. Based on calls, interviews, festival marketing and the fact that hotels are booked, we feel this year's festival will draw thousands upon thousands of tourists to Hope and Hempstead County. All who join us this year, will see quite a few new activities, events, vendors and concessions. Here's to #43! May we be blessed with nice weather and a wonderful weekend of fun!"
The festival officially opens at noon on August 8th. The concession, vendors, exhibitors, Verizon Village, and Kidz Zone all open. There will be photo-op cutouts in the Kidz Zone and vendors in the coliseum Thursday, Friday, and Saturday.
Diamond Rio Tickets are available online at uacch.edu and can be purchased at the Chamber office. Advance Diamond Rio general admission tickets are $15 for adults and $6 for youth 4 to 10. These tickets are $20 on Saturday August 10th. Reserved seats are $40. Global 1 Pro Wrestling tickets are available at the Chamber office or at the gate. These tickets are $15 in advance or $20 day of event for adults. Children 12 and under get in for $6.
If you have questions on any festival activities, phone the Chamber of Commerce at 777-3640.
SECOND SATURDAY YOUTH FISHING DERBIES IN COLUMBUS 08/06/19
The Arkansas Game and Fish Commission has announced the 2nd Saturday Youth Fishing Derbies to continue through October 12th. All derbies will be held at :
Rick Evans Grandview Prairie Conservation Education Center 1685 CR35N,Columbus, AR 71831
Aug. 10 | Sept. 14 | Oct. 12
All children ages 15 and under are welcome to participate in these derbies.
Bring your pole and some bait, and fish for catfish in the education pond.
A limited supply of poles will be available on a first-come, first-served basis.
Only one pole per participant please.
Prizes will be given for the largest and smallest catfish caught.
This is a free program.
PLANE CRASH WEST OF DE QUEEN SUNDAY AFTERNOON 08/05/19
A small airplane crashed Sunday afternoon in a pasture in the Chapel Hill community just west of De Queen.
The crash was reported to authorities at 4:45 Sunday afternoon. According to witnesses at the scene, the plane apparently caught fire. The crash site was less than a mile from the Sevier County Airport near Highway 70 West.
The extent of the injuries of the occupants are unknown at this time, but at least one unidentified 79 year old man suffered injuries according to witnesses at the scene.
The Sevier County Sheriff's Department, The De Queen Fire Department and various other County fire departments, Southwest EMS, and other emergency personnel responded to the crash site Sunday afternoon.
KDQN contacted Arkansas State Police, The Sevier County Sheriff's Department and The De Queen Fire Department for comment on the plane crash and all agencies said no information could be released at this time. More information will be announced as information becomes available.
LEGACY ACADEMY BUYS OLD LOCKESBURG ELEMENTARY SCHOOL BUILDING 08/05/19
A local private school announced plans to move to a new location last week.
Legacy academy has been offering a faith-based education for Pre-k through 12th grade students in De Queen since 2007. On Thursday August 1st the school closed the deal on a   purchase of the Former Lockesburg Elementary School building 12 miles east of De Queen. The 34.7 acre property was sold from The De Queen Public School District to Legacy Academy owners, Chad and Jessica Gallagher for $275,000. The neutral location of Lockesburg will create a centrally accessible private, Christian school option for students in the 5 surrounding communities of Ashdown, De Queen, Horatio, Nashville, and Dierks.
An informational meeting for new and returning students was held Friday, August 2nd at the "new" gym. After the meeting Gallagher told KDQN the purchase has been in the works for more than a year, as the school had previously utilized the gymnasium for basketball games. Gallagher says The use of the gym was the catalyst for the idea to buy the property.
Despite the lack of use in recent years, Gallagher says the building is actually in good shape and no major renovations will be needed prior to school starting this fall.
The first day of school for Legacy Academy will be Tuesday, September 3rd and parents of potential students have a variety of ways to find out more about the school.
The tuition cost for Legacy Academy is $4,500 per year and scholarships are available. Find out more at Legacywarriors.org
IMPROVEMENTS COMING TO POLK COUNTY ROADS 08/05/19
POLK COUNTY (8-1) – The Arkansas State Highway Commission has approved a bid for improvements to roadways in Polk County, according to Arkansas Department of Transportation (ARDOT) officials.
The purpose of this project is to overlay 4 miles of County Roads 61 near Board Camp and 63 near Yucanna.
Blackstone Construction, LLC of Russellville was awarded the contract at $493,297.62. Construction is scheduled to begin in two to four weeks, weather permitting. Completion is expected in late 2019.
Travel information can be found at IDriveArkansas.com or ArDOT.gov. You can also follow on Twitter @myARDOT.
LEOPARD BACK TO SCHOOL KICK OFF AUG. 16TH 08/05/19
The Leopard Back To School Kick-off has been announced for De Queen High School football fans.
The community pep rally and leopard scrimmage will kick off the 2019 season on August 16th at 7:00 p.m. The event will be held at leopard stadium and all De Queen fans are encouraged to come out and support the leopards.
This is also a chance for young future leopards to meet their favorite football player, cheerleader and band members. The leopard cheer squad will be selling taco dinners and admission to enter is $3.00.
ARKANSAS ATTORNEY GENERAL VISITS DE QUEEN FOR RSAT GRADUATION THURSDAY 08/02/19
Arkansas Attorney General Leslie Rutledge was greeted with a round of applause from an audience who rose to their feet as she took the podium at De Queen First Assembly of God Church for the RSAT graduation ceremony Thursday night.
Rutledge is the chief law enforcement representative in the State of Arkansas and was sworn into office in 2015. She is the first woman in the state Arkansas to be elected to the position. Rutledge has announced her support of the Sevier County treatment program and agreed to speak at the event after meeting with Sheriff, Robert Gentry at a recent roundtable event.
RSAT stands for Residential Substance Abuse Treatment and Thursday, August 1st marked two years since the recovery program first began. The program has gained state-wide attention and was recognized at The State Capitol in Little Rock during the 92nd General assembly earlier this year
The inmates of the jail who are accepted into the treatment program are given support to rehabilitate themselves through classes like anger management, narcotics anonymous, parenting, nutrition and other substance abuse help.
Sheriff Robert Gentry and Jail administrator Chris Wolcott have seen success from the treatment plan as they've reported just 6% of the program participants return to jail after graduating.
A total of 20 graduates received their certificates during Thursday night's ceremony, including 13 who are moving on to Aftercare and 6 who are included in aftercare group 5. The certificates are physical proof of the emotional and spiritual journey that the graduates have completed during their recovery process.
During her speech, AG Rutledge congratulated the graduates on their success and told the audience she thinks the RSAT program can help people get their lives back on track.
KDQN radio was granted an interview with the Attorney General before the service and she reported that she believes RSAT is helping save peoples lives, and she is excited to be a supporter of the program.
Rutledge also told KDQN she is in support of the program being implemented at a statewide level.
Two personal testimonies of the program were also provided by Brandon Coulter and Michael Brent Barnard, who both said they would be lost with out the help they have received through RSAT.
Michael says the services through the program were different because in the past prison taught him how to be a better criminal, but this program has helped him heal.
Brandon feels the program is important because it is helping him become a better father and believes he would be in prison today without RSAT and the help of the volunteers and Sheriff's Department's support.
All RSAT graduation ceremonies are held every three months at the 1st assembly of God Church on Thursday nights and each service features a different guest speaker. Everyone in the community is always welcome to attend and information about RSAT and each of the services it provides is available by contacting The Sheriff's Department at 870-642-2125
GOVERNOR HUTCHINSON ANNOUNCES $8.24 MILLION FOR VOTING EQUIPMENT 08/02/19
LITTLE ROCK – Governor Asa Hutchinson today announced $8.24 million was provided this week to the Secretary of State's Office to allow Arkansas counties to improve voting equipment, programming, and maintenance. The funds were transferred from the Property Tax Relief Fund to the Secretary of State's Office, which will issue the funds through the County Voting System Grant Fund.
The funds are provided as a result of Act 808 of 2019. The Act, which increased the Homestead Property Tax Credit to $375, also required this one-time transfer if adequate funds were in place. If the Property Tax Relief Fund exceeded the amount required for distribution the following year by at least $8.24 million, the transfer was to be made on or after July 1.
"In the November 2018 general election, 54 Arkansas counties offered new, improved voting equipment," said Governor Hutchinson. "Through this significant commitment to the Secretary of State's Office, there will be increased resources to provide up-to-date, secure voting equipment in our elections."
There are approximately 1.78 million registered voters in Arkansas.
CONTACT: Press Shop (press@governor.arkansas.gov or 501.682.3642)
STREET IMPROVEMENTS COMING FOR HOWARD COUNTY 08/02/19
The Arkansas State Highway Commission has approved a bid for
improvements to roadways in Howard County, according to Arkansas Department of Transportation (ARDOT) officials.
The purpose of this project is to resurface 1.6 miles of selected sections of various city streets in Mineral Springs to include Crawford Street, Holcomb Street, Lewis Street, Mercer Street, and McClendon Street; and .9 miles of selected sections of various city streets in Nashville to include Leslie Street and Sypert Street.
Tri State Asphalt, Inc. of De Queen was awarded the contract at $502,582.60.
Construction is scheduled to begin in two to four weeks, weather permitting. Completion is expected in late 2019.
Travel information can be found at IDriveArkansas.com or ArDOT.gov. You can also follow us on Twitter @myARDOT.
ARCHERY TOURNAMENT IN COLUMBUS SATURDAY 08/02/19
Rick Evans Grandview Prairie Conservation Education Center 1685 CR35N,Columbus, AR 71831
Aug. 3, 2019 – Sept. 7, 2019
3-D Archery Tournaments
Rick Evans Grandview Prairie Conservation Education Center invites you to the first Saturday of the month 3-D Archery Tournament.
Bring the family and brush up your skills or learn a new sport. Awards will be given to the first three places in each division.
Competition Divisions
Open • Unlimited • Known
Senior Hunter (ages 50+) • Senior Open (ages 50+)
Novice • Women's Open
Women's Bowhunter • Women's Novice
Hunter • Traditional • Young Adult (ages 15-17)
Youth (ages 13-14) • Senior Eagle (ages 11-12)
Eagle (ages 9-10) • Junior Eagle (ages 8 and under)
Entrance Fees
All Eagles……………………………. $5
Youth………………………………….. $5
Young Adult…………………………. $5
Adults…………………………………. $10
Families………………………………. $20
Call Caleb Coulter, 870- 826-8193, to register or for more information about this or any other program.
There is no fee for this program thanks to your support of the 1/8 Cent Conservation Sales Tax.
TRUCK COLLIDES WITH TRAIN WEDNESDAY MORNING IN DE QUEEN 08/01/19
A collision between a truck and train caused an unexpected traffic detour for residents of De Queen Wednesday morning.
KDQN radio received a phone call from De Queen Fire Chief Dennis Pruitt around 7:30 a.m. Wednesday July 31st. The chief reported the accident occurred where Dogtown road meets the railroad tracks west of De Queen and drivers in the area were encouraged to pursue alternate routes.
According to reports from the De Queen Fire Department and Arkansas State Police public information officer, Bill Sadler, a 2007 Chevrolet pick-up truck was traveling north on Dogtown road at the same time the train was traveling eastbound on the tracks.
The driver of the pick-up truck was identified as Augustin Balderas of Horatio Arkansas.
Sadler confirmed the cause of the wreck listed in the report is the driver's failed attempt to turn away from the train prior to impact, and the truck collided with one of the trains cars.
The Fire Department arrived on the scene at 7:28 a.m. with 17 firefighters responding.  Balderas's injuries were described in the report as "minor" and he left the scene by private transportation. Emergency crews left the scene by 7:50 a.m.
Photos courtesy of OEM Coordinator, Walter Smith. 
UA COSSATOT WELDING STUDENT LANDS JOB IN WISCONSIN  08/01/19
by Ben Renfrow
Ashley McBroom is a resident of De Queen, Arkansas, and a former UA Cossatot welding student.  On July 31, 2019, Ashley and her husband drove sixteen hours to their new home in Hartford, Wisconsin.  Ashley is now employed to work as a laser welder for Steel Craft Corporation in Hartford where she will begin her new career as a welder.
Ashley took college credit courses while she was a high school student.  As a high school junior, she enrolled in welding courses through UA Cossatot's Secondary Career Center.  The Secondary Career Center gives high school students the chance to get a head start on college and learn new skills for their trade.  In the afternoon, she would leave high school and then go to UA Cossatot's welding shop for her college courses.
Two years later, McBroom graduated from De Queen High School in May of 2019.  That same month she graduated with a Certificate of Proficiency in SMAW Welding from UA Cossatot.  She actually received her college certificate two days before her high school diploma.
Ashley McBroom said, "I believe UA Cossatot's Secondary Career Center is an all-around great idea!  It is a great program that gave me the head start I needed, and I don't know that I would have pursued this career without this opportunity.  To have graduated from high school and college, at the same time, feels great!  It makes me feel like I have accomplished so much more!"
The job demand for welders and the creativity that they are allowed in their work inspired Ashley to major in welding.  Ashley felt that UA Cossatot was the perfect place to receive her welding education.
Ashley McBroom said, "I chose to come to UA Cossatot because of the location, the opportunity to take college classes while I was in high school, and because of the great things I had heard about the college."
Ashley added, "Having been a student in the welding program at UA Cossatot, I can say the welding program is great! The classes were extremely hands-on, and I felt prepared for my tests.  The learning environment was great!  My instructors were able to communicate effectively with us, and all of the students were able to ask questions."
When asked why she chose to take this job in Wisconsin, Ashley said, "This job is a great opportunity to get a foot in the door into the welding community.  I would love to stay at this job long-term and work my way up.  I also feel like I'll pursue a welding career throughout my life because I enjoy it so much!"
The welding courses Ashley took at UA Cossatot were all located at UA Cossatot's De Queen Campus.  In the fall of 2019, UA Cossatot will be offering secondary welding courses through the Secondary Career Center at the college's De Queen, Nashville, and Lockesburg Campuses.  Post-Secondary welding students will be able to take welding classes in either Nashville or Lockesburg.
Anyone interested in learning more about UA Cossatot's welding program can contact Pat Earnest at pearnest@cccua.edu.
High School students interested in learning more about the welding program offered through the Secondary Career Center can contact Julie Rhodes at jrhodes@cccua.edu
LOCAL ORGANIZATIONS DONATE TO AINSLEY'S ANGELS OF SOUTHWEST ARKANSAS 08/01/19

In the past week, organizations both public and private have given over $2,000 to Ainsley's Angels of Southwest Arkansas-an organization who provides special needs athletic equipment and running volunteers to make sure that EVERYONE can participate in our area wide endurance events. The Arkansas Pride Softball team, De Queen 4H, De Queen Rotary Club, and Tres Agaves Mexican Restaurant have all given donations to help buy equipment that is used by community members with disabilities. In the past five months, over twenty athletes with different abilities have been supported by over one hundred runners in seven 5ks around Southwest Arkansas and Southeast Oklahoma.
"This is not possible without community support. We are a 100% volunteer-based nonprofit, the ten pieces of equipment owned by our community ambassadorship cost over $10,000… and were bought purely through donations from people who believe that everyone deserves to belong," says Southwest Arkansas Ainsley's Angels Ambassador, Tessa Dean.
Now, the most immediate need for the nonprofit is a trailer to haul all of this equipment, which they hope to raise enough funds for in their upcoming fundraiser at Herman Dierks Park on September 28th: Dinner and 5k, which will feature Argenbright band performing live, a smoked chicken supper, and snowcones. Upcoming events for Ainsley's Angels, free registration for athletes, runners, and volunteers, or ways to sponsor  can be found on their website www.ainsleysangels.org, or by emailing Tessa Dean at swarkansas@ainsleysangels.org.
OZAN MAN SENTENCED FOR DRIVING WHILE ON METH 08/01/19
A Miller County jury Wednesday sentenced an Ozan, Ark., man to 20 years in prison for causing the death of a 24-year-old husband and father in 2017.
Forrest Rector Stewart Jr., 64, was high on methamphetamine Nov. 2, 2017, when he crossed more than seven feet into the oncoming lane of traffic on Highway 67 in Miller County. James Crowe's small Hyundai Accent was struck nearly head on. James Crowe died at the scene.
It took the jury less than half an hour to find Stewart guilty of negligent homicide while intoxicated. During closing remarks, Deputy Prosecuting Attorney David Cotten reminded the jury of testimony from law enforcement, first responders and medical personnel regarding Stewart's behavior after he smashed his pickup.
A toxicology expert from an Indianapolis, Indiana, lab testified Tuesday that Stewart's blood showed a high level of methamphetamine,.
Kristen Crowe told the jury she turned 21 the day before her husband was killed. She was supposed to begin a new job the day of the crash and that when she heard there had been a fatality on the highway.
"I will be an old woman in love with a man who never made it past 24," Kristen Crowe said. "He was my best friend, my soul mate. He was so good and now he's just gone because you chose to do what you did."
Stewart took the stand during the punishment phase of his trial and apologized to the Crowe family.
In addition to a maximum 20-year prison sentence, the jury also assessed a maximum $15,000 fine.
MARKSMANSHIP SATURDAY IN COLUMBUS AUGUST 3RD 08/01/19
Marksmanship Saturday will be held Saturday, August 3rd at: Rick Evans Grandview Prairie Conservation Education Center 1685 CR35N,Columbus, AR 71831.
8-9 a.m. Shotgun Shooting
9-10 a.m. Archery Target Shooting
10-11 a.m. BB Gun Range
11 a.m.-noon 3d archery
Participants who take part in three or more programs will receive a limited edition hat pen!
8 a.m.- Noon
3D Archery Tournament
$5 youth
$10 adults
$20 whole family
Tournament will include 15 divisions. Awards will be given to the top three in each division.
For more information about this or any other program, please contact the Rick Evans Grandview Prairie Conservation Education Center at 870-983-2790.
There is no fee for this program thanks to your support of the 1/8 Cent Conservation Sales Tax.