NEW PATROL CAR FOR CAMPUS POLICE OFFICER IN ASHDOWN 11/30/18
The Little River County Sheriff's Office purchased a new patrol car for Ashdown School Resource Officer Stephanie Boyer using a grant they received after purchasing two other patrol vehicles. The cost of the new "smart car" along with customization matched the grant. Sheriff Bobby Walraven knew it was a "no-brainer" to use the grant for the car purchase and save the county money at the same time.
Sheriff Walraven came up with the idea while trying to replace county vehicles with the most efficient use of taxpayer money possible. Other officers thought it was a joke, but after driving the car and learning the price would be covered by the grant, he knew it would be a great way to provide Officer Boyer an efficient and economical way to travel between campuses and show school spirit for the Ashdown Schools.
Boyer travels between the four campuses daily and is enjoying the customization of purple and gold lights and Panther "growl" provided by Pro Com and the "wrap" by Digital Effects. The Ashdown students and staff love the car and help to make an officer more approachable by the younger students. When not working as the resource officer, Officer Boyer will drive other county patrol vehicles.
Superintendent, Casey Nichols said, "we value our partnership and the support of our local law enforcement and everything that they do each day to help keep our students safe. Our number one priority, along with the LRC Sheriff's Office is for the safety of our students."
NEW FIRE TRUCK IN DAISY ARKANSAS 11/30/18
The Daisy Volunteer Fire Department has a new tanker truck, a 2010 freight-liner, that will improve fire fighting abilities. Fire Chief Scotty Frazier says the tanker will allow more than 3,000 gallons of water to be used in one minute and a 4″ fill valve that can load over 3,000 gallons of water in 3 minutes.
This will allow the tanker to deliver over 12,000 gallons of water per hour from a fire hydrant over a mile away to a structure fire. Frazier also says the tanker truck has a drop tank that will hold over 2,500 gallons of water.
CHRISTMAS PARADE IN MCCURTAIN COUNTY 11/30/18
The 48th Annual McCurtain County Christmas Parade will get underway at 6:30 p.m. on Monday, December 10th. The theme is "I'm dreaming of." The Parade will start at the Broken Bow High School and end at the Broken Bow Post Office.
Anyone interested in entering this year's parade can pick up an entry form at the Broken Bow Chamber of Commerce at 113 W Martin Luther King Drive.   The deadline for entries will be December 10th at 1:00 p.m..
All floats, parade entries, and participants riding on floats will need to report to Charity at the Rector Johnson Middle School parking lot for line up assignments.
The McCurtain County Christmas Parade was the first one held in the county. The Broken Bow Chamber would like to invite everyone to come enjoy this year's parade.
SEVIER COUNTY DEPUTY HANDLES DRUG PARAPHANALIA CASE 11/29/18
On Thursday, November 22nd Deputy Chet Stubbs of the Sevier County Sheriff's Department was dispatched to the scene of a motor vehicle accident that occurred near the intersection of highway 317 and Highway 71 South. Deputy Stubbs identified the driver as Sharon Quick, 57 of Mena Arkansas. Upon running Quick's information through the system Deputy Stubbs discovered the woman had an outstanding warrant for her arrest.
Quick was placed in custody and a wrecker service retrieved her vehicle while she was transported to the Sevier County jail. When asked if she had any controlled substances or drug paraphernalia in her possession she claimed that she did not. Quick was transferred to book-in procedures conducted by Detention Officer Megan Lizzy. Officer Lizzy searched the suspect and discovered a green crown royal bag that contained a used glass pipe that is commonly associated with the consumption of methamphetamine.
The pipe was found to contain residue of methamphetamine inside it. Deputy Stubbs later read Quick her rights and she agreed to an interview during which she admitted to using the pipe to smoke the methamphetamine. The evidence was collected and sent off to the state crime lab in Little Rock for processing. Quick has been charged with possession of drug paraphernalia and her outstanding warrant for arrest with the city of De Queen.
HORATIO CHRISTMAS PARADE AND CITY WIDE GARAGE SALE 11/29/18
The City of Horatio is holding their Christmas parade and Main street event on Saturday, December 1st. The city wide garage sale will begin at 8am and the parade stars at 2:00. the Horatio museum committee will also be hosting a bake sale during the event.
All floats and entries will be judged during the parade and announced next week. All floats will line up at the Horatio football field parking lot in front of the stadium off Highway 41 South and in front of the school cafeteria. Signs will be posted to direct traffic. ushers will lead each group in for the line up and there are cash prizes for the 1st, 2nd and 3rd place winners. Categories include business, religious and organizations.
The 1st place winner will receive $100 cash prize, 2nd will receive $75 and 3rd place will be awarded $50. Golf carts, ATVs and pet parade participants are welcome as well. All pets must be on a controlled leash and dressed in Christmas attire. Contact James Dobbins at 870-582-1962 for more information.
LOGAN'S LOVIES 5K WALK/RUN SET FOR DECEMBER 11/29/18
Logan's Lovies 5K Walk and Run will be held on Saturday December 15th. Check in begins at 10:00 a.m. and The event will begin at 11:00 a.m. The 5K is sponsored by the Horatio CYCLE program and is being held in honor of Logan Winton, who passed away in an accident this year. The purpose of the event is to keep Logan's memory present and to provide stuffed animals and small blankets for local children who experience traumatic situations. Donations of stuffed animals are appreciated and monetary contributions can also be made at Horatio State Bank and the Horatio Elementary School.
Christina Winton is organizing the event and is the mother of the child who passed away. She started the foundation in Logan's honor to help other local children in the event of an emergency and traumatic issue. The cost to participate is $25 and all proceeds will go towards the foundation. Attendees are not required to run in the 5K as walking and simply making a donation are appreciated as well. For more information about the 5K contact Christina Winton at 870-582-4803.
MAMMOGRAM VAN COMING TO DE QUEEN 11/29/18
Cynthia Kesterson is the registered nurse at Dr. Jason Loftin's Wellness Center in De Queen. Cynthia stopped by KDQN studios Thursday to announce that CHI St. Vincent Hospital in Hot Springs will be sending a mobile Mammogram van to conduct screenings for women is Sevier County and the Surrounding area on Thursday December 6th from 10:00 a.m. to 2:30 p.m. Spots are limited and appointments should be made in advance. Call 501-622-2174 to schedule an appointment. Insurance typically covers the cost of a mammogram for women age 40 and older but there are options for those without health insurance through the local health departments. Cynthia says women can attend the session at 203 De Queen avenue on December 6th but an additional date will take place in January at the Walker clinic.
For questions contact 870-642-4000.
NEW SCHOLARSHIPS AVAILABLE AT UAHT 11/29/18
New scholarship opportunities were established at a local college in Southwest Arkansas this week.
The Huett brothers, Ronald and Michael, of Prescott, Arkansas, donated $75,000 to the University of Arkansas Hope-Texarkana Foundation to create three new endowed scholarships. The donation was made in memory of their parents and grandparents
Two of the scholarships, the Deward and Allie Collier Endowed Scholarship, and the Hamp and Pearl Huett Endowed Scholarship, are established in memory of the Huett's grandparents. The Deward and Allie Collier Endowed Scholarship will be awarded to a nontraditional student in the health professions division with preference given to students from Hempstead or Nevada County public schools.
The Hamp and Pearl Huett Endowed Scholarship will be awarded to a first-generation college student in the technical and industrial field with preference given to students from Hempstead or Nevada County public schools.
One of the scholarships, the Raymond and Louise Huett Endowed Scholarship, was established in memory of the Huett's parents. This scholarship will be awarded to a first generation student with preference given to graduates of Prescott High School.
For more information about scholarships or the UAHT Foundation, contact Anna Powell at 870-722-8516 or anna.powell@uacch.edu.
NEW WORKFORCE TRAINING CENTER IN TEXARKANA 11/29/18
Texarkana College opened its new Workforce Training Center Wednesday, November 28th and dedicated the building in memory of Betty and Buddy Ledwell. The Ledwell family has been a part of economic development in the regional area since establishing their business in 1946. Ledwell manufactures custom-made trailers, trucks, bodies and parts for the transportation industry.
TC president James Henry Russell said students who enroll in these programs can expect to work in classrooms with new equipment and to be trained by faculty who have years of experience in the field. TC's workforce training programs have an enrollment of more than 670 students, with close to 100 of these students currently enrolled in either the Industrial Maintenance or Construction Technology courses. Classes are offered during the day and evening.
Anyone who is interested in touring the building or meeting any of the instructors who teach the programs, can contact the college and make arrangements.
Registration is now open for the 2019 spring semester at Texarkana College, and students wanting to enroll in the Industrial Maintenance or Construction Technology programs located in the new building should contact TC's Enrollment Services office to make an appointment with an advisor. More information about the programs and how to get started with the enrollment process can be found online at www.texarkanacollege.edu or call 903-823-3012.
FREE HUNTER EDUCATION COURSE IN COLUMBUS 11/28 18
A free Hunting education opportunity is being offered for community residents in Southwest Arkansas next month.
The Rick Evans Grandview Prairie Conservation Education Center in Columbus, Arkansas has announced the Arkansas Hunter Education Course set for Saturday, December 1st from 7 a.m. to 5 p.m. Registration is required and interested persons can enroll in the course online. Visit www.register-ed.com to register.
Attendees are asked to bring their own lunch, as a meal will not be provided.
Anyone born on or after Jan. 1, 1969, is required to complete a hunter education course and carry a valid hunter education card to hunt in the state of Arkansas. Children under 16 may hunt without hunter education as long as they are under the direct supervision of an adult who is 21 years old, or older.
There is no specific age requirement to enroll in hunter education however, the educational material is based on a sixth-grade reading level. Arkansas recognizes hunter education cards from other states. Arkansas's hunter education program is recognized in all states as well as in Canada and Mexico.
There is no fee for this program thanks to the support of the 1/8 Cent Conservation Sales Tax. For more information, please contact the Rick Evans Grandview Prairie Conservation Education Center at 870-983-2790.
CHAMBER MEMBERS ENCOURAGED TO SUBMIT BUSINESS CARDS 11/28/18
As the holidays approach and events are coming up in Sevier County, Chamber of Commerce director Suzanne Babb has announced area chamber members in Sevier County are invited to drop off business cards for inclusion in the Welcome Bags for out-of-town visitors, and for future opportunities in the Relocation and Tourism Packets that will be mailed out.
This Saturday, December 1st a group of ATV riders will be participating in this year's Christmas Parade. Many are from out of town, and even out of state. Suzanne says this is a great opportunity for retail, service and restaurant chamber members to be represented in the Welcome Bags that will be given to them.
Members are asked to drop off business cards at the Chamber downtown 315 W. Stilwell avenue in De Queen.
Chamber office will be  CLOSED Thursday, November 29th for a Chamber Professional Training but will open Friday November 30th from 10:00 a.m. – 4:00 p.m.
Call 870-584-3225 for questions.
TEXARKANA MAN DIES IN FIRE 11/28/18
A 62-year-old disabled man died early Tuesday in a house fire in Texarkana, officials said. Firefighters were dispatched around 2:54 a.m. to a home on Preston Street, said Fire Chief David Fletcher.
"When they arrived, it was a fully involved house. It was burning." he said. Investigators do not immediately know the cause of the fire, but foul play is not suspected. The man's body was found in the front bedroom and has been sent to Little Rock, Arkansas for an autopsy.
Conditions at the scene were reportedly burned so badly there is a distinct possibility that the cause of the fire may never be known, according to Chief Fletcher.
POLICE CATCH DWI SUSPECT IN DE QUEEN 11/28/18
On Monday, November 26th at approximately 8:41 p.m. Sergeant Baker of the De Queen Police Department was dispatched to a store on Colin Raye drive in De Queen. A report was made to the department about a person who appeared to be sleeping in a Van at the EZ mart store parking lot.
Upon officer Baker's arrival on the scene he discovered a female sleeping in the driver's seat of the vehicle. The woman was identified as Edna Barron. When Barron opened the door to the vehicle Sergeant Baker noted the woman had bloodshot eyes and reportedly smelled of alcohol.
Baker arrested Barron at the scene for DWI and she was transported to the Sevier County jail.
DE QUEEN ELEMENTARY STUDENTS GET SURPRISE GUEST 11/28/18
Technical Sargeant Erick Angeles was a Mystery Reader for De Queen Elementary fourth grade students last week. Students were given clues each day to try to figure out who the mystery reader would be. Angeles, who is stationed with the US Air Force in the Middle East, read the book The Bossy Gallito, a Cuban folktale by Lucia M. Gonzalez. This event was a special surprise for Angeles' son, Gael, a De Queen Elementary fourth grader. Photo credits:  Jason Carlton
HUNTING ACCIDENT AT POND CREEK WMA **UPDATE** 11/27/18

 New information has been released regarding an update on a hunting accident that occurred at the Pond Creek Wildlife management area on Tuesday, November 20th just outside Horatio. Randy Zellers is the assistant chief of Communications at the Arkansas Game and Fish Commission.
The accident happened within the Arkansas Game and Fish Commissions jurisdiction and the Sevier County Sheriff's Department and Volunteers from the Horatio Fire Department, Arkansas State police and Southwest EMS assisted the AGFC with the call.
Zellers said Shane Stone, age 27 of Nashville Arkansas received injuries after a fall that was caused by an equipment issue while climbing into position to hunt. Southwest EMS transported Stone from the scene to receive medical attention at Saint Michaels Hospital in Texarkana where he received treatment for torn ligaments and a torn calf muscle.
Zellers said the accident is an example of the importance of exercising safety and caution while hunting. Stone was released on Friday, November 23rd and is in recovery.
LOCAL 4H TEENS ATTEND NATIONAL EVENT 11/27/18
Howard County 4-H members, Codie Jamison and Katilynn Hanney were chosen from youth across the state to attend National 4-H Congress this week in Atlanta, Georgia. Codie is the daughter of Gary and Stacy Jamison of Nashville. Katilynn is the daughter of Michael and Christie Hanney of Nashville. Both are members of the Howard County 4-H Teen Leaders.
While at the conference, they participated in leadership and community service activities including volunteering at local schools, museums, cleaning parks and cemeteries. The group also toured some of the local sites.
Both Jamison and Hanney were recognized for their 4-H career and accomplishments this past summer at the State 4-H Achievement Awards Program held on the U of A campus in Fayetteville. According to Jean Ince, County Extension Agent-Staff Chair, "This is the highest recognition for any 4-H member. These members have put in countless hours of community service and leadership throughout their years in 4-H in order to achieve at this level. I am extremely proud of both Codie and Katilynn."
Achieving at this level opens the door for them to receive 4-H college scholarships. Codie is currently a student at UACCC. Katilynn is a senior at Nashville High School.
4-H is the youth organization of the University of Arkansas Division of Agriculture. If you are interested in learning more about 4-H, contact the Howard County Extension Service at 870-845-7517 or visit our office located on the second floor of the courthouse. The University of Arkansas System Division of Agriculture is an equal opportunity/equal access/affirmative action institution.
FREE CAROL OF LIGHTS EVENT AT HENDERSON 11/27/18
Henderson State University will present the annual Carol of Lights holiday program on Monday, Dec. 3. The sidewalks of the south lawn will be lined with hundreds of luminaries, creating a seasonal scene, and a variety of musical groups will perform. The program is free and open to the public.
The festivities will begin at 5:45 p.m. with Opera Workshop carolers performing on the front steps of Arkansas Hall, followed by students from the Davis-Baker Preschool Choir.
At 6 p.m., herald trumpets will mark the beginning of the program inside Arkansas Hall, and a flute choir will perform in the lobby as guests make their way into the auditorium.
The program includes performances by the Horn Choir/Tuba Choir, Henderson Dance Company, Clarinet Choir, NuFusion Jazz Ensemble, Opera Workshop, Angelic Voices of Christ, Perritt Primary School Nickelodeon Choir, and the Ouachita Honor Choir.
Dr. David Thompson will recite "The Night Before Christmas" with children invited to join him on stage.
After the gingerbread house winners are announced, the program will conclude with the University Chorale and Nickelodeon Choir singing "We Wish You a Merry Christmas." All community members in the area are welcome to attend.
FATALITY IN THREE CAR WRECK MONDAY 11/27/18
21 year old Texarkana man died after a 3 vehicle accident around 5:25 Monday morning (11-26) near Ozan on US278.
According to the Arkansas State Police, Jaylen C. Willis was westbound in a 2011 Hyundai when he apparently lost control, crossed the centerline, and struck an eastbound Chevy Silverado truck driven by 58 year old Myra Conway of Hope. The Conway vehicle then crossed into the westbound lane and struck a Nissan Frontier driven by 61 year old Lena P. White of Washington.
The injured were taken to Howard Memorial Hospital in Nashville and UAMS in Little Rock. Willis was pronounced dead by deputy coroner David Peters at the scene. The body was held at Brazzel-Oakcrest. Trooper Darren Henley investigated for Troop G of the Arkansas State Police.
PESTICIDE APPLICATOR TRAINING OFFERED 11/27/18
County Extension Agent, Rex Herring will conduct two Private Applicator Training (PAT) sessions on Tuesday, December 4, 2018 at 1:30 and 5:30 pm at the Adams Building on UA Cossatot College Campus in De Queen.
Anyone whose PAT license has expired or those who do not have a license and need to be certified to purchase restricted products for farm or ranch use should attend one of the meetings. For more information, call the Sevier County Extension office at (870) 584-3013. You do not need to pre- register to attend.
ASHDOWN SCHOOL CELEBRATES AMERICAN EDUCATION WEEK 11/26/18
arson Scholars Fund's National Reading Day Celebration, Ashdown's L.F. Henderson intermediate school teachers dressed up as their favorite book characters.
This event was formerly known as the Ben Carson Reading Day and is a celebration held in conjunction with American Education Week. Teachers at LFH went to different grade level classrooms and read books.
There was also a parade through the building so all the students could see the teachers.  Students were treated to a video of Candy Carson reading the book, Stellaluna by Janell Cannon and a guest reader in the library who read the book, Dream Big  by Kat Kronenburg. Ashdown school participate in the recognition of education week every year.
nnounced the arrest of a Southwest Arkansas woman for Medicaid fraud.
Tonashae Echols, 33, of Garland County, is the Therapy Manager of Little Bitty City Therapeutic Services in Hot Springs. Echols is accused of making false statements regarding her family's income in order to receive Medicaid benefits for her children and billing Medicaid through the business for services provided to the children from November 2015 through July 2017. Following an investigation by the Attorney General's Office, Echols has been arrested and charged with one count of Medicaid fraud, a Class B felony.
"Echols is accused of lying to collect benefits she was not entitled to receive," said Attorney General Rutledge. "When people cheat Medicaid, they steal from taxpayers and hurt a system designed to help the most vulnerable.
Medicaid fraud occurs when providers use the Medicaid program to obtain money to which they are not entitled. Residents can report Medicaid fraud, abuse or neglect in residential care facilities, by contacting the Attorney General's Medicaid fraud hotline at (866) 810-0016 or oag@arkansasag.gov.
DONATIONS SOUGHT FOR LOCAL SHOP WITH A COP PROGRAM 11/26/18
Sevier County Sheriff Robert Gentry and De Queen Police Chief Scott Simmons have released an announcement regarding funding needs for the local "Shop with a cop" program that provides area children with gifts for Christmas. Last year the program assisted more than 50 children in the community for the holiday season.
During the November De Queen City Council meeting it was revealed by police chief Scott Simmons that funding for the charity event is down for 2018. In previous years the departments were equipped with $2500 in funding to provide toys for children in the area. This year the program budget is currently only $500. Fundraising from the community is needed to supply the program with resources.
The "shop with a cop" program allows children to bond with a local law enforcement officer while also receiving a gift for the holidays. Residents who are able to contribute may do so by making monetary or gift card donations to The De Queen Police Department, P.O Box 730 De Queen, Arkansas 71832. Or The Sevier County Sheriff's Department, 137 West Robinson Road, De Queen, Arkansas 71832. Checks can be made out to "shop with a cop." The Sevier County Sheriff's Department and De Queen Police Department have expressed appreciation to residents who are able to donate.
SEVIER COUNTY LIBRARY ANNOUNCEMENTS FOR DECEMBER 11/26/18
The Sevier County library wishes to thank everyone who donated items for the sweater drive and the items for food for fines. With all the donations we will have some warm and happy people this holiday season.
The ladies of the De Queen Library wish all patrons a safe and happy holiday. To celebrate Christmas from December 3rd through 17th, each time a book is checked out, names will be placed in a drawing to win a $100.00 gift card from Walmart.
December 15th will be the 3rd annual Cocoa with Mrs Claus. There will be a story time and fun at 11:00 a.m. There will be cocoa and goodies for the first 30 children and there may be a surprise visitor. December is the month for Christian Fiction and the De Queen Library will have a Christmas themed books on display.
"Activities" are held every Wednesday at 10:00 a.m. They offer dominoes, games, cards, coloring and more. Call the De Queen Branch at 584-4364 for more information. The Horatio Library will be having an open house called Cocoa and Cookies with Mrs. Claus on December 22nd from 9:00 a.m until 12:00 p.m.
Mrs. Claus will be there at 10 am to read a story to the children.  There will be games, crafts and other activities for the kids.   At 11 am there will have stockings full of goodies for the first 25 kids who arrive. There will also be hourly door prize drawings and refreshments served. They'll host dominoes at 10 a.m. and a bridge game a 1:00 p.m. on Wednesdays for   adults.The Horatio branch also announced the food drive will continue through the month of December.   Any non-perishable item can be dropped off during regular hours.
The Lockesburg Library will host Christmas Tea between 10:00 a.m.- 11:30 a.m. on Saturday, Dec. 8th   Attendees should bring their own teacup and prizes will be awarded for the most interesting cups brought. Children's Christmas programs planned in December will be Thursday, December 13 at 1:00 pm and Saturday, December 15 at 10:00 am. A special display of "Christmas Books" has been set up at the Lockesburg Library.
The Gillham Library has new books in stock. the new Mary Higgins Clark book, "You Don't Own Me" and "Alaskan Holiday" by Debbie Macomber are now available for check-out.  They will have a "Story Time and Craft Day" on Saturday December 8th and Young Mason Hobbs is going to present the program . A movie day will be held on Saturday December 15th. For more info: 870-386-5665 or visit their Facebook page www.facebook.com/gillhamlibrary
BROKEN BOW JR. CHAMBER OF COMMERCE HOLDING COAT DRIVE 11/26/18
The Broken Bow Jr. Chamber of Commerce is hosting a coat drive to help community members who are in need of warm clothing during the cold winter season. The drive is not limited to just coats and jackets, as scarves, mittens, gloves, hats, socks, and other similar items will also be accepted.
Rachel Wallace is a member of the Broken Bow Jr. Chamber of Commerce and has taken a leadership role in this years coat drive. Rachel says KDQN studios and the Broken Bow Chamber of Commerce office will serve as drop-off sites for the donations. KDQN studios is located at 921 W. Collin Raye Drive in De Queen.
The Broken Bow Chamber of Commerce is located at 113 West Martin Luther King Drive. Donations will be accepted through November 30th and distribution to local schools and charitable organizations will begin December 3rd. Contact KDQN studios at 870-642-2446 or the Broken Bow Chamber of commerce at 580-584-3393 for more information.

ADDITIONAL LAND OPEN FOR HUNTING IN SOUTHWEST ARKANSAS 11/23/18
This week, the AGFC announced Southwest Arkansas currently has one of the most dense deer populations of anywhere in the state, and public access areas in this part of Arkansas are more accessible because of special leased lands opportunities offered by the AGFC. This year, an additional spur of 3,500 acres is available near the town of Amity, to help hunters find a tree for their deer stand.
Garrick Dugger, assistant chief of wildlife management, says the AGFC leases more than a quarter-million acres each year to open them up for hunting and trapping.
Leased lands WMAs are still considered public hunting areas in regard to regulations concerning seasons and bag limits. Each WMA has its own set of regulations regarding harvest of all game species. For deer, they typically follow the same dates and bag limits as the private land deer zone surrounding them, but they do require the hunter to check their deer to the WMA zone number instead of a private land zone number.
"We take in about 20 percent of the program's cost through the permits," Dugger said. "The AGFC pays for the rest of it, so people have an affordable option to go hunting. We can't provide AGFC-owned land everywhere, but we can help make it a little easier to get your deer without spending a bunch of money in the process."
Leased lands in Southwest Arkansas include:
More information is available on AGFC.com
WILDFIRE SAFETY PROGRAM OPEN FOR AREA FIRE DEPARTMENTS 11/23/18
The Arkansas Forestry Commission is encouraging local fire departments to participate in the Arkansas Firewise program. The program is a wildfire-safety initiative that works through fire departments to educate and protect communities from wildfires. County Forester Justin Mallett says Firewise provides additional funding for departments and assists homeowners in wildfire mitigation.
In Arkansas, many homes are built in the wildland/urban interface (communities with both homes and natural areas in close proximity to one another), which makes them at a higher risk for wildfire damage. The Firewise USA program outlines specific strategies for improving the defensible space around homes – through fire department efforts – to improve community-wide wildfire danger awareness.
For more information, contact the Dierks forestry office at 870-286-2137.
LOCKESBURG CHRISTMAS PARADE ACCEPTING FLOAT ENTRIES NOW 11/23/18
The Lockesburg Christmas parade will be held on Saturday, December 1st, at 4:00 P.M. The city is currently accepting entries from organizations interested in participating in the parade. All participants are asked to meet at Ida Margaret Coulter park by 3:30p.m. on the afternoon of the parade. The Judges will be located in front of the Lockesburg City Hall.   Participants are asked to stop in front of the judges panel for them to view each entry. Organizations may register at City Hall and will be given a number that. must be visible in large print on the left side of the float. Float categories include Business/ Commercial, Organization, Religious, and Recreational.
Prizes will be presented immediately following the parade at Bank of Lockesburg's parking lot. The bank will be serving hot chocolate starting at 3:30 P.M. Santa will be visiting with children at the bank immediately following the parade. Participants are asked to submit their organization name, address, phone number and entry category to City Hall by Thursday, November 29th in order to be judged as a contestant in the parade.
Everyone is welcome to participate, but participants will not be judged if not registered. For more information, contact Lockesburg City Hall 870-289-3261.
HUNTING ACCIDENT AT POND CREEK WILDLIFE MANAGEMENT AREA 11/23/18
A hunting accident occurred at the Pond Creek Wildlife management area on Tuesday, November 20th just outside Horatio. Sevier County Sheriff Robert Gentry told KDQN the call came in late afternoon after 4:00 p.m. Tuesday.
The accident happened within the Arkansas Game and Fish Commissions jurisdiction but the Sevier County Sheriff's Department and Volunteers from the Horatio Fire Department assisted the AGFC with the call. Reports indicate that a hunter attempted to climb up a tree and fell over back wards which caused him to suffer injuries to his legs. The man was required to be airlifted from the scene to receive medical attention.
More information will be released as details become available.
UNRESPONSIVE CHILD AND CAR ACCIDENT IN DE QUEEN   11/23/18
On Tuesday, November 20th at approximately 7:20 p.m. Katheryn Ledesma of De Queen was attempting to drive her unresponsive six month-old baby to the De Queen medical center in a 2004 Toyota Forerunner.
While attempting to turn off Colin Raye Drive onto North 14th street where the medical center is located, Ledesma ran into the curb. After hitting the curb she continued into a ditch on the West side of North 14th street.
Ledesma reportedly ran from the vehicle at the scene of the accident to the medical center one block away with her baby in her arms. Ledesma's mother, Kathy Leon was reportedly still in the vehicle at the scene. First responders were called to the crash and got Leon out of the vehicle and into an ambulance. De Queen police have no further updates on the case at this time.
HOUSE FIRE NEAR DE QUEEN    11/23/18
On Tuesday, November 20th at approximately 1:15 p.m. Members of the De Queen Fire Department and Sevier County Sheriff's Department were dispatched to a residence just outside the city limits on Craig Lane in response to reports of a structure fire.
Twelve firefighters responded to the all call alarm and arrived on the scene just three minutes after the report came in. Upon arrival at the house, responders reported the back of the house was engulfed in flames.
The crew worked for more than an hour to put out the fire and left the scene at 2:37 p.m.   The De Queen Fire Department reported that smoke detectors in the home were present and functioning properly. The owner of the home was identified as Jason Formby. No injuries were reported and the cause of the fire has not been released.
LITTLE RIVER COUNTY QUORUM COURT MEETING UPDATES 11/21/18
The Little River County Quorum Court's November meeting was held last week at the county courthouse. During the brief meeting a few agenda items were discussed and upcoming events were announced. In terms of finances, the budget chairman provided updated copies of the 2018-2019 budget for the quorum and announced a budget workshop has been scheduled for Monday.
Mike Cranford said good news is in order for all full time county employees as the judge announced $1,000 bonuses for Christmas will be distributed this week, in time for Holiday shopping.
The quorum was addressed by resident Wanda Duckett who revealed that work conducted by the city years ago has caused drainage problems on her property recently. Judge Cranford agreed to send professional out to assess the situation for Miss Duckett and the report will be reviewed was completed.
A reminder for the annual lighting of the Courthouse was also announced during meeting as well. The lighting took place Tuesday, November 20th in time for the Winter Holiday season. Another annual occurrence is the levy ordinance adoption. The ordinance is addressed each year around the same time and requires assess the current milage for city and county roads. Judge Cranford said there were no changes to note since last year.
The next Little County Quorum Court Meeting will be held Monday, December 10th at the county courthouse at 9:00 a.m. The public is invited.
NEW BUILDING PROJECTS ON TRACK FOR DE QUEEN SCHOOLS 11/21/18
De Queen school district Superintendent Bruce Hill announced a special school board meeting was called Tuesday, November 20th at the district's administration building. The purpose of the meeting was to take bids for the new construction projects on both the new High School building and the primary school's physical education building.
Superintendent Hill described the session as a "Five Minute meeting" in which the bids were accepted. The High school building construction project will cost $13.7 million dollars, which is less than the school board anticipated paying.
The expected cost was to pay no more than $14.5 million for the project. The primary school's physical education building met the exact expectation in costs. The building's price tag will be $1.3 million, which is the same amount the board planned to pay. Both projects will begin December 3rd as planned.
SEVIER COUNTY QUORUM COURT UPDATES 11/21/18
The Sevier County Quorum court met for their November meeting Monday the 19th. The meeting was moved from the 12th as the courthouse was closed for Veteran's day. During the meeting agenda items discussed include a report from the budget committee, the approval of a new library board member, appropriation of funds and the discussion of possibly supplying I-pads for the quorum court members.
Angie Walker is both a Justice of the Peace and member of the budget committee. Walker said working through the failure of the proposed tax for the Sevier County Jail is has been a topic of discussion for the budget committee. Although the issue may be put to vote for county residents again, it is required that a 6 month time period pass before it can be proposed again.
The appointment of Kathryn Coulter to the Sevier County library was unanimously approved by the quorum court during the meeting.
An appropriation for funds transfer was also addressed during the meeting. The quorum agreed to move existing funds for equipment repair purposes. Angie Walker says the money is already in the budget, it simply needed to be moved to a different category.
The idea of supplying the Quorum court with I-pads to manage paperwork and agenda items was addressed. Angie says the I-Pads would help with efficiency and would even assist the budget committee in managing documents and information.
The next Sevier County Quorum Court meeting will be held December 10th at the county courthouse in De Queen.
NOVEMBER CITY COUNCIL MEETING UPDATES FOR DE QUEEN 11/21/18
The De Queen City Council met for their regular meeting Tuesday, November 20th at city Hall in De Queen. Several agenda items were addressed during the meeting but Mayor Billy Ray McKelvy says the main item of discussion was focused on the new retirement plan for city employees. An ordinance to adopt the new plan requiring a 10% contribution from the city passed during the meeting. Mayor McKelvy says he believes this plan will better serve the city's employees. An ordinance was also passed to dissolve the old plan, but it will require approval from the IRS.
The new plan will be implemented in January of 2019.
The Fire department was recently granted $5,000 from Arvest Bank for equipment purchases and the council passed the resolution to appropriate the funds. The department will use the money to provide additional safety equipment for the fire fighters. The police department chief Scott Simmons announced that funding is down this year for the city's shop with a cop program. Each year the department provides a shopping experience for 25 children in need during the holiday season. The De Queen police will need to raise additional funds to help make up the deficit.
The council agreed to allow the new city council members to discuss the details of attendance and residency requirements when they begin their terms next year. Budget requests were also made by city departments. The main issue proposed was the water tower painting Project. Mayor McKelvy says the tower's interior has not been painted since it was built in the 1960's.
An announcement was also made about an upcoming auction in De Queen. On Wednesday, November 28th two equipment items will be up for auction at noon at the city shop. Items will include a backhoe and a dozer will open for bids.
The final announcement made regards the code red alert system. The sanitation routes will be changed in observation of the Thanksgiving Holiday. Mayor Mckelvy says the system offers reminders for local residents.
The next De Queen City Council meeting will be held December 4th at 6:00 p.m. in city hall.
POLICE ASSESS ASSAULT CASE IN DE QUEEN 11/21/18
On Thursday, November 8th Officer Kristopher Hundley of the De Queen police Department was dispatched to a call on North 9th street regarding a report of a domestic disturbance. Upon the officer's arrival on the scene contact was made with Manual and Isabel Rodriguez of De Queen in the Kern Heights Baptist church parking lot.
A woman named Maria Ocampo reported that Isabel had been using drugs and running off. Isabel has been told not to leave the residence and after the words were exchanged Isabel reportedly spit on Maria. Officers placed Isabel into Custody and transported her to the Sevier County Jail. At the Jail Isabel was placed into custody and jailed for assault on a family or household member in the 3rd degree. Bond was set at $1,500.
COSSATOT RIVER SCHOOL DISTRICT CHOIR UPDATES 11/20/18
Cossatot River Junior High Choir members traveled to Arkadelphia High School on October 20th to audition for the Southwest Arkansas Junior High Region Choir.
Nearly 600 students from the Southwest Arkansas regional area auditioned for the opportunity.  Out of the 600 students, 34 of those singers auditioning were from CRHS. Of the 34, 29 students and 3 alternates earned chairs in the Choir.
The students also performed a live concert on Friday, November 9th at Lake Hamilton High School in Pearcy, Arkansas. The Cossatot river High School choir will put on an additional live concert Tuesday, December 11th at 7:30 pm in the Holbert Auditorium.
The Cossatot River Choirs are under the direction of Susan Brewer and more information can be found online at www.cossatot.us
MINERAL SPRINGS HIGH SCHOOL PRINCIPAL FACES BATTERY CHARGES 11/20/18
Third degree misdemeanor battery charges have been filed against Mineral Springs High School Principal Clint Jones, following an altercation at Friday's football game at Hampton.
According to the Hampton Police Department, an altercation between football players broke out at the conclusion of the game.
Authorities say Principal Jones stepped in to break up the fight and allegedly threw punches at a Mineral Springs student and a parent. Officer Cody Wilson reported that the parent became involved because she was concerned that the players were getting hit by the principal.
The police department says the investigation is ongoing and that individuals involved have been cooperative in providing information. Jones was also previously accused of assault while working at a Texarkana, Arkansas school. Administrators with the Mineral Springs School District declined to comment on the incident.
ANNUAL SOUTHWEST ARKANSAS FUNERAL SERVICES CONFERENCE SET FOR DECEMBER 11/20/18
The University of Arkansas Hope-Texarkana Departments of Industry Outreach & Community Education and Funeral Services will hold the annual Southwest Arkansas Funeral Services Conference on Tuesday, December 4, 2018, at Hempstead Hall in the Washington Suite from 10:00 a.m. to 5:00 p.m. Registration begins at 9:30 a.m. The conference is open to Funeral Service Directors and Embalmers to obtain their required compliance credits for the year. This conference will award 6 hours of continuing education credit.
This year's presenters include:
Robert Akers, Board Director Funeral Service Division
Gerald Curtis, Funeral Home Liaison with ARORA
Holly Rucker, Executive Director for Kindred Hospice Texarkana
Topics this year include:
ARORA Organ and Tissue Donation
Finding Meaning in Bereavement
The New Arkansas Funeral Board and its Effects on the Industry
The registration fee of $40 includes lunch, door prizes at breaks, and recording of credit to the Arkansas State Board of Funeral Directors and Embalmers. Payment may be made by phone, mail, or on the day of the event. Registrations are encouraged to be completed by Friday, November 23.
To pre-register for the conference, contact Edessa Walton, Industry Outreach Director at 870-722-8102 or edessa.walton@uacch.edu.
DE QUEEN POLICE OFFICER CATCHES DUI SUSPECT 11/20/18
On Saturday, November 17th at approximately 9:45 p.m. Officer JJ Lopez of the De Queen Police Department was dispatched to the area of Coulter drive in reference to a person who reported hearing a loud noise that sounded like a vehicle had crashed.
Upon officer Lopez's arrival on the scene he discovered a Black Chevrolet Silverado in the ditch on the South side of Coulter Drive. Officer Lopez identified the driver as Juan Pablo Duran Hernandez, age 25 of De Queen. While speaking with the suspect Officer Lopez reported noticing an odor consistent with alcoholic beverages coming from his person. Hernandez admitted he had consumed alcohol earlier while attending a party.
Officer Lopez had Hernandez perform several field sobriety tests and he did not pass the requirements. Lopez also administered a breathalyzer on the suspect and the result showed 0.143, which is higher than the legal limit of .08. Hernandez was placed in custody and transported to the Sevier County Jail where he was processed and charged with DWI 2. Bond was set at $2500.
AGFC TO STOCK PONDS FOR WINTER 11/20/18
The Arkansas Game and Fish Commission's Family and Community Fishing Program is kicking off winter in style by releasing hundreds of rainbow trout in program ponds throughout the state.
Each year, rainbow trout raised at the Jim Hinkle Spring River State Fish Hatchery in Mammoth Springs are delivered to community ponds across the natural state once the water temperatures have cooled enough to accommodate cold-water fish. According to AGFC Family and Community Fishing Program Coordinator, Maurice Jackson, the fish began to be delivered last week, and all program ponds scheduled for trout should have fish swimming in them in time for the Thanksgiving holiday.
Southwest Arkansas ponds stocked with the trout include the John Benjamin Glenwood community pond in Glenwood, the Mike and Janet Huckabee Senior Youth Pond in Hope, the Entergy and Family parks in Hot Springs, and Lake Dieffenbacher in Texarkana.
Visit www.agfc.com/familyfishing to learn more about the Family and Community Fishing Program and to find the complete list of ponds participating in the winter trout stocking schedule.
 ARKANSAS STATE POLICE TO INCREASE ENFORCEMENT DURING HEAVILY TRAVELED THANKSGIVING HOLIDAY 11/20/18
The Thanksgiving holiday is typically one of the more dangerous and deadliest times for highway or local street travel.  Whether the trip is across town or across the county, distance makes no difference, safety belts and child restraints save lives.
The Arkansas State Police will be working alongside law enforcement agencies across the state during the upcoming Thanksgiving holiday period November 19 – 25 looking for motorists who are not using their vehicle safety belts.  State troopers, local police officers and sheriff's deputies are reminding all motorists to "Click It" or risk getting a ticket.
An intensified enforcement emphasis will be noticed along Interstate 40 during the most heavily traveled hours of the Thanksgiving holiday and violators will be ticketed.
During the 2016 Thanksgiving holiday period (November 23rd – 28th), 341 people were killed in motor vehicle crashes nationwide.  Nearly 50 percent of those killed were not buckled-up.
Arkansas state law requires that all front seat passengers, not just drivers, be buckled up. It requires all children under fifteen years of age to be properly secured in the vehicle.  A child who is less than six years of age and who weighs less than sixty pounds shall be restrained in a child passenger safety seat. If the driver has a restricted license, all passengers in the vehicle must be properly buckled up.
For more information about highway safety during Thanksgiving, please visitwww.trafficsafetymarketing.gov or call the Arkansas Highway Safety Office at (501) 618-8136. For more on Arkansas' ongoing Toward Zero Deaths campaign to eliminate preventable traffic fatalities, visit www.TZDArkansas.org.
DE QUEEN HIGH SCHOOL CROSS COUNTRY RUNNERS SIGN WITH LOCAL COLLEGES 11/19/18
Two local High School students signed letters of intent to join athletic programs at Southwest Arkansas area colleges last week. Isael Sanchez and Hector Hernandez are seniors at De Queen High School who will be competing on collegiate cross country running teams beginning in the fall of 2019.
Sanchez signed with U of A Rich Mountain in Mena, Arkansas and Hector Hernandez signed with Southern Arkansas University in Magnolia. Both boys signed letters of intent with their respective schools on Friday, November 16th at KDQN studios in De Queen.
Coach Samantha Shores of UA Rich Mountain described Isael Sanchez as a team player who excels in both academics and athletics. Sanchez says he enjoys the social aspects of the sport but also likes beating out the competition during races.


Coach Shores noted that elevating from High School level races to collegiate cross country requires running longer distances and adding additional forms of training.
Hector Hernandez has already begun to set goals for his athletic career at SAU. The runner said he would like to win a conference title with the Muleriders as a freshman.
Friends, family, coaches and teammates joined the boys to celebrate the signing day event November 16th. Pictures of the signing are available in our photo album.
NEW REGULATIONS ANNOUNCED AT AGFC MEETING 11/19/18
The Arkansas Game and Fish Commission unanimously approved new regulations during the monthly commissioner's meeting held last week. One agenda item approved was the agreement to regulate and more closely monitor the commercial harvest of aquatic turtles across the state of Arkansas. The approved regulations changes are:
To cap the sale of annual commercial turtle harvest-related permit holders to 150 per year for 2019-2021;
Require submission of at least one report per harvester per year in order to renew a commercial harvester or dealer permit;
Close the Gulf Coastal Plain to commercial aquatic turtle harvest;
Close the St. Francis River in Greene and Clay counties to commercial aquatic turtle harvest;
Prohibit the harvest of razorback musk turtles, and
Clarify that anyone holding wild caught aquatic turtles for commercial transfer purposes must have an Aquatic Turtle Dealer Permit. The regulations will be effective Jan. 1, 2019:
In other business, the Commission:
Announced the Arkansas Wildlife Officer of the Year Award as Wildlife Officer Supervisor Keith Eaton of Lonoke County.
Authorized AGFC Director Pat Fitts to enter into a purchase agreement for 0.53 acres adjacent to Lake Elmdale in Washington County to complete work essential to repair the lake's spillway discharge, which was damaged by extensive flooding in 2017.
Authorized an increase of $260,381 to the previously approved marine fuel tax project of the McCallie Access to the Mississippi River in Desha County. The project will include construction of two boat ramps and parking areas to accommodate boaters and anglers on the Mississippi River in southeast Arkansas. The overall cost of the MFT project is $1,318,000.
Approved the removal of outdated and obsolete inventory with an original cost of $488,104.65 and a current net book value of $117,780.29.
CRISIS CENTER NEEDING DONATIONS AND VOLUNTEERS IN DE QUEEN 11/19/18
The Southwest Arkansas Crisis Center in De Queen is seeking donations so that they can continue to provide services to the area. They are also seeking volunteers.
They provide a number of services to the area including crisis intervention and prevention services, outreach, housing, counseling, financial assistance, criminal justice advocacy, and emergency food and clothing.
They also staff a 24/7 crisis hotline at 1-800-338-9844. Call 870-584-3441 for more information or learn more at www.arcrisiscenter.org.
TUTORING PROGRAM OPEN IN NASHVILLE 11/19/18
Lifeline Ministry After School Tutoring Program is featuring an after school tutoring program that will continue through May 2019. Sessions will be held every Tuesday from 3:30-5:00 P.M.
There will be a $5 registration fee for each child and they are located at the Fellowship Hall, 116 East Sypert, in Nashville, Arkansas. If you have or know a child who is in need of extra help with school work you are encouraged to bring them by. For more information contact the Director Mrs. Shelia Edwards at (870) 845-1878.
The teachers who will be working with the children are (Director) Mrs. Shelia Edwards, Mrs. Latasha Flowers, Mrs. Shanika Lofton and Mrs. Paula Alvarez. Staff members have obtained Early Childhood Development Degrees.
HOPE STATE TROOPER PROMOTED TO INTERNET CRIMES UNIT 11/19/18
Three state troopers were approved for promotions last week based on recommendations presented to the Arkansas State Police Commission by, state police director Colonel Bill Bryant . A Southwest Arkansas Native is among the troopers who were recently promoted into new positions.
Special Agent (Corporal) Russ Rhodes, age 46, of Garland County, was promoted to the rank of sergeant.  His most recent assignment has been with the department's Criminal Investigation Division, Company C based in Hope, Arkansas.
Sergeant Rhodes is a 21 year veteran of the department and has been promoted into a supervisor position within the CID Internet Crimes Against Children Unit.
The promotion was effective immediately and Rhodes began work in his role Thursday, November 15th.
Sergeant Chris Goodman, 43, of Pope County and Corporal Aaron Easley, 36 of Lawrence County are the additional state troopers who recently received promotions. Goodman is now assistant troop commander to Highway Patrol Division, Troop H in Fort Smith and Easley has been assigned as a post supervisor to Highway Patrol Division, Troop C in Jonesboro.
More information about the Arkansas state police and trooper recruiting is available online at asp.arkansas.gov.
NRA DONATES TO SOUTHWEST ARKANSAS COLLEGE SPORTS SHOOTING CLUB 11/16/18
The NRA Foundation has awarded the University of Arkansas Hope-Texarkana Iron Horse Shooting Sports Club a $3,000 grant. The grant will be used to fund the team's registration fees in the Arkansas State Championship Shoot this spring and to support the Pulling for Education Trap Shoot. "We are very excited to be able to help our local college's shooting club and the Pulling for Education Trap Shoot," said Brandon Stewart, Chairman of the Piney Woods Friends of the NRA Chapter #AR28.
Friends of the NRA is a grassroots fund-raising program that fosters community involvement to organize and, with help from NRA field staff, plan community events for firearms enthusiasts. All net proceeds from Friends of NRA events are allocated to The NRA Foundation, the leading charitable organization in support of shooting sports. Through NRA Foundation grants for equipment, training materials, range improvements, and more, qualified local, state, and national programs receive aid to involve and inspire a new generation of competitive shooters.
For more information about the Piney Woods Friends of the NRA Chapter #AR28, call 870-331-9975.
OBU TO HOST CHRISTMAS PERFORMANCES 11/16/18
Ouachita Baptist University's School of Fine Arts will present its annual A Festival of Christmas performances on Friday, Nov. 30, and Saturday, Dec. 1, both at 7:30 p.m. in Jones Performing arts center. Ouachita's choral ensembles, including Concert Choir, Ouachita Singers, Women's Chorus and Sounds of the Season (previously known as Ouachita Sounds), will perform throughout A Festival of Christmas. Additionally, children from the Arkadelphia DancePraize studio will perform "The Waltz of the Flowers" from The Nutcracker.
A few songs the audience can expect to hear this year include "O Holy Night," "Mary Did You Know?," "Grown Up Christmas List," "The Christmas Waltz" and "Holly Jolly Christmas."OBU Students and faculty begin working to produce A Festival of Christmas nearly six months in advance each year.
Tickets are $12 each and can be purchased in the JPAC Box Office or online at www.obu.edu/boxoffice. The box office is open weekdays from 1-5 p.m. For more information, call the box office at (870) 245-5555 during business hours.
SHOPLIFTING CASE AT DOLLAR GENERAL IN HORATIO 11/16/18
The Sevier County Sheriff's department received a call regarding a shoplifting occurrence on Friday, November 9th at the Dollar General store in Horatio. Deputy Wendell Randall spoke with store manager, James Welch who reported that he had viewed security footage of a man putting medicine in his pockets without paying. The man was identified as Shane Davis.
Davis took flonase, razor blades, zyrtec and a wireless phone charger valuing $53 total without paying and later returned to the store to redeem the items for a card that could be used to make an additional purchase. Welch told Deputy Randall he wished to press charges against Davis for shoplifting. Deputy Randall viewed the security camera footage and collected a statement from Welch.
On Monday, November 12th Davis turned himself in to the Sevier County Sheriff's department where he was informed of his Miranda rights and agreed to speak with officer Randall. Davis admitted to taking the items and described his actions as a last resort, as neither he nor his girlfriend are currently employed. Davis was issued a citation for the shoplifting and is not permitted at the Horatio Dollar general store by request of the store owner. Davis has a court date set for December 18th at the Sevier County Courthouse.
FARM BUREAU SURVEY SHOWS THANKSGIVING COSTS UP 11/16/18
The average cost of the traditional Thanksgiving meal this year is higher than in 2017, according to Arkansas Farm Bureau's 33rd annual survey of food items typically included in the holiday feast. And, for the first time, the survey includes ham, russet potatoes and green beans. This year's meal will cost $52.93 for a family of 10, up $8.35 from last year's average of $44.58, but still a bargain at $5.29 per person.
Travis Justice, chief economist for Arkansas Farm Bureau says this year's survey reflects an "unprecedented" third consecutive year of lower retail food prices.
"Despite the fact three new items were added to the shopping list, retail prices in Arkansas reflect a 10 percent decline from last year," said Justice. "In the protein sector, 2018 marks the fourth year in a row of record total meat production," he added. "Despite strong domestic consumer demand, these record tonnages of meat, along with declines in pork exports, particularly to China, have pressured consumer meat prices lower."
The statewide average is based on responses from members of the Arkansas Farm Bureau Women's Leadership Committee and other volunteers who surveyed food prices at eight grocery stores and supermarkets across the state. They were asked to report the "best in-store price" of 15 items included in the meal and are allowed to take advantage of advertised specials, excluding discount coupons and purchase requirements.
Arkansas food prices continue to remain more affordable than elsewhere. American Farm Bureau's national survey of price trends for the holiday feast, including the three new menu items, revealed an average of $61.72.
"America consumers will benefit this year from another record supply of poultry and pork products," said Arkansas Farm Bureau president Randy Veach. "We are blessed with the most abundant and affordable food supply in the world and, as we do each Thanksgiving, many families and charitable organizations will share the meal with those who are not as fortunate. That is truly reason to give thanks."
Veach said the fact consumers continue to enjoy the holiday meal for a little more than $5 a person, on average, is a result of the efficiency of the nation's food production system.
"Grain prices continue to remain low and our farmers are feeling the effects of the tariff war with China," he said. "As in most years, the weather affected crop production and harvest, but despite this, because of research and the latest technological advancements, they are able to hold down their cost of production," Veach said.
Though unscientific, the survey is intended to be a snapshot of actual prices across Arkansas and the nation. The survey period was Oct.26 – Nov. 6.
The average cost of a 16-pound young tom turkey was $13.88 or 87 cents per pound. That's down from $1.08 per pound in 2017. American Farm Bureau's national survey reported an average of $21.71 or $1.36 per pound for the whole bird. A new item on the list is a four-pound half bone-in ham at $6.59 or $1.65 per pound. Turkey and ham are centerpiece items in most dinners and drive the cost of the meal.
Other new items in the shopping list this year are a 5-pound bag of russet potatoes which cost $5.07 or $1.01 per pound, and a 16-ounce package of green beans which cost $1.32. The average cost of a gallon of whole milk dropped 37 cents to $2.64.
The remaining items surveyed included a package of fresh cranberries, three pounds of sweet potatoes, carrots, celery, frozen green peas, pie shells, stuffing mix, dinner rolls, pumpkin pie mix and a ½-pint carton of whipping cream.
Arkansas Farm Bureau is a nonprofit, private advocacy organization of more than 192,000 families throughout the state working to improve farm and rural life.
SPRING CLASSES AT UA COSSATOT SET FOR JANUARY 14TH 11/16/18
Spring 2019 classes and financial aid are open for enrollment for new and continuing students at the University of Arkansas Cossatot in Ashdown, De Queen, Nashville, and online. Registration for classes beginning January 14, 2019, will continue through January 15; however, classes are filling quickly. Persons interested in enrolling should see Student Services at any UA Cossatot campus or call 870-584-4471. A schedule of classes is available at www.cccua.edu/spring.
Federal financial aid may be available to students upon the completion of the Free Application for Federal Student Aid (FAFSA). Complete the FAFSA at the Federal Student Aid website, fafsa.ed.gov. Current students receiving Pell grant for the 2018-2019 academic year do not need to re-apply for spring.
For more information about financial aid and scholarship opportunities at UA Cossatot, please visit www.cccua.edu/FinAid.
The ArFuture grant provided through the Arkansas Department of Higher Education is also open for spring 2019. Students wishing to declare the following majors may qualify for the ArFuture grant:
Associate of Science – STEM, Associate of Science – Criminal Justice, Associate of Science – Natural Resources, Diesel Technology, EMT, Medical Assisting, Nursing, Occupational Therapy Assistant, Radio Broadcasting, and
Welding.To apply for the ArFuture grant, students must complete the FAFSA in addition to the YOUniversal online application at www.scholarships.adhe.edu. The deadline for spring 2019 ArFuture applications is January 1, 2019.
Students are encouraged to visit UA Cossatot to enroll in spring courses before campuses close in observance of the holidays on December 19, 2018.
FIVE SEVIER COUNTY RESIDENTS WIN FIRST PLACE IN PHOTO CONTEST    11/16/18
The Southwest Arkansas Planning & Development District (Southwest) and Sevier County Economic Development announce winners of a recent contest featuring photographs that showcase Sevier County in Southwest Arkansas.
The contest was open to all photographers who reside in, work in, or visit Sevier County, Arkansas, and had five categories. First, second and third place winners in each category are:
"Faith in Sevier"
First place:  Beautiful Old Church by Sydney Bailey; Second place:  Fall for Faith by Annabelle Lindsey; Third place:  Serenity Point by Keisha McKinney
"Sevier Natural Treasures"
First place:  De Queen Lake at Sunset by Lorrie Stubbs; Second place:  First Day of Fall by Angel Espinoza; Third place:  Quiet Afternoon by Keisha McKinney
"Sevier Roads and Structures"
First place:  Sunday Drive by Annabelle Lindsey; Second place:  Commercial District by Keisha McKinney; Third place:  Johnson Bridge by Sydney Bailey
"Sevier Strong"
First place:  Looking Out by Keisha McKinney; Second place:  Farm Life by Sidney Bailey; Third place:  Railways by Keisha McKinney
"Sevier Work and Play"
First place:  Poultry in Motion by Annabelle Lindsey; Second place:  Fun at the De Queen City Pool by Shelley Taylor; Third place:  Sibling Rivalry by Annabelle Lindsey
First place winners of each category receive a $20 gift certificate to Tres Agaves Restaurant in De Queen. First, second, and third place winners receive certificates of their accomplishment, as well as publication on the Southwest Arkansas Planning and Development District Facebook page.
"We appreciate the opportunity to participate in this Photo Quest with the Southwest Planning and Development District." said Lisa Taylor, Economic Development Director.  "Photos submitted during the contest will be used to promote our area for various economic development opportunities."
Winners may contact Lisa Taylor, Economic Development Director, at 870-279-5937, or they may stop by UA Cossatot, 183 College Drive, De Queen, to pick up their prize.
FARM BUREAU INSURANCE ADDS AG CERTIFIED AGENT 11/15/18
De Queen, AR – November 14, 2018
Allen Stark of Farm Bureau Insurance in Sevier County has
successfully become an
Ag Promise
Certified Agent with Farm Bureau Mutual Insurance
Company of Arkansas, Inc. An agent must comp
lete both educational and experience requirements
to become
Ag Promise
certified. By doing so, an agen

t becomes more knowledgeable about
agricultural risks and can better provide risk ma
nagement services that address the needs of
farmers. "We're excited that Allen has completed the
Ag Promise

Certified Agent program," said Mack
Wallace, Vice President- Sales. "The Farm Bu
reau Insurance operation has always made a
commitment to serve our farmers and ranchers with the highest degree of care and professionalism.Allen is a great example of that commitment."
The
Ag Promise Certified Agent program is designed to he

lp farmers and ranchers identify agents
that understand the complexity of the risks our agricultural customers face. Continuing education is required to maintain the certification.
Farm Bureau Mutual Insurance Company of Arkans
as, Inc. and Southern Farm Bureau Casualty
Insurance Company have been serving the needs of Arkansas farmers for over 65 years.
AGFC OPENING GATES FOR MERCER BAYOU THIS WEEK 11/15/18
Southwest Arkansas residents will now have an additional location to duck hunt, as The Arkansas Game and Fish Commission announced they will reopen the gates leading to Mercer Bayou on Sulphur River WMA in Sulpher township, Arkansas this week for hunters to access the area during the 2018-19 duck season.
The boat ramps have been closed since a major renovation began in 2017, a common practice to rejuvenate aging reservoirs in Arkansas. Aquatic vegetation had taken over much of the shallow lake, and fisheries supervisors scheduled the drawdown to reduce the vegetation and allow the silt layer to compact and dry, while also reducing the number of undesirable fish species found in the Bayou.
Cutting boat lanes, marking navigation channels, and creating fish attractions are also part of the plan in the renovation project. However, unusually wet weather has kept the Sulphur River high enough to refill the Bayou, despite the water control structures being opened. In an effort to let hunters make the best use of the public hunting and fishing area, lake managers will reopen the gates at the boat ramps and allow people to launch boats for hunting and fishing purposes when natural water levels allow.
The water-control structures on Mercer Bayou will remain open to prevent any further delay in the renovation when water levels recede. So, interested duck hunters and anglers should pay close attention to the lake level to determine if the ramps are usable. Boats will be allowed, but no other motorized vehicles may be used on the WMA.
HISTORIC WASHINGTON STATE PARK HOSTING CHRISTMAS EVENT 11/15/18
Community residents are invited to Join the staff of Historic Washington State Park for its 32nd Annual Christmas and Candlelight which will be held December 1 & 8, 2018. The park will be open from 8:00 A.M. to 8:00 P.M. both days. Luminaries and special music will be featured in the evenings.
Tour locations and homes will be adorned in 19th century style decorations including natural handmade wreaths and swags tailored by park staff and volunteers the week of the event. Evening programming and tours begin at 1:00 P.M., lighting of the luminaries will take place at dark, and music from groups and choirs throughout the region will begin at 5:00 P.M.
William's Tavern Restaurant will serve a Christmas Buffet for both lunch and dinner and attendees can eat when they see fit. There will be boardwalks to stroll and horsedrawn surreys. Tickets are $10.00 for adults and $6.00 for children (6 -12) plus tax.  The Historic State Park is only eight miles off I30 from Hope Arkansas.  For more information contact Historic Washington at 870-983-2684, orHistoricWashington@Arkansas.com.
DIERKS EDUCATION BOARD UPDATES 11/15/18
Monday night, the Dierks Board of Education met and approved the renewal of the Arkansas School Board Association business trip accidental death and dismemberment coverage for all school employees and bus drivers for the calendar year of 2019.
Board members voted to remove Terry Bo Ray and Janet Bobo from the district's Arvest safety deposit box and to add Superintendent Jody Cowart and District Treasurer Kayla Jones.
Board members passed unanimously motion to allow Cowart to pursue selling some district property.
The board also voted to pursue a fiber optics project and also approved a non-recurring $1,000 bonus for all certified and classified staff as a Christmas bonus. According to the unofficial minutes, the bonus will be paid in the November payroll process.
OFFICERS HANDLE CRIMINAL TRESPASS IN DE QUEEN 11/15/18
On Monday, November 12th at approximately 6:00 a.m. officer Wendell Randall was dispatched to a De Queen residence in response to a report of a domestic disturbance. While en route to the address, Deputy Chet Stubbs assisted officer Randall by checking the involved parties for outstanding warrants.
Stubbs and Deputy Justin Gentry arrived at the scene first and awaited Officer Randall's arrival. The suspects, identified as Denver Strang and Sarah Swain were found to have trespassed the address despite making claims that they had permission to be there. Deputy Stubbs was advised by officer Randall to take the suspects into custody while he spoke with the reporting party, Mickey Strang.
Strang stated his son, Denver and Sarah Swain had arrived at the house uninvited that morning and refused to leave after an argument occurred. Upon arriving at the Sheriff's office Officer Randall informed the suspects of their Miranda Rights and the suspects said Denver's mother, Kristi had given the two permission to be at the address.
Officers told Kristi that in order to have the trespassing charges dropped she would be required to write a statement declaring that she no longer wished to pursue the issue. The suspects were given citations for trespassing and assigned court dates for December 18th at the Sevier County Courthouse.
HORATIO SCHOOL BOARD MEETING HELD THIS WEEK 11/15/18
Horatio Board of Education met in regular session on Monday, November 12th in the administration building.  The board members approved emergency response team policy, athletics' events concession policy, and agreement with Central  Payment for acceptance of debit/credit cards.
Board members appointed Elizabeth Walker as the legislative liaison for the school district, adopted resolution for annual election to be held May 21, 2019 and approved Act 1120 for the 2017-18 school year.
The board approved student-successes awards, with principals determining the successes of students, approved transfer of students into district, and approved long term substitute for maternity leave of teacher.
Reports were given by superintendent, elementary and high school principals, financial statements, and routine reports were approved.

SEVIER COUNTY 4H STEM FAIR HELD AT UA COSSATOT 11/14/18
Sevier County 4-H held a STEM Fair October 25 at the Adam's Building on UA Cossatot Campus. Youth received an opportunity to go through nine different stations all geared towards higher learning. One experiment used the air from balloons to fuel helicopters; by releasing the balloon, they explored Newton's third law.
The third law states "for every action, there is a reaction". The action is filling a balloon with air and letting it go. The reaction is the air pushes the balloon in the opposite direction.
The Kids also got to experiment with DNA which is found in cells. Every living thing is made up of cells, for example humans, trees, apples, and grass all has living cells. Since apples have living cells, they also have DNA. They used a special chemical to mix with apple juice to separate the water and preservatives in the apple juice from the apple DNA. They used syringes to move the DNA to calcium chloride water which created a coating to make gummies, which were edible.
Another experiment used soapy water to discover why the sky is blue. Sunlight reaches Earth's atmosphere and is scattered in all directions by all the gases and particles in the air. Blue light is scattered in all directions by the tiny molecules of air in Earth's atmosphere. Blue is scattered more than other colors because it travels as shorter, smaller waves. This is why we see a blue sky most of the time.
If you would like more information on 4-H and how to join, please contact the Sevier County Extension Office at (870) 584-3013.
CAREER DAY IN ASHDOWN 11/14/18
Learning for Life, a division of Boy Scouts of America hosted a Career Day at Ashdown's L.F. Henderson Intermediate School for fourth and fifth graders on November 8.  Community leaders and business owners spoke to the students about their specific fields, so that students would hear about "a realistic image of the workplace."  Students listened to professionals who worked in the field of nursing, education, law enforcement, and engineering.
Learning for Life is a national character development program that began more than 25 years ago through the Boy Scouts of America.  
According to their website, "Learning for Life is a character education program designed to support schools and community-based organizations in their efforts to prepare youth to successfully handle the complexities of our contemporary society."
Learning For Life curriculum teaches students ages pre-kindergarten through 12th grade character traits and practical life skills based on the values and ethics of traditional scouting. Program Director Linda Willis recruits people from the community to speak to students in area school districts to bring home the message that education is important to success in life.
The program is made possible in part by grants from Texarkana Area Community Foundation, United Way of Greater Texarkana, Texarkana Bar Association, and Bridgestone Americas Trust Fund.
LOCKESBURG RESIDENT REPRESENTS SOUTHWEST ARKANSAS AT FARM BUREAU MEETING 11/14/18
Bruce Jackson of Lockesburg was among the 74 Farm Bureau leaders participating in the State Resolutions Committee meeting Nov. 7-8 at the Wyndham Riverfront Hotel in North Little Rock.
The committee refined and consolidated policy proposals into a set of formal recommendations to be considered by voting delegates during the business session of the Arkansas Farm Bureau State Convention, Nov. 28-30 at the Little Rock Convention Center.
ASHDOWN JUNIOR HIGH TAKES FIRST AT QUIZ BOWL TOURNAMENT 11/14/18
The 7th-grade Ashdown Junior High Quiz Bowl Team took 1st place at the Ashdown Invitational Tournament.
Pictured (l-r)Kevin Scott, Ernie Merrell, Caleb Blankenship, Bella Easley, Bannon Price, Luke Barnes, Ella Bowman, Rylie Youngblood, & Audrey Kate Bishop
UA COSSATOT STUDENT SERVICES DIRECTOR RECEIVES AWARD AT CONFERENCE 11/14/18
University of Arkansas Cossatot Director of Student Services Suzanne Ward, of Ashdown, graduated from the Arkansas Community College Leadership Institute at a reception held at the annual Arkansas Community Colleges conference at the Little Rock Marriott in October.
The 2017-2018 class is the tenth group of college leaders to go through the program. The institute is a leadership training opportunity for community colleges around the state. Leadership at each college selects faculty and staff to be prepared to take leadership roles at their colleges.
"Suzanne was new in her director position when she began the ACC Leadership program," said UA Cossatot Chancellor Steve Cole.
"She has learned about community college leadership, but also expanded her worldview as a leader in higher education. This is imperative as she directs a department fully responsible for serving our students."
The institute consists of four intensive 3-day meetings at college campuses across the state, including a the legislative session in Little Rock in February. Expert speakers present valuable information to the class regarding human resource law, legislative process concerning higher education, budget and appropriations, as well as skills necessary for successful leadership in higher education.
 Ne
tworking, team building, and personal development are also focuses of the program. 
When asked about her ACC Leadership Institute experience, Ward said, "The opportunity for networking and collaboration with peers from across the state ensures we are all working together to address both regional and statewide needs and establish common goals."
Ward is the nineteenth UA Cossatot employee to graduate from the ACC Leadership Institute
OPERATION CHRISTMAS CHILD COLLECTING DONATIONS IN HORATIO 11/13/18
Operation Christmas Child Shoebox Collection Week is November 12th – 19th, 2018.  Volunteers have been transforming empty boxes into gifts filled with toys, school supplies, hygiene items, and articles of clothing for children in need worldwide.This year is the 25th anniversary of the Operation Christmas Child Shoebox Ministry with at least 157 million children and their families learning of Jesus Christ through this Christian organization. The project is made possible by the help of volunteers and donations.
First Baptist church in Horatio is a drop off location for Operation Christmas child and collection times will be available throughout the week:
Tuesday, November 13th, 5-7 p.m .
Wednesday November 14th, 4-6 p.m.
Thursday November 15th, 5-7 p.m.
Friday November 16th, 5-7p.m.
Saturday November 17th, 9-11 a.m.
Sunday, November 18th, 3-5 p.m.
Monday November 19th, 9-11 am.
For suggestions about what can be packed in shoeboxes, drop-off sites, collection dates, hours, and directions to drop-off sites, go to samaritanspurse.org/occ. Contact Liz Trimble at 870-279-1219 for more information.
SWEATER DRIVE CONTINUING THROUGH NOVEMBER 30TH AT LIBRARIES 11/13/18
The Arkansas Educational Television Network and The Sevier County Library, De Queen Branch have partnered to Sponsor a Mister Rogers' Neighborhood Sweater Drive as a tribute to Fred Rogers and his example of being a caring neighbor. The drive will continue through November 30th with donation sites at more than 30 libraries participating in total.
Members of the community are asked to donate new or gently worn sweaters at 200 West Stilwell Avenue in De Queen. A box to collect the sweaters will be located inside the library. The items collected will be distributed to local residents in need by the Sevier County Housing Authority, De Queen School District, the 4C cowboy church youth group, and the Sever County Sheriff's department. A complete list of participating libraries and additional information is available at aetn.org/sweaterdrive.
FREE THANKSGIVING DINNER IN BROKEN BOW 11/13/18
The caring hands community will be providing a free Thanksgiving dinner for elderly residents, individuals experiencing financial burdens and anyone who may be alone or without a meal on the holiday. The meal is scheduled for Thursday, November 22nd from 11:00 a.m. to 12:00 p.m. at the Broken Bow Investment Center, east of Broken Bow.
Event organizers are currently seeking donations for the meal. They are in need of cooked turkeys, sides, desserts and drinks to be donated. Little Dixie Transit will provide free transportation for anyone in the Broken Bow, Oklahoma area who is in need of a ride to attend the meal. Contact Little Dixie at 580-584-6033 before 12:00 p.m. on Wednesday, November 21st.
To donate or volunteer, call Joy at 580-306-0512.
DE QUEEN SCHOOL BOARD TALKS MINIMUM WAGE AT NOVEMBER MEETING 11/13/18
A brief De Queen School board meeting was held Thursday, November 8th at the district's administration building. In addition to approving the previous meetings bills and minutes, old and some new business items were discussed. The main agenda item was the adjustment in salaries for the school district's employees in accordance with new state requirements based on the minimum wage raise that passed in the 2018 midterm election November 6th.
Superintendent Bruce Hill says the school board agreed to meet the new minimum requirements nut will hold off on making additional changes until they can confer with representatives of the state regarding funding assistance. Superintendent Hill also noted that the district is excited about the new basketball seasons beginning for girls and boys programs at the high school.
Hill said a good turn out for team participation and quality coaching staff should make for an improved season. The board also confirmed that the construction project for the new high school building is on track. The superintendent told KDQN that the district is still set to break ground at the new site in December.
UA COSSATOT HONORS 2018 OUTSTANDING FACULTY AND STAFF  11/12/18
The University of Arkansas Cossatot honors Marvin Terrell, of Nashville, as 2018 Outstanding Faculty and Christine Vertiz, of De Queen, as 2018 Outstanding Staff at an award ceremony held at the annual Arkansas Community Colleges conference at the Little Rock Marriott.
Staff and faculty at UA Cossatot nominate and vote for the ultimate winner of both of these awards annually. Outstanding Staff and Faculty honorees provide standout service to students and employees that are accounted for when elections are held each year.
Before joining UA Cossatot as faculty, Terrell worked for over 25 years in several roles in the welding field but always dreamed of teaching. He gained that opportunity 12 years ago when he joined the UAC team. Terrell was extremely dedicated and was instrumental in building the UA Cossatot Welding program into what it is today. During his time at UAC,  Terrell changed the lives of hundreds of students not only through teaching, but also through his sincere passion for his students. He elected to retire in May 2018 to spend more time with his wife and grandchildren.
Vertiz worked 25 years in the poultry industry until her young daughter's battle with cancer forced her to leave work. Vertiz's own health then declined, landing her in a nursing home for two years. During that time, she began classes at UA Cossatot while also working as a part-time tutor. She completed her Associate of Arts degree and then a Bachelor's in Psychology. Vertiz now works as UAC's Testing Coordinator. She loves making students feel a little more at ease as they come in to take an exam. Always wearing a smile, Vertiz strives to make a difference in whatever way she can.
UA COSSATOT HONORS 2018 OUTSTANDING ALUMNI AND ACADEMIC ALL STAR  11/12/18
The University of Arkansas Cossatot honors Fernando Balderas, of De Queen, as 2018 Outstanding Alum and Andrea Jones, of Foreman, as 2018 Academic All-Star at an award ceremony held at the annual Arkansas Community Colleges conference at the Little Rock Marriott.
Each community college in Arkansas selects one alum and one current student to honor.
Balderas is a 2011 graduate of De Queen High School. He attended UA Cossatot the next semester, serving as a member of Phi Theta Kappa, and graduating Magna Cum Laude in 2014 with an Associate of Science in Business. Through an internship opportunity at UA Cossatot with Revels & Company CPAs, he decided he wanted to pursue a career in accounting. Balderas completed his Bachelor of Business Administration in Accounting at Henderson State University in 2016. He currently is employed with Revels & Company as an accountant. He was recently featured in a UA Cossatot alumni spotlight video on Facebook and gave the keynote address at UA Cossatot 2018 Commencement.
Jones is a Medical Sciences major with plans to transfer to UA Fort Smith and pursue a career in radiography. She is very involved in the UA Cossatot community, serving as a student ambassador, member of Phi Theta Kappa Honor Society, and member of the Student Diversity Association. Off campus, Jones is involved in church, volunteering, organizing fundraisers, and kids' summer camps.  Her educational experience is greatly influenced by her grandmother, who attended UA Cossatot in the 1980s earning an LPN degree as a widow raising two children. Her grandmother's success proved to Jones that if you set your mind to a goal, you can accomplish anything.
SCAM AWARENESS WEBCAST PLANNED FOR DECEMBER 11/09/18
AARP Arkansas and Attorney General Leslie Rutledge are hosting a special webcast focusing on scams that target senior citizens.  It will be available online Tuesday, December 4th from 9:00-10:00 a.m.  It is free and open to the public.  Click HERE to register and receive your event password.
Webinar guests Dustin Etheredge and Lou Tobian with AARP Arkansas will answer questions about tactics that scam artists use to manipulate residents. This webcast will provide participants with the tips to protect themselves and their families from financial criminals.
Chuck Harder is the Deputy Attorney General for Public Protection in the Office of Arkansas Attorney General Leslie Rutledge. Chuck will talk about recent enforcement efforts against companies that target senior citizens and will detail the Attorney General's efforts to inform consumers about their rights under the law.
DE QUEEN RESIDENT CHARGED WITH DOMESTIC BATTERY   11/09/18
On 11-07-18 Sgt. Wayne Baker and Ptl. Michael Barnes were in the area of 7th Street and Wallace when they heard loud screaming. Sgt. Baker and Ptl. Barnes located the screaming coming from 716 Wallace. When the officers approached the house, they were met on the front porch by one of the victims, who officers identified as Lori Indiveri. Lori was yelling at officers to arrest him. Officers noted that Lori had injuries to the left side of her face. Lori also said she had been hit on the top of her head by her husband Justin Indiveri.Officers located Justin Indiveri inside the residence and he was taken into custody. During the investigation officers discovered a second victim, 71-year-old Judy Yarbrough, inside the residence. Judy said she tried to separate Justin and Lori and she was also struck by Justin. Judy had injuries to her face.
Justin was charged with Domestic Battery 3rd Degree and Domestic Battery in the 2nd Degree.
GARNER RECEIVES 2018 ARKANSAS "HIPPY" PROFESSIONAL OF THE YEAR AWARD 11/09/18
On November 5  at the 2018 HIPPY program held its yearly conference at the Convention Center in Hot Springs Ar. This event recognizes someone in Arkansas to receive the 2018 ARKANSAS HOME VISITING PROFESSIONAL of the YEAR AWARD. This year Karen Garner of Newhope was selected to receive this special award. Karen has worked for the De Queen Mena Coop for 14 years.HIPPY… Stands for Home Instruction for Parents of Preschool Youngsters. A wonderful program that has been in Sevier and Howard County for 14 years. Karen started with this program and built the program from then to what it is today. This year HIPPY has an enrollment of 104 children/families that reside in Howard, Sevier and Polk counties. Hippy focuses on families with preschool age children and provides these families with free books and lessons that are created to prepare a preschool age child for Kindergarten. Hippy creates a love of learning between a parent and child!
LOCAL COLLEGE REGISTRATION NOW OPEN FOR SPRING SEMESTER 11/09/18
Registration for spring classes at the University of Arkansas Hope-Texarkana is open now through January 11, 2019. The college will hold extended hours for registration on January 7 and 8 from 8:00 a.m. to 6:00 p.m. Classes begin on Wednesday, January 9, 2019.
UAHT offers a textbook rental program allowing students to rent college textbooks for only $20 per credit hour. The UAHT Foundation offers students over one hundred twenty privately funded scholarships and financial aid opportunities, institutional scholarships, and work-study programs are available to students. UAHT also offers the "U Can Scholarship" which may qualify students to take a free three-hour course.
Several new degree options are available including Surgical Scrub Technician, Online Funeral Service Education, Evening LPN, and Industrial Technology. With the availability of online, hybrid and evening classes at UAHT, students can earn certificates and degrees through a variety of avenues. UAHT has campuses in two locations, Hope and Texarkana, Arkansas. More information is available by calling 870-777-5722 or visit www.uacch.edu today.
QUIZ BOWL FUNDRAISER ANNOUNCED AT DHS 11/09/18
The De Queen High School quiz bowl team is holding a fundraiser next month. On Saturday, December 8th a chili supper and auction will be held at the De Queen High School cafeteria. The meal serving will start at 4:00 p.m. and the cost is $6 per bowl. An auction will begin at 5:00 p.m. and All proceeds benefit the DHS quiz bowl team in covering expenses for a trip to a national competition. The food served will be homemade and all auction items have been provided by local businesses. For more information about the fundraiser, contact Thomas Sweeten at 870-584-6504.
DEADLINE TO ENTER BIG BUCK CONTEST NOVEMBER 9TH 11/09/18
The Deadline to enter to Gillham Volunteer fire department's big buck contest is TODAY Friday November 9th. All participants who enter will also be placed in an additional drawing for the chance to win more prizes. Gillham Volunteer Fire Department Chief Marc Rosson says participants will be divided into three separate divisions.
The divisions include: Kids, for ages 16 and under, Women's and Men's.
The cost to enter is $10 and all proceeds of the event serve as a fundraiser for the Gillham Volunteer Fire Department for supplies, expenses and equipment. It is required that deer be legally killed and tagged in Arkansas during the 2018-2019 season by the participant entered and brought to the GVFD to be scored. The winner must have their own cape in good mounting condition.
Contact Marc Rosson to enter the contest and find out more information at 870-584-9434.
DE QUEEN FIRE DEPARTMENT CONTINUES FIRE SAFETY MONTH WITH SCHOOL PROGRAMS 11/09/18
 October was National Fire Safety Month and The De Queen Fire Department participated in the Nationwide awareness event by providing education to the Youth in area schools around the city of De Queen. Code enforcement officer Jay Litchford said the department decided to continue bringing awareness and fire safety education to local schools through November, as the event often rolls over to the following month. This week, the De Queen Fire Department visited Park hill pre-school and De Queen Primary school. The department provided the kids with safety tips,  demonstrated proper smoke detector use and taught the students about firefighter safety equipment. The De Queen Primary ESL students in 3rd-5th grade also participated and learned about the department's fire trucks and equipment.
ACTIVITIES AND EVENTS PLANNED AT STATE PARKS THIS WEEKEND 11/08/18
A variety of activities and events have been planned at state parks throughout the Southwest Arkansas region this weekend. Crater of Diamonds state park in Murfreesboro will be holding two separate "Diamond Mining 101" sessions on Saturday, November 10th. The early program starts at 10:00 am and the afternoon session will begin at 2:00 p.m. Both sessions will be lead by park interpreters who will help attendees learn about techniques for uncovering diamonds in the park's search area. Adults admission costs $10, children under age six get in free.  De Gray Lake resort state park in Bismarck is featuring an eagle watch cruise at 2:00 p.m. on Saturday. Park interpreters will lead boat passengers on a tour around the lake as different birds including eagles, ducks, herrings and other birds are spotted. Park staff recommend warm clothing, binoculars and arriving at the marina 15 minutes early. The cost is $12 but there is no charge for children under age six. At Queen Wilhelmina state park in Mena park interpreter Melissa will lead a Wonder House tour as visitors can explore one of the areas oldest vacation homes, originally built in the 1930's. The tour begins at 2:00 and will be held both Saturday November 10th and November 17th.
For more information about state park events visit www.arkansasstateparks.com
7TH ANNUAL SENIOR CITIZEN THANKSGIVING LUNCHEON ANNOUNCED    11/08/18
De Queen school district Superintendent Bruce Hill has announced the 7th annual Senior Citizen Thanksgiving Luncheon will be held next week. The meal will be served on Thursday, November 15th at 11:30 a.m. in the De Queen Elementary cafeteria.
The Superintendent said entertainment will be provided by the district's school choirs and the event is not limited to people in De Queen city limits.
Community members do not have to be 55 and older to attend and residents from surrounding areas are welcome as well. The De Queen High School Student council will be assisting in the meal serving and the menu will include Turkey, dressing, rolls and drinks. For questions, contact the De Queen School district by calling 870-584-4312.
ELECTION COMMISSION MEETING ANNOUNCED FOR SEVIER COUNTY   11/08/18
There will be a meeting of The Sevier County Election Commission on Tuesday, November 13th at 9:00 a.m. in the Sevier County Clerk's office of the Sevier County Courthouse. This meeting will be held to conduct hearings regarding Provisional Ballots from the November 6th Midterm Election.
There will also be a meeting on Friday, November 16th at 9:00 a.m. to certify the results of the November 6th midterm election.This meeting will also be held in the Sevier County Courthouse , county clerk's office. Other items pertaining to the 2018 Midterm Election may be discussed as necessary. This meeting is open to the public.
DE QUEEN HIGH SCHOOL BIOLOGY STUDENTS ATTEND STEM DAY EVENT AT SAU 11/08/18
October 26, 2018, a group of Pre-AP Biology students traveled to Magnolia for 
the 2018 Stem Science and Engineering Open House at the SAU Campus. The students had the opportunity to experience virtual reality, type their own blood, and read each other's brainwave activity when exposed to different stimuli. The students really enjoyed the day and are looking forward to going back. The SAU Science and Engineering staff said they hope to see some of these bright students in classroom in the coming years.
FAMILY MEMBERS OF VETERAN BEING SOUGHT IN SOUTHWEST ARKANSAS 11/08/18
 Organizers with the Vietnam Memorial in Washington D.C. have contacted the Southwest Arkansas Regional Archives in Washington attempting to locate a photo of Staff Sgt. Robert Lee Muldrow. Sgt. Muldrow served in the Vietnam war and apparently died in action October 30th, 1967. He served in "B Company", 2nd Battalion of the 327 infantry, 101st Airborne. Sgt. Muldrow was awarded the Silver Star.
He was born in Washington in February of 1944 and is buried in Washington. It is believed he graduated from Lincoln High in Washington. Research indicated his mother was Thelma Williamson from Hope, Arkansas. Some information indicates he had a brother named Vance who lived in Emmet and a brother named John who lived in Washington.
If you know a family member or someone who might could find a photo of Sgt. Muldrow please contact Melissa Nesbitt at the Southwest Arkansas Regional Archives in Washington at 870-983- 2633
SOUTHWEST ARKANSAS PROFESSORS RECEIVE AWARDS AT 
NATIONAL CONVENTION 11/08/18
Two Henderson State University professors were recognized for their accomplishments in Media at a National convention in October.
Paul Glover, 
associate professor of communication at Henderson State University, and Michael Taylor, professor and chair of communication and theatre arts, received the Distinguished Advisers awards at the College Media Association's annual fall convention in Louisville, Kentucky.
These awards are given to an adviser who has five or more years experience in college student media advising, has distinguished service in a particular area, and is an adviser at the time of the nomination. Henderson was the only university attending to have two advisers receive awards at the ceremony. Scott McKinnon, lecturer of communication, conducted a session on drones.
Steve Listopad, lecturer of mass media communication, also presented a session. The multi-day convention included networking opportunities, informative panel discussions, hands-on tutorials, and access to media professionals. The event covered all aspects of college media, from rapidly changing multimedia platforms to newspaper, broadcast, yearbook and magazine journalism. Advisers were offered special programming focused on their specific challenges.
L
O
C
A
L
E
L
E
C
T
IO
N
R
E
S
U
L
T
S 11/07/18
Jeff Brown was elected Mayor of De Queen in polling results Tuesday night as heard on #1 Country 92.1. Brown tallied 529 votes or 68% of the vote. Kelly Boyles had 168 votes, and Gerald Burt finished with 79. De Queen voters also approved staggered four year terms for members of the City Council by a margin of 490-283. In Sevier County, Angie Walker was re-elected to her third term as Justice of the Peace District Six on the Quorum Court with 291 votes or 77%. Victor J. Pulido-Rojas had 89 votes. The quarter of a percent sales tax issue in Sevier County, that would've been used to help maintain and operate the County Jail, was defeated by a margin of 1,707 to 1,497.
In Little River County, 55% of the registered voters cast their ballots in the mid-term election. Mike Cranford was re-elected Little River County Judge with 2,138 votes or 55% to Don Lamon's 1,771 votes.
In the Little River County Quorum Court Races:
District One: Al G. Austin defeated Larry Broomfield 250-194
District Two: Larry Cowling defeated Jeff Neison 265-215
District Four: Mark Ardwin defeated Ricky Bowman 317-166
And District Nine: Beverly Glanville defeated Bobby Furlow
233-206.
In the various City Races for Little River County:
Ashdown Ward 3 Position 2: Jason Curtis defeated Jimmy R.
Launius 172-138
Foreman Mayor: William Harp defeated Elbert Bradley 222-95
Foreman Alderman One: Helen Dixon defeated Ida Bradish 173-146.
Wilton Mayor: Raymond French defeated Mike Ford 63-54
Winthrop Mayor: Sherry Jones defeated Heather Long 35-24
And Winthrop City Marshall: James Steiner defeated Joe Jones 35-24
In other area races of interest, incumbent Larry Teague was  
re-elected to the State Senate District 10, which includes the northern part of Sevier County and good portions of Polk,
Montgomery, Pike, and Howard Counties. Teague tallied 13,255 votes or 62% while Bobbi Hicks had 7,975 votes. In the Dierks Mayor's race, Cogburn defeated Krantz 115-109.
Billy Ray Jones was re-elected Mayor of Nashville with 629 votes to 370 for challenger Matt Smith. Justin Gonzales was re-elected to the Arkansas House of Representatives for District 19. Lisa Cogburn was elected Mayor of Daisy. Billy Smith was elected Mayor of Glenwood.
Dewight Mack was re-elected Pike County Judge. Statewide, the Republicans easily won all the state constitutional offices. They included Governor Asa Hutchinson, Lieutenant Governor Tim Griffin, Attorney General Leslie Rutledge, Auditor Andrea Lea, State Treasurer Dennis Milligan, Tommy Land was elected Commissioner of State Lands, and John Thurston was elected Secretary of State. All four of the U.S. Congressmen from Arkansas will return to Washington, D.C. They include: Rick Crawford in the first district, French Hill in the second district, Steve Womack in the third district, and Bruce Westerman in the fourth district. In the State Supreme Court Associate Justice Position three race, Courtney Goodson defeated David Sterling.
And in the ballot issues: Issue Two (Voter I.D.) Issue Four (Casino Gaming) and Issue Five (Minimum Wage) were all approved for Arkansas voters.
NEW TECHNOLOGY FOR ASHDOWN HIGH SCHOOL 11/07/18
Ashdown High School Student Council members along with class officers celebrated the arrival of their new chrome book bags this week. AHS is now providing one Chromebook per student and the bags will help protect the devices during daily use.
Superintendent Casey Nichols announced that plans to purchase the devices were under way during the October Ashdown School Board meeting. Local sponsors of the bags include Arvest Bank who provided bags for 10th grade, bancorp South Bank supplied the bags for 9th grade, Diamond Bank provided for 11th graders and AHS Senior students bags were provided by the district.
Students will be responsible for their bags and chrome books throughout their time at AHS.  The Ashdown High School faculty and students expressed appreciation for the sponsors.
TRADE DAYS SCHEDULED AMITY IN NOVEMBER 11/07/18
The monthly Trade Days event in Amity is set for this weekend. The Giant Flea market event is a Southwest Arkansas shopping experience occurring once a month in Amity Arkansas. The outdoor shopping market is typically three days long and has been happening once a month since it began in March of 2015.
The next trade days will be held November 9th, 10th and 11th at 843 South Mountain Road in Amity Arkansas. The market is open from 9am to 5pm Friday and Saturday, and from 10am to 4pm on Sunday. A $2.00 fee is charged for parking in the event's assigned lot, but the event is free to enter. There is no charge for admission to enter the Amity trade days as community members of all ages are invited and welcome to participate in this Southwest Arkansas bargain hunting experience. Pets are not allowed but vendors are always welcome.
Types of vendors encouraged to set up on site include antiques, furniture, art and pottery, farm implements, tools, home, garden and outdoor décor, sporting goods, jewelry, wood working, crafts, and any similar products other than used clothing. Farmers will also be offered a place to sell their produce during harvest. Amity Arkansas is located 26 miles Northeast of Murfreesboro, Arkansas.
Shoppers and vendors have reported traveling more than three hours driving distance to participate in the event. Interested vendors can get details about securing a spot by contacting Russell or Kim Jones to request an application by calling (870) 223-6185 or emailing amitytradedays@gmail.com The face book page is also online at facebook.com/amitytradedays.
OPENING DAY SET FOR SATURDAY 11/07/18
Opening day of modern gun deer season is Saturday, Nov. 10, and the start of waterfowl hunting season follows on Nov. 17. With the main events of Arkansas's hunting seasons finally upon us, the Arkansas Game and Fish Commission will host a special live Facebook feed from 10:30 a.m. to 11:15 a.m.Thursday to offer a forecast and update hunters on the latest news from the field.
Trey Reid, AGFC assistant chief of communications, will host the live feed to offer some pre-season excitement. Various experts from AGFC's staff will join the show to talk about several topics of interest to hunters in The Natural State.
"We'll talk to experts on deer, waterfowl and habitat management," Reid said. "We'll also visit with some of our staff who have been working on chronic wasting disease and will share the latest news with hunters, as well as explain some new options for hunters to have their deer tested for CWD."
In addition to live interviews, staff will be busy monitoring the feed for questions to ask presenters as time allows. Staff also will provide answers to those last-minute questions from viewers that may not be covered on the air.
Visit https://www.facebook.com/ARGameandFish at 10:30 a.m. to view.
INMATES ESCAPED FROM SOUTHWEST ARKANSAS CORRECTIONS FACILITY CAPTURED 11/06/18
Two inmates of the Southwest Arkansas Community Corrections Center in Texarkana, Arkansas bolted from the facility while taking the trash out Monday, November 5th in the early evening.
Reports state that taking out the garbage was a regular responsibility of the inmates as they are kitchen workers for the center. The inmates, Justin Jordan, 30 and Sammy Tinsley, 19 were captured by authorities roughly one mile from the facility around 10 p.m on Monday night without incident.
Jordan is serving time in the center for a drug possession charge while Tinsley is in for breaking and entering as well as theft of property charges.
FIRE DEPARTMENT SEEKING DUES 11/06/18
The De Queen Fire Department has announced that dues in the amount of $50 are currently being sought from residents who have yet to pay this year. The dues apply to anyone outside the city limits but who still reside within the district. Dues can be delivered to 220 North 2nd street, De Queen Arkansas 71832.
DEADLINE TO ENTER BIG BUCK CONTEST NOVEMBER 9TH 11/06/18
The Deadline to enter to Gillham Volunteer fire department's big buck contest is this Friday November 9th. All participants who enter will also be placed in an additional drawing for the chance to win more prizes. Gillham Volunteer Fire Department Chief Marc Rosson says participants will be divided into three separate divisions.
The divisions include: Kids, for ages 16 and under, Women's and Men's.
The cost to enter is $10 and all proceeds of the event serve as a fundraiser for the Gillham Volunteer Fire Department for supplies, expenses and equipment. It is required that deer be legally killed and tagged in Arkansas during the 2018-2019 season by the participant entered and brought to the GVFD to be scored. The winner must have their own cape in good mounting condition.
Contact Marc Rosson to enter the contest and find out more information at 870-584-9434.
FREE FALL CONCERT ON OBU CAMPUS 11/06/18
The Ouachita Baptist University Wind Ensemble will present a concert on Monday, Nov. 12, at 7:30 p.m. in Jones Performing Arts Center. The concert is free and open to the public.
The concert will begin with "A Moorside Suite," including movements "Scherzo," "Nocturne" and "March," by Gustav Holst and arranged by Denis Wright. The Wind Ensemble will continue with "One Life Beautiful" by Julie Giroux and four dances from West Side Story, including "Scherzo," "Mambo," "Cha-cha" and "Cool (Fugue)," by Leonard Bernstein and arranged by Ian Polster. "Psalm for Band" by Vincent Persichetti and three songs from "Foster's America," including "A Penny for Your Thoughts," "Beautiful Dreamer" and "If You've Only Got a Mustache," by David R. Gillingham also will be performed. Dr. Craig Hamilton, Ouachita's Lena Goodwin Trimble Professor of Music and director of bands, will be conducting the concert.
"There are a lot of very challenging pieces, and it's amazing to see how well we as a band were able to come together and learn them," said Sarah Rush, a sophomore Spanish major and flute player from Little Rock, Ark. "I'm really proud of the results of our work and our awesome sound. There is a wide variety of styles in our pieces, from upbeat and intense to quiet and beautiful."
The concert also will be livestreamed at www.obu.edu/band. For more information, visit www.obu.edu/band or contact Dr. Craig Hamilton at hamiltonc@obu.edu or (870) 245-5137.
TOUR dE QUEEN WRAP-UP   11/06/18
Suzanne Babb, Executive Director of the De Queen/Sevier County Chamber of Commerce reported that Michael Prewitt from Mt. Pleasant, Texas finished the Tour de Queen 47-mile ride in 2 hours 37 minutes! They had 29 entries, with most riders on the 25 & 47 mile routes.
Babb stated, "The event went smoothly, and feedback was very positive with many expressing a desire to come ride again next year."  Twelve riders registered as locals, with 17 from out of county or state.
All received goody bags with information on our local chamber members.  Those from out of county also received hotel and restaurant information.
PESTICIDE APPLICATOR TRAINING OFFERED    11/06/18
Sherry Beaty-Sullivan, Little River County Extension Agent, is offering classes required for those who need to re-certify or apply for a private applicator restricted use pesticide license.  The first class will be Tuesday, November 13 at 5:30 p.m. in the Foreman High School Agriculture Building, Foreman, AR.  The next classes will be held Tuesday, December 11 at UA Cossatot-Ashdown in the Millwood Room at 2:00 p.m. and at 5:30 p.m.  You do not have to pre-register to attend these classes.
There will be a $20 registration fee for the training classes in addition to the cost of your 5-year license which is $45.00.  You will only have to attend a class once every five years.
If you do not currently have a private restricted use pesticide license and would like to become certified, plan to attend one of these training sessions.  For more information contact the Extension office at 898-7224 or e-mail sbeaty@uaex.edu.
MCDONALDS IN DE QUEEN RE-OPENING 11/05/18 
Celia Montgomery, owner of McDonald's in De Queen announced  the restaurant will be open with new renovations this week and kicking off the remodel reveal with a grand re-opening celebration on Tuesday, November 13th .The celebration will feature KDQN live from the lobby from 9:30am to 11:30am and a Chamber Ribbon Cutting at 2pm.
There will also be giveaways for McDonald's trivia throughout the day as well as  a raffle for the chance to win 25 free meals or a Blu-ray player. The Montgomery family invites community residents to attend the celebration and visit the  new lobby as well as the new play place for children. There are new Kiosks that will be available for ordering convenience. The McDonald's staff has expressed appreciate to customers for their patience with the construction during the renovation time.
ARKANSAS DRUG ABUSE PREVENTION SUMMIT HELD IN HOT SPRINGS 11/05/18
On Thursday, November 1st Arkansas Attorney General Leslie Rutledge, the Arkansas Office of the Drug Director, Arkansas State Board of Pharmacy and the UofA Criminal Justice Institution hosted the seventh annual Arkansas Prescription Drug Abuse Prevention Summit at the Hot Springs Convention Center. The Summit serves as a free training and educational opportunity for law enforcement officers, medical professionals, pharmacists and educators which gives participants an opportunity to hear from experts regarding prescription drug abuse prevention and treatment.
The Arkansas Attorney General's office announced that roughly 1,000 people attended the summit. The all-day event began with remarks from the Attorney General, Governor Asa Hutchinson and U.S Attorney for the Eastern District of Arkansas Cody Hiland followed by breakout sessions about medication-assisted treatment options from Commander Karen Hearod, regional administrator with the Substance Abuse and Mental Health Services Administration and e-prescribing from Ken Whittemore Jr., the senior vice president of Professional and Regulatory Affairs for Surescripts.
The afternoon session included an Arkansas impact panel with Dr. Johnathan Goree, assistant professor in the University of Arkansas for Medical Sciences (UAMS) Department of Anesthesiology and Director of Chronic Pain Division. The afternoon session also included presentations from Lieutenant Detective Patrick Glynn with the Quincy, Mass., Police Department; Trevor Villines with the Razorback Action Group; Joe Martin with the Arkansas Department of Health discussing Dose of Reality; and a survivor's panel.
Plenary sessions included a presentation about over-the-counter medications by Dr. Keith McCain, associate professor at the UAMS Department of Pharmacy Practice. A family panel closed out the day.
DR. STEVE COLE PRESENTS AWARD TO UAHT STUDENT 11/05/18
The 2018 U of A Hope-Texarkana Academic All-Star Award was recently presented to Brandy Flowers of Columbus, Arkansas, at the Annual Arkansas Community College's Conference in Little Rock. The purpose of this program is to recognize the scholarly and service achievements of Arkansas' two-year college students. Each All-Star will receive a $500 scholarship for his/her final semester at their college of attendance and a full tuition transfer scholarship to any Arkansas public four-year university.
The award was presented to Brandy by Arkansas Community College board president, Dr. Steve Cole, Chancellor of UA Cossatot.
In her time at UAHT, Brandy has made the Vice Chancellors list four semesters, been awarded the Hope Water & Light Scholarship three semesters, been appointed President of the TRiO Club, and was named the 2018 TRiO Hall of Fame Award recipient. "Growing up I did not ever think about attending college, in fact, I barely made it out of high school," said Flowers. "I never dreamed of going back to school at the age of forty-three, but I did, and I have done pretty well."
Flowers is currently pursuing an Associate of Applied Science degree with a focus in accounting at UAHT. Her future plans include transferring to the University of Arkansas at Little Rock to pursue a Bachelors and Masters Degree in Business Administration. After completing her education, Brandy plans to become a business instructor at a community college. "Business has been a passion of mine for years, but I believed that I was too old to go back to school," said Flowers. "However, now I am in college and well on my way to earning my Degree in Business Administration."
KALLI SMITH INDUCTED INTO ARKANSAS PURPLE CIRCLE CLUB 11/05/18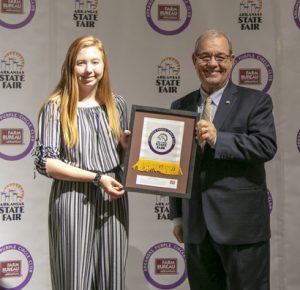 Kalli Smith of Gillham was recently inducted into the Arkansas Purple Circle Club. Smith had the Grand Champion AOB – English Bull at the Arkansas State Fair and Livestock Show. Arkansas Farm Bureau President Randy Veach presented the award. The Purple Circle Club is an awards program recognizing junior livestock exhibitors who earned championship honors at the Arkansas State Fair. It is sponsored by Arkansas Farm Bureau a nonprofit, private farm and rural advocacy organization of more than 190,000 families throughout the state working to improve farm and rural life
KADE SMITH INDUCTED INTO ARKANSAS PURPLE CIRCLE CLUB   11/05/18
Kade Smith of Lockesburg was recently inducted into the Arkansas Purple Circle Club. Smith had the Grand Champion Charolais Heifer at the Arkansas State Fair and Livestock Show. Arkansas Farm Bureau President Randy Veach presented the award.
The Purple Circle Club is an awards program recognizing junior livestock exhibitors who earned championship honors at the Arkansas State Fair. It is sponsored by Arkansas Farm Bureau a nonprofit, private farm and rural advocacy organization of more than 190,000 families throughout the state working to improve farm and rural life.
AFC DONATES TO LOCAL FIRE DEPARTMENT 11/2/18
The Tollette Fire Department has received $500 from the Arkansas Forestry Commission for re-certification through the Firewise program. County Forester Justin Mallet says this is a yearly re-certification that requires assessments and education.
The department must also complete a mitigation project to assist homeowners in protecting their homes against the threat of wildfire. Funds received through the program and other grants may be used for wildland fire fighting equipment. If a local department is interested in participating in the firewise program, they may contact John Crump at the AFC Regional Office at Dierks.  Keenan Langston accepted the funds presented by Justin Mallet and John Crump.
SEVIER COUNTY SERGEANT CATCHES SUSPECT WITH WARRANTS 11/2/18
On Wednesday, October 31st Sergeant Greg Davignon of the Sevier County Sheriff's Department was at wal-mart in De Queen when he noticed a man on site who was known to have active felony and misdemeanor warrants. The man is known the officer as Everett Gene Crow. Upon seeing sergeant Davignon notice him, Crow began to flee from the store.
Sergeant Davignon stepped out of his patrol unit to pursue Crow on foot  and ordered him to stop running and get on the ground. Crow ignored the commands and continued to run away from the store. During the pursuit, Sergeant Davignon observed Crow reaching for his waistband and looking over his shoulder, which lead the sergeant to believe the suspect was armed. Sergeant Davignon was able to close in on the suspect and Crow fell to the ground.
The suspect was ordered to put his hands behind his back but did not comply and continued to reach for his waistline. Sergeant Davignon used pepper spray to subdue the suspect and took him into custody Crow was found to be in possession of plastic bags containing methamphetamine and pills.
The bags were found to contain 9 grams of methamphetamine  and multiple hydrocodone pills. The evidence was photographed and secured. Crow was booked on his active warrants for misdemeanor shoplifting and felony absconding and also charged with possession of a controlled substance with the intent to deliver.
RSAT GRADUATION HELD IN DE QUEEN 11/2/18
The RSAT graduation ceremony was held Thursday, November 1st in De Queen. The services were held in 2 parts with the first portion hosting a banquet, meal and guest speaker at first Baptist church. The 2nd part was held at De Queen First Assembly of God church with music, speeches, certificate presentations and a reception. RSAT is an acronym for Residential Substance Abuse Treatment, and is the program offered through the Sevier County Jail that allows qualifying inmates to receive rehabilitation services including celebrate recovery, bible study, narcotics anonymous, alcoholics anonymous, parenting classes and workforce development courses to improve their habits and develop skills.
During the first portion of the ceremony, Wes Ware, guest speaker of the event delivered a testimonial about how recovery services and treatment programs have helped him heal from a battle with addiction while a community meal was served.
The 2nd half of the graduation ceremony was opened with a prayer by pastor Ray Reynolds , music and the welcoming and opening words were delivered by Jail administrator Chris Wolcott and Sheriff Robert Gentry. Previous graduates of the program gave speeches and testimonials about how RSAT has helped them turn their lives around in many different positive ways. Gentry, Wolcott and Kimberle Hundly of the Sevier County Department presented the graduates with their certificates and listed the graduates achievements.
The 13 Graduates of group 5 include Josh Burcham, Jessica Dunn, Randy Fox, Clifford Hill, Trevor Hodges, James Jewell, Charlie Ligon, misty Lundberg, April McGehee, Angelina Medina, Jessica Melton, Justin Powell and Gala Richardson. The Aftercare completion graduates in group two include Besty Dunn, Casey hill, Savannah Helms, Cody Nava, Alan Pierce, Joel Weaver and Tammy Love. The ceremony concluded with music, a closing prayer and reception. The next RSAT graduation will be held in February 2019. Persons interested in the Celebrate Recovery program can contact Joe and Hattie Vance at the De Queen First assembly church  (870) 584-3435.
The meetings take place at 6:00 p.m. with a meal each Friday evening.
ARTS CELEBRATION IN POLK COUNTY 11/2/18 
The 5th annual Ouachita Arts Celebration will be held Saturday, November 3rd in Polk county. The festival will feature a variety of entertainment, dance, arts, musicians, and activities for kids in downtown Mena beginning at 10:00 am.
There will be a cake decorating competition, performances by the Fancifeet cloggers and choirs from Acorn and Mena High Schools as well as face painting, games a quit show and multiple vendors on site. Next Generation Dance Studio and The Ouachita Strings Ensemble will also be performing and there will be many options for food, drink and entertainment. The event is family friendly and will continue until 4:00 p.m. More information about the event can be found on facebook, by searching Ouachita arts celebration.
CATTLEMAN'S ASSOCIATION RAFFLE WINNER ANNOUNCED 11/2/18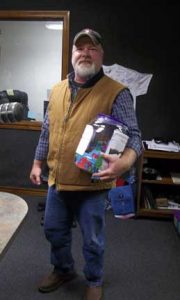 The Sevier County Cattleman's association has held an ongoing fundraiser to assist with scholarships and expenses for members of the organization. The fundraiser consisted of a raffle for a gun give-away. the winner was announced Friday, November 2nd. Al Wright will be the recipient of  a mossberg patriot gun, $400 cash equivalent or an option to receive free tires from tires plus in De Queen.
Sevier County Cattleman's association president Greg Wright says the raffle tickets help members with expenses required within the organization. The association is also currently seeking new members and interested persons can contact Greg at 870-584-9679. The group meets the 3rd Monday of each month and $50 in dues are required each year. More information can be found by visiting The Sevier County Cattleman's association facebook page.
FREE PET VACCINES AT REGIONAL EVENT SATURDAY   11/01/18
A free vaccination clinic for pets will be held in Texarkana this weekend. The annual Bark at the Park event will be held Saturday, November 3 from 10:00 am to 3:00 pm. The free community rabies vaccination clinic for dogs and cats will take place at the pavilion near the Kylee Sullivan Dog Park at Spring Lake Park.
The vaccinations will be good for three years and a Free city registration will be offered for dogs and cats residing inside Texarkana city limits. No payments will be required for vaccines but donations are appreciated and accepted. Micro-chipping and other vaccinations will be available for a fee. All cats should be in a carrier.
Participants can also enter to win door prizes and vendors will be on site to offer information and resources about pet health.
For more information, contact the Animal Control Services Department at 903-798-3535.
UA COSSATOT MEDICAL SIMULATION LAB IS RENAMED IN HONOR OF DONATION   11/01/18
The University of Arkansas Cossatot Foundation received a Legacy 2020 capital campaign donation from UA Cossatot Medical Education Instructor Kay Trotta of De Queen.
In a reception at the college on October 31, 2018, the Medical Education Skills and Simulation Lab in the Allison Building on the De Queen Campus was named the Berner-Trotta Medical Skill and Simulation Lab. The name was chosen in honor of Trotta's donation and in memory of her mother, Shirley Berner.
"My parents grew up during the Great Depression and taught me and my sister the value of a dollar and the importance of education," said Trotta.
"Because I was taught how to be frugal, I am now able to pay it forward and invest in the lives of UA Cossatot students."
Trotta has been with UA Cossatot for 10 years, training students who will enter the workforce as nurses.
Speaking of her contribution to the college and students, UA Cossatot Chancellor Steve Cole said, "Most of Kay's students know her affectionately as 'Mama Kay.' That speaks volumes as to what Kay means to medical education and this college. She is a wonderful person and a tremendous mentor. Her contribution means the world to every student that will learn in this lab."
The UA Cossatot Foundation Legacy 2020 campaign focuses on community members who wish to invest in the development of the college on all four campuses: De Queen, Nashville, Ashdown, and Lockesburg. For every donation amount, there is a naming opportunity for those who want to leave a visible legacy in the donor's community.
"Kay is a much-loved member of the UA Cossatot family and her passion for students is truly inspiring," said UA Cossatot Development Coordinator Dustin Roberts.
"Kay works hard and puts many hours into the lab – from building it, to stocking it and maintaining it. She is such a great asset to the college and is one of many people in our community who is making a positive impact in Southwest Arkansas."
More information about the Legacy 2020 is available on the college's website at www.cccua.edu/legacy2020.
BOOMTOWN OPRY TO PERFORM IN  EL DORADO     11/01/18
The Nov. 10, 2018, edition of the Boomtown Opry will be held at the El Dorado Municipal Auditorium, located at 100 West 8th Street in El Dorado, Arkansas, at 7 p.m.
Tickets are available at the door for only $10 general admission while children 12 and under are admitted for free.
The Boomtown Opry is a family friendly event with no alcohol sold during the show.
The Boomtown Opry features a house band led by BJ Kyle, who has toured professionally with Colt Ford, Craig Morgan, Tracy Lawrence, and Kellie Pickler. Local actor/singer Steve Harrell is the MC and local country duo Southern Koast (Keith Owens and Susan Tolin) will provide background vocals.
Featured performers for this show include Lacie Carpenter, Jesse Middleton, Carl Jackson, Bruce Murray, Rebecca Rainwater, the Silver Kickers dance group and the comedy by Mike Means and Charley Hankins.
Lacie Carpenter was born and raised in the great state of Texas and now resides in Nashville, Tennessee and plays the fiddle. She has been named "The artist to watch out for in Texas."
Jesse Middleton has opened for artists such as Mel McDaniel, Vern Gosdin and Ray Price and was a regular on the Oaklawn Opry in Texarkana, Texas.
Carl Jackson is from Hope, Arkansas, and does a great job with his Charley Pride songs.
Bruce Murray and Rebecca Rainwater are from El Dorado and are making their first appearance.
The Silver Kickers are a line dance group from El Dorado that are a joy to watch.
Charley Hankins and Mike Means are members of the local improv comedy troupe "Gimme A Second" and set to provide comedic routines for attendees.
A portion of the proceeds from each Boomtown Opry show will benefit the El Dorado Boys & Girls Club.
Follow and www.facebook.com/boomtownopry for more information.
RENOVATIONS UNDER WAY FOR MCDONALD'S IN DE QUEEN      11/1/18
De Queen McDonald's owners Steve and Celia Montgomery have announced upgrades that customers can expect to see at the restaurant this fall. The location is currently under construction while renovations to the lobby, drive-through set-up, and other changes take place.
Celia says the renovations are a follow-up on a promise they made to customers when the Montgomery family first took ownership of the store in 2016.
Technology upgrades are one of the many changes customers will see as a result of the renovation process as new ordering systems will be featured inside the De Queen location.
A second drive-through lane and new kiosks are currently being developed.
An expanded lobby and new play-place for kids are also a major part of the store remodeling project and the Montgomery's have announced a grand re-opening is scheduled for November 5th, 2018.
McDonald's staff also expressed thanks to customers for their patience during the construction period.
AUTO DEALERS ELECT GAN NUNNALLY CHAIRMAN     11/01/18
Gan Nunnally, George Nunnally Chevrolet, Bentonville, has recently been elected Chairman of the Board of the Arkansas Automobile Dealers Association. Other officers elected were: Brian Holt, Holt Auto Company, Crossett, Chairman-Elect; Hunter Bale, Bale Chevrolet, Little Rock, Treasurer; John Magie, Magie Ford-Lincoln, Morrilton, Regional Vice-Chairman-Region II; and Joe Schluterman, Paris Ford, Paris, Regional Vice-Chairman-Region IV.
Also elected were the following association directors: Jimmy Arnold, Arnold-Baker Chevrolet, Magnolia; Chris Byrd, Southwest Auto Group, Arkadelphia; Jay Dooley, DeQueen Auto Group, DeQueen; Dee Everett, Everett Chevrolet, Benton; Lannie Lancaster, Holly Chevrolet, Marion; and David Welch, Welch Motor Company, Pine Bluff.
AADA is a trade organization representing over 220 Arkansas franchised automobile and truck dealers.
DOMESTIC DISTURBANCE NEAR LOCKESBURG FRIDAY 10/31/18
On Friday, October 26th Deputy Chet Stubbs of The Sevier County Sheriff's Department was dispatched to a residence on Highway 317 in reference to a domestic disturbance call. Prior to arriving Deputy Stubbs was informed that the reporting party had changed locations following the incident due to safety concerns.
Deputies Thomas Jackson and Matthew Webb arrived at the location first. The reporting party stated that her son, Levi Durham had caused a disturbance in her home and made multiple comments about suicide. Durham attempted to reach for a gun located in a closet but was stopped by the reporting party despite attempts to push her down.
The reporting party attempted to get into a vehicle and vacate the residence but Durham blocked the car door and threw an object threw the driver's side passenger window. Durham went inside the residence while the reporting party left the scene and contacted authorities. The Deputies attempted to contact Durham by announcing themselves and knocking but he did not answer the door so a welfare check was conducted.
Deputies found Durham lying on the floor in what appeared to be an unconscious state and attempted to speak with him but he did not respond. Deputies called an ambulance and Durham began to communicate while awaiting the arrival of medical assistance. Deputy Stubbs located prescription pill bottles in the room and multiple shot gun shells as well. Though Durham was uncooperative he was placed in custody for assault on a family member in the 3rd degree and criminal mischief in the 1st degree.
Durham was transported to the De Queen regional medical center where he refused treatment and was transported to the Sevier county jail. The reporting party decided to press an additional charge against Durham for the Broken window. Durham has been assigned a court date for November 27th at The Sevier County Court house.
SPECIAL CITY HALL MEETING HELD IN DE QUEEN 10/31/18
The De Queen City Council met Tuesday, October 30th at city hall in De Queen. The meeting was moved to the lobby due to the remodeling process that is currently underway. A brief list of agenda items were discussed and the approval of the October 16th meetings minutes is pending as the item was tabled until the November meeting.
The first item discussed was an ordinance to waive competitive bidding on a case dozer for the city. Mayor Billy Ray McKelvy informed the council that a 2016 model dozer with approximately 1600 hours of use time on it has been selected to be purchased for city use. The equipment is currently located in Little Rock and costs around $59,000. The dozer would be serviced and delivered to De Queen. The motion to accept the ordinance and waive other competitive bids was unanimously approved.
A resolution to dispose of obsolete equipment was also adopted during the meeting. Any items that are considered city property but have been found to no longer be of functional use are to be sold, salvaged or disposed of. These items include a backhoe and crown Victoria vehicles used by the police department.
The final item discussed was an update on the 2019 budget. Mayor McKelvy announced that the budget is roughly halfway complete. Many factors in composing the budget will include salaries for elected officials, contract of services with local organizations, equipment costs and renovation projects like painting the city's water tanks. All necessary items are being considered in the budget's development and the council will continue to evaluate the financial needs of the city at upcoming meetings.
The next city council meeting will be held November 20th at city hall.
SUMMER TRIP ANNOUNCED FOR SW ARKANSAS YOUTH 10/31/18
Stacy Faulkenberry has announced a youth trip for students in the southwest Arkansas area is being planned for the summer of 2019. The purpose of the trip is to provide an opportunity for Junior High and High school students to expand their horizons and experience different cultures in American cities.
The 2019 trip destination is Washington D.C. and New York city. The trip is open to all students in the 6th-9th grades. Students are not required to attend De Queen schools in order to go, but will be required to provide a will need a letter of recommendation from a current teacher if youth do not attend DQ school.
The Trip date is June 10, 2019 – June 13, 2019 and the cost of   is $1,998 for a student and $2,298 for an adult.  The cost includes airfare, bus travel, hotel, food and entrance fees.  Scholarships are available on a first come, first served basis and monthly payment plan options are available too. Sites that will be visited include the Arlington National Cemetery, Lincoln Memorial Mount Vernon, Holocaust Museum, The Capital, Rockefeller Center, Times Square, a Broadway show, Statue of Liberty and Ellis Island.
A Parent information meeting is scheduled for this Thursday, November 1st at 6:00 pm for any one who is not signed up and would like to learn more information about the trip.  Stacy will provide fund raisers information and answer questions. Interested youth and chaperones can still sign up now and are encouraged to attend the informational meeting.
Contact Stacy Faulkenberry, by emailing sfaulkenberry@dequeenleopards.org  or call (870) 784-0357 for questions. The trip is not sponsored by De Queen Schools.
IMAGINATION LIBRARY GROWS FUNDING WITH ARVEST DONATION 10/31/18
Parents of children age 5 and under are encouraged to sign kids up for the Imagination Library's Sevier County chapter. The organization was presented a donation of $5,000 from Jay Mark Bingham of Arvest Bank in De Queen on Monday, October 29th.
ZZ Kamruddin accepted the donation on the chapter's behalf. The money will provide funding for the nation-wide program's local chapter.
Imagination Library of Southwest Arkansas is an early childhood BOOK GIFTING program for children Birth to age Five. The children will receive an age appropriate book, monthly, at no cost to the parents, for children of Sevier County.
The organization supplies resources for families to help children develop strong reading skills at an early age, as research show children show stronger academic skills when literacy is established in the early years.
To register for the Gifting Program, forms may be picked up at KDQN studios, De Queen Auto Group or at any Sevier County Library or you can register at www.imaginationlibrary.com.
For more information, please call Z.Z. at 870-642-4886, Mary Ellen Dooley 870-584-8663, Melanie Marshall at 870-784-2882 or For Spanish information call Erika Buenrrostro at 870-784-5154.
SCHOLARSHIP CEREMONY HELD AT SOUTHWEST ARKANSAS COLLEGE 10/31/18
The University of Arkansas Hope-Texarkana Foundation awarded 106 scholarships to 95 students at the Fall Foundation Scholarship Ceremony. The total dollar amount of these scholarships exceeded $48,500. "The UAHT Foundation is fortunate to have donors that believe in the students they support and that they can ultimately make a difference in the lives of others in our communities," said Anna Powell, Executive Director of the Foundation. "We cannot extend enough gratitude to these donors for everything they do to improve the educational journey for so many of our students."
"Ten years ago we awarded just 28 scholarships," said Chris Thomason, UAHT Chancellor. "The increase in the number and dollar amount of scholarships that our Foundation is offering students now is a testament to the generosity of our donors and the strong belief they have in this institution to provide our students with the best education available."
"The increase in scholarship support has also supported historic enrollment numbers and graduation rates for UAHT students over the last five years," said Thomason. The College welcomed 1,563 students, the largest enrollment in the 53- year history of the institution, to the Hope and Texarkana Campuses this semester. The college has experienced a steady rise in enrollment over the past five years with an increase of 15% from fall 2014.
Additionally, the number of graduates at UAHT has risen each year over the past five years, and the total number of graduates has increased by 69% from 2014. The total number of degrees and certificates awarded have also risen with a 52% increase from 2014. "The success of our students has elevated our campus to being a top performer under the outcomes-based funding model in Arkansas," said Thomason. According to the Arkansas Department of Higher Education, UAHT has increased from number six among the twenty-two Arkansas two-year colleges in the funding based formula last year to number two among all two-year colleges in the state this year.
For more information about UAHT Foundation Scholarships, contact Anna Powell at 870-722-8516 or anna.powell@uacch.edu .
FREE JAZZ CONCERT AT OUACHITA BAPTIST UNIVERSITY MONDAY 10/31/18
Ouachita Baptist University's Division of Music will present its Jazz Band in concert on Monday, Nov. 5, at 7:30 p.m. in Jones Performing Arts Center on Ouachita's campus. The concert will be open to the public, and admission is free.
"The audience will enjoy an evening of great music," said Dr. Craig Hamilton, Lena Goodwin Trimble Professor of Music and director of bands said "The concert will consist of jazz tunes with a variety of styles including samba, swing, funk, rock and roll, ballads and more."
At the concert, the Jazz Band will begin the performance with "Strike Up the Band" by George and Ira Gershwin and arranged by Sammy Nestico, The band also will play "Toe Rings" by Robert Skiles and arranged by Paul Baker, "Listen Here" by Eddie Harris and arranged by Zachary Smith and many other well known jazz favorites.
Members of the Jazz Band include many students with ties to southwest Arkansas, including Sierra Westberg, a senior instrumental music education major from Arkadelphia, Morgan Taylor, a senior music industry major from Hot Springs, Cayli Campbell, a senior instrumental music performance major from Texarkana, Tyler Sanders, a senior music industry major from Arkadelphia, and Beaux Schmidt, a senior music industry major from Arkadelphia.
The concert will also be livestreamed from online at  https://livestream.com/obu/. For more information about Ouachita bands, visit www.obu.edu/band or contact Dr. Craig Hamilton at hamiltonc@obu.edu or 870-245-5137.
FIRE AT HOME IN DE QUEEN WEDNESDAY 10/30/18
The De Queen Fire Department responded to an all call alarm on the morning of Wednesday, October 24th.
Firefighters were dispatched to a rent house on Piney Road in De Queen at approximately 10:47 a.m. with two engines and 7 responders.
At the time of the structure fire, the occupants of the home were present. No smoke detectors were found in the home.
Wilmon Morris was identified as the home owner and responders spent roughly one hour on site extinguishing the fire and ensuring the occupants' safety.
No injuries were reported and the owners do have insurance on the home. The cause of the fire has not been released to the public.
THEFT AND FLEEING SUSPECT APPREHENDED IN GILHAM 10/30/18
Officer Greg Davignon of the Sevier County Sheriff's department was on patrol in Gillham on Thursday, October 25th when he observed a suspicious-looking Toyota pick-up truck parked at the EZ-mart store.
Officer Davignon reported finding the vehicle to be suspicious because the truck looked like it had recently been given a poor paint job. The officer checked the registration and found the tags on the truck to be assigned to a 1981 black Chevrolet
The driver of the vehicle quickly exited the store and failed to stop at a stop sign upon seeing the officer park on site. The car then ran another stop sign at the intersection of 5th and Braley so Officer Davignon signaled his lights in an effort to pull the vehicle over.
The driver increased in speed and then began driving recklessly towards highway 71. Officer Davignon continued active pursuit with lights and sirens on but the driver continued fleeing and ran another stop sign and drove recklessly down Mineral Road.
The driver finally lost control of the truck on Stemple Road and collided with a large tree which caused the driver to be partially ejected from the vehicle out the driver's side window.
After the crash the driver continued an attempt to flee by trying to run from Officer Davignon on foot. After being apprehended, the suspect, identified as Christopher Ray Chandler, tried to physically fight the officer but ultimately was restrained.  An ambulance was called to evaluate his injuries received in the crash.
Further research revealed that the vehicle had been reported stolen from Pike County Arkansas the same day. The owner of the truck was identified as Mike Prince of Glenwood. Deputy Chett Stubbs assisted in the case by following the ambulance containing the suspect to the hospital while officer Davignon waited on the wrecker service to collect the truck. Once Chandler was medically cleared he was transported to the Sevier County jail where he was charged with theft and fleeing.
LOUISIANA STATE FAIR GOING ON NOW 10/30/18
The 112th annual State Fair of Louisiana has begun and will continue through November 11th in Shreveport, LA.
A variety of entertainment is scheduled throughout the fair and many attractions are free with the purchase of gate admission.
Concerts, performers, shows, livestock, vendors, displays and attractions will be featured during the event.
Country music shows will be held on Friday, November 2nd as ole Whiskey Revival will perform live in concert at 7:00 p.m., followed by Cody Cooke and The Bayou Outlaws at 9:00.
The following night will feature hip-hop artists 69 Boyz at 8:00 p.m. followed by the Ying Yang twins at 9:30.
Family entertainment is scheduled for Wednesday November 7th as the gospel fest is on the agenda from 4:00 p.m. to 9:30 p.m.
Tributes to music legends Tina Turner, Prince and Michael Jackson will be featured November 10th beginning at 7:00 p.m. and the musical performances will conclude on the final night o the fair November 11th at 5:30 p.m.
More information about the Louisiana State Fair can be found online at statefairoflouisiana.com or call 318-635-1361.
FIRE DEPARTMENT RECEIVES DONATION FROM ARVEST 10/30/18
A donation of $5,000 was awarded to the De Queen Fire Department on Monday, October 29th for the purchase of new equipment and supplies. The donation was made by Arvest bank during a ribbon cutting ceremony at the grand opening event in De Queen. Fire Department chief Dennis Pruitt and code enforcement officer Jay Litchford attended the ceremony to accept the donation from Jay Mark Bingham and Arvest bank representatives.
Plans are to use the money to buy 2 positive pressure fans and equipment that can detect heat in power lines by evaluating voltage levels. Fire department Chief Dennis Pruitt said he and his fellow firefighters are very appreciative of the donation and mentioned the money was offered without the department's request.
Purchases of new equipment for the fire department will begin within the next two weeks.  The De Queen Fire Department can be reached at 870-584-7224 with questions and concerns regarding fire safety.
MINERAL SPRINGS PROJECTING BUDGET SURPLUS FOR 2019     10/30/18
The City of Mineral Springs is on track to see a budget surplus next year. Council members held a special budget meeting on Monday to discuss next year's operating budget and expect additional housing to increase revenue in the water/sewer budget. No rate increases are expected next year. The council also placed additional funding in the police department for salary and police car maintenance.
Councilman James Jeanes proposed a three percent raise for regular city employees, not including elected officials. His proposal also included a fifty cent an hour raise for two sanitation workers and no raise for two new employees who have been on the job for a couple of months. He also proposed a Christmas bonus of $500 and then $250 for the new employees next year…plus the option for the employees to sell two weeks of vacation back to the city. The budget will continue to be discussed and can be approved at next month's regular council meeting, which will be held on Tuesday, November 13th at 5 p.m.- due to the observance of Veterans Day.
UA COSSATOT HEALTH FAIR SERVES 250 COMMUNTIY RESIDENTS 10/29/18
250 students and community members were served during the University of Arkansas Cossatot's Center for Student Success two-hour health fair providing free flu shots and health education held on October 18, 2018 at the De Queen campus and on October 25 at the Nashville campus.
The event was in partnership with the Arkansas Department of Health and services included free flu shots, and blood pressure, body mass index, and glucose level readings.
The Arkansas Department of Health has already reported sporadic flu activity in our area and across Arkansas.
"As we prepare for flu season we felt it was important to host our second annual flu shot clinic to help fight the battle. Such an event doesn't only benefit students but is also an opportunity to invite the community on campus to learn about our programs," said UA Cossatot Center for Student Success Coordinator and event organizer Erika Buenrrostro.
Personal health education is also important for student success. According to the Center for Disease Control and Prevention (CDC), school health programs reduce the prevalence of health risk behaviors among young people and have a positive effect on academic performance.
Other health and wellness vendors included the US Department of Agriculture, Arkansas Foundation for Medical Care, Arkansas Human Development, the Office of Arkansas Attorney General Leslie Rutledge, Dr. Randy Walker, and the Dolly Pardon Imagination Library.
CITY COUNCIL MEETING ADJUSTED FOR CITY HALL RENOVATIONS 10/29/18
The De Queen City Council is holding their regularly scheduled meeting this week at city hall in De Queen. Mayor Billy Ray McKelvy has announced that due to the current renovations underway at the city hall building, the meeting will be held in the lobby. A brief list of agenda items will be addressed on Tuesday.
Items on the agenda include the proposal of an ordinance to waive competitive bidding on a case dozer for the city, a resolution to dispose of obsolete equipment and an update on the 2019 budget. As always time for public comments will be allotted at the beginning of the meeting prior to discussing agenda items. All public comments require a three minute time limit.
The meeting will begin at 6pm with the pledge of allegiance and prayer lead by the mayor. City Hall can be contacted at 870-584-3445 for questions or concerns regarding city council matters.
FINAL FALL TRAP LEAGUE SESSION IN COLUMBUS 10/23/18
The last session of the 2018 Fall Trap League will be held Tuesday, October 30th in Southwest Arkansas. The league is sponsored by the Nashville Trap Booster Club and sessions have been held at The Rick Evans Grandview Prairie Conservation Education Center every Tuesday between 5:30 p.m.-7:30 p.m. throughout the month of October in Columbus, Arkansas.
A one-time registration fee of $25 and a nightly range fee of $8 are required. $20 of the registration fee goes towards a prize money pool that will be split for the top finishers in the adult and youth divisions.
$5 of the registration fee goes to the Nashville Trap Booster club fundraiser. Arkansas Game and Fish Commission staff member Caleb Coulter says the top 4 scores for each shooter will be totaled for the results at the end of the 6 week program.
Each participant will shoot 50 shots per night for score.
FFA FUNDRAISER SCHEDULED FOR TUESDAY 10/29/18
The annual chili supper and raffle will be held at UA Cossatot's De Queen campus this. On Tuesday, October 30th beginning at 4:30 p.m. residents can attend the all-you-can-eat fundraiser for $5 to dine in and $3 for a to-go bowl. The supper serves as a fundraiser for UA Cossatot's FFA organization. All proceeds go towards scholarships for members of the FFA program to help with tuition, textbooks and educational expenses.
Kelli Harris is an FFA Sponsor at UA Cossatot and organizer of the chili supper and raffle. Kelli says this years event will be different than previous years as three big prizes will be awarded in the raffle drawing. Prizes include a gun, cash and a free stay at a cabin in Hochatown, Oklahoma. Any person who purchases a raffle ticket will not have to pay the dinner fee.
Serving will begin around 4:30 p.m., and prizes will be drawn around 6:30. The cost includes toppings and a drink and there is no limit to the number of bowls that can be consumed per person. Kelli says locally sourced meat produced by area FFA supporters will be used in the food provided at the fundraiser.
COLLEGE AND CAREER FAIR AT UA COSSATOT NASHVILLE CAMPUS THURSDAY 10/29/18
The University of Arkansas Cossatot will host a job fair and college information session in the atrium of the Nashville Campus at 1558 Hwy 371 West, Nashville, AR on November 1, 2018 from 9:00 am to 1:00 pm. Medical, banking, poultry, paper, trucking, and other industries from Howard, Little River, and Sevier Counties will be represented to discuss part-time and full-time employment and internship opportunities.
Representatives from the following groups are scheduled to attend: Wadley Health, Manpower
Employment Services, Tyson of Nashville, Dierks Nursing & Rehab, Howard Memorial, Lasalle Corrections, the Arkansas National Guard, Weyerhaeuser, Arkansas Rehabilitations Services, Red River Credit Union, Missions Plastics, Area Agency on Aging, Christus Health, Healthcare Express, Community Compassion of Nashville, Employment Express, Husqvarna, UA Cossatot Career Pathways, Domtar, and McElroy Trucking.
There will be information about enrolling in college courses, GED courses at UA Cossatot. All
attendees will be entered to win a $250 UA Cossatot tuition waiver.
For more information, please contact UA Cossatot Continuing Education and Workforce Development at 870-584-4471.